GREAT TEACHER SEMINAR 2021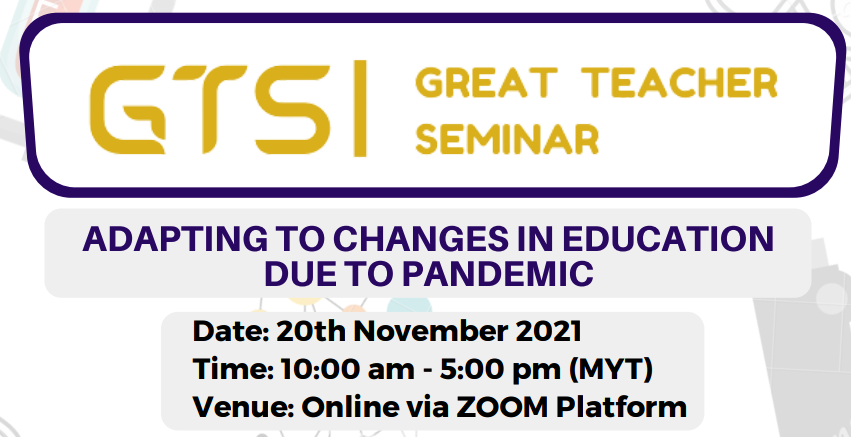 WHAT IS GREAT TEACHER SEMINAR (GTS)?
GTS is an international seminar, aimed to revolutionize and reform the way of thinking and teaching for our teachers in nurturing future global leaders. GTS is a platform for STEM teachers, parents, researchers, NGOs and corporations to exchange ideas and share information to enhance the STEM education ecosystem.
INTERESTING FACTS GTS 2021
1. Get an overview of the current situation in Education focusing South East Asia and the future of Education during post pandemic
2. Understanding the differences in student involvement between physical and online classes
3. Gain new info or tips and learn new skills in conducting online classes
PROGRAM TIMELINE
Timeline
Saturday (20th November 2021)
10:00-10:30
Online Room Opens
10:30-11:30
Welcoming Remarks by Leave a Nest Malaysia
&
Keynote Address
STEM Education In The New Normal
11:30-13:00
Panel Discussion
What Is The Future Of Education Post-Pandemic
13:00-14:00
Break
14:00-15:00
Workshop 1: Craft Your Online Science Learning Through Research
15:00-15:30
Sharing Slot: ASEAN Education Community
15:30-16:30
Workshop 2: Create Your Own Educational Creative Content
16:30-17:00
Closing Ceremony

Registration Fees:
Teachers & Parents:
50 MYR/50 USD
※this include e-booklet, e-Certificate and Recording video for 2 weeks
For inquiry and entry:
Please register in the link provided: https://global.lne.st/GTS2021_Registration
For inquiry, contact below:
E-mail: [email protected] , [email protected]
Leave a Nest Malaysia. +60-18-2233-230
Ask for Izwan or Zaim