Have you heard of Leave a Nest yet?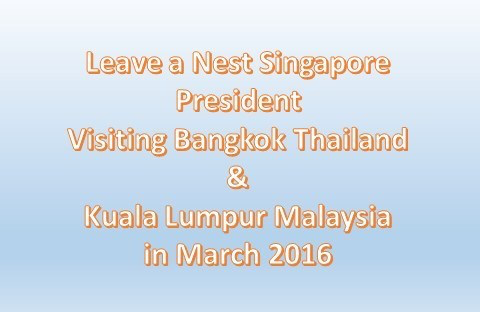 Leave a Nest Singapore President Dr. Kihoko Tokue will be visiting Thailand in the beginning of March 2016.
She will be visiting KX (King Mongkut's University of Technology Thonburi Knowledge Exchange for Innovation) on 7 March to meet with several start up.
On the 8th she will also visit University of the Thai Chamber of Commerce (UTCC), Mahidol, and KMUTT researchers to find out about seed technologies accumulated with in University. She hopes to bring light into these research seeds to contribute to society to bring change to the world.
These visit is part of introducing inaugural TECH PLANTER in Bangkok, Thailand which will be held in June 19 2016 at UTCC.
She will continue her visit to Kuala Lumpur Malaysia in mid March to attract teams to attend 2nd TECH PLANTER in Kuala Lumpur. Between 14-16 March, she will give presentation at Universiti Malaya, Universiti Putra Malaysi and Malaysia Japan International Institute of Technology to share information about up coming TECH PLANTER. You will also have a chance to meet Leave a Nest Co., Ltd CEO Dr. Yukihiro Maru and COO Dr. Shuichiro Takahashi during March 14-16 events.
Leave a Nest will work together with you to bring research seeds & technology to the world for the better tomorrow. Let's bring change to the world with TECH PLANTER and Leave a Nest.
Hope to see you in Bangkok, Kuala Lumpur, Singapore or Tokyo, Japan.