Announcement of Judges for TECH PLAN DEMO DAY in INDONESIA 2018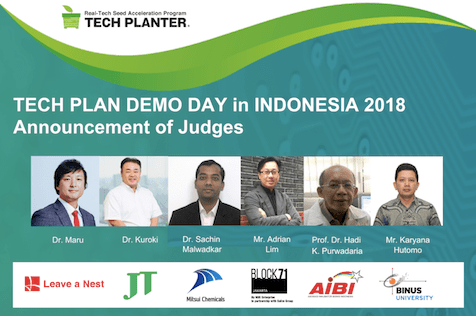 TECH PLANTER in INDONESIA is an acceleration program specifically designed for early stage deep-tech startups & pre-startup researchers who are passionate about business especially in the field of Biotech, robotics, agri-tech, healthcare, IoT, nanotech.
For the final round of TECH PLAN DEMO DAY in INDONESIA 2018, 12 top finalists will pitch their business ideas to judges who are from Japanese corporations, Indonesian government agencies and companies.
We are honoured to announce the judges for TECH PLAN DEMO DAY in INDONESIA as below.
Dr. Yukihiro Maru
Founder and CEO, Leave a Nest Group
Dr. Yutaka Kuroki
Director, Business Development and Corporate Strategy, Japan Tobacco Inc.
Dr. Sachin Malwadkar
Research Scientist,
Mitsui Chemicals Singapore R&D Centre, Pte. Ltd.
Mr. Adrian Lim
President Director, BLOCK71 Jakarta
Professor Dr. Hadi K. Purwadaria
Head of International Relation Division,
AIBI Network (Association of Indonesian Business Incubators)
Mr. Karyana Hutomo
Head of Business Incubator of Binus University
TECH PLAN DEMO DAY in INDONESIA 2018 details:
Date : 7th July 2018 (Saturday)
Time : 12:00 – 18:30
Venue : BLOCK71 Jakarta, Ariobimo Sentral, Jl. H. R. Rasuna Said No.Kav. X-2 No. 5, RT.9/RW.4, Kuningan Timur, Kecamatan Setiabudi, Jakarta, 12950 Indonesia.
For any enquiries about TECH PLAN DEMO DAY in INDONESIA, please contact:
Mr. Abdul Hakim Sahidi
Email: [email protected]
Tel: +6018-2233 230
Other announcement related to TECH PLAN DEMO DAY in INDONESIA 2018:
Announcement of finalists https://en.lne.st/2018/06/27/tpdin2018-finalist/
Register here to attend our DEMO DAY https://docs.google.com/forms/d/e/1FAIpQLSeHLHgMVQ3wpwnxdbOdvLedtMm0dqD3Wb7XmqscJs8iID6xuw/viewform?usp=sf_link