Announcement of Judges for TECH PLAN DEMO DAY in INDONESIA 2019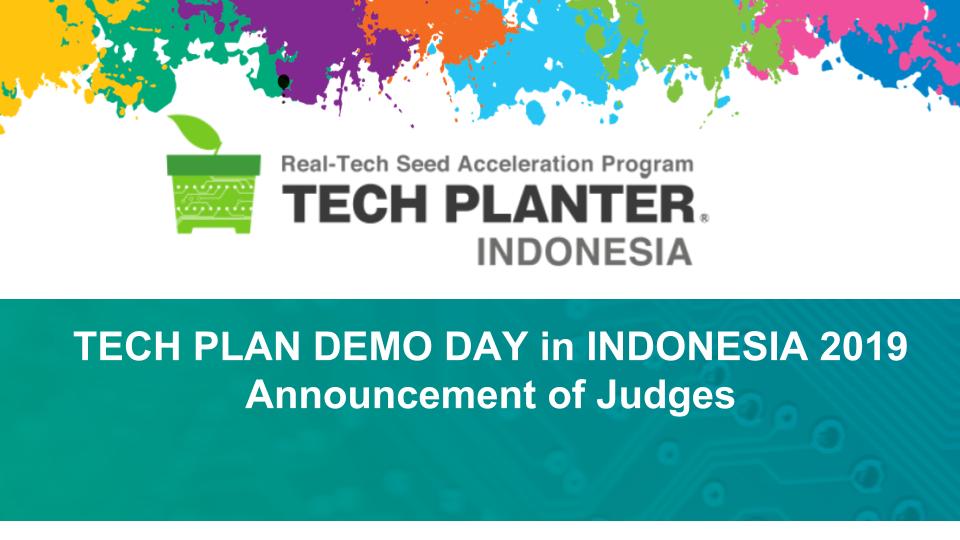 Less than a month, Leave a Nest will be conducting TECH PLAN DEMO DAY in INDONESIA for a second time.
TECH PLANTER in INDONESIA is an acceleration program specifically designed for early stage deep-tech startups & pre-startup researchers who are passionate about business. TECH PLANTER program focuses on innovative real technology such as biotech, agritech, robotics, IoT, energy, medical, raw materials and others which can solve wicked problems faced by local communities and this ecosystem support startups prototyping needs by providing seed funding and access to the famous Japanese manufacturer.
12 finalists will pitch their business ideas to judges who are from Japanese corporations, Indonesian government agencies and companies in the final round of TECH PLAN DEMO DAY in Indonesia 2019.
We are honored to announce the judges for this year in TECH PLAN DEMO DAY in INDONESIA as below.
Dr. Yukihiro Maru
Founder and CEO, Leave a Nest Group
Mr. Yoshikazu Uehara
Managing Director, Mitsui Chemicals Singapore R&D Centre, Pte. Ltd.
Mr. Sophian Abdul Rahman
Chief Executive Officer and Co-Founder, Delightex Pte. Ltd.
Mr. Kazuhiro Obara
Catalyzer, Drone Fund
Professor Dr. Hadi K. Purwadaria
Head of International Relation Division,
AIBI Network (Association of Indonesian Business Incubators)
Mr. Adrian Lim
President Director, BLOCK71 Jakarta
Dr. Yan Rianto
Acting Director, Centre of Innovation LIPI
Indonesia Institute of Sciences
TECH PLAN DEMO DAY in Indonesia 2019 details as below:
Date: 4th May 2019, Saturday
Time: 12:00 – 19:30
Venue: Block 71
For any inquiries about TECH PLAN DEMO DAY in INDONESIA, please contact:
Mr. Abdul Hakim Sahidi
Email: [email protected]
Tel: +6018-2233 230
Highlights of DEMO DAY in 2018