Leave a Nest Opening Global Website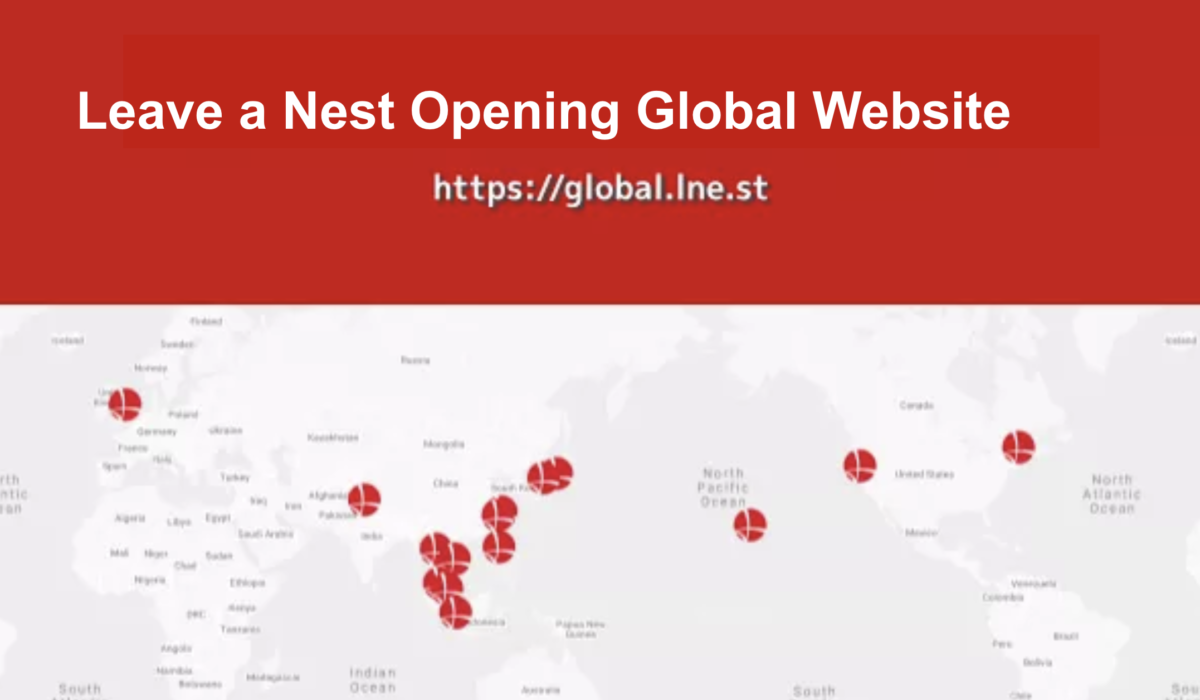 To showcase Leave a Nest activities around the world, we are pleased to announce opening renewed website https://global.lne.st
Ever since its establishment in 2002, Leave a Nest Group has expanded the knowledge manufacturing industry in Japan and overseas, and has increased the number of allies around the world based on the corporate mission "Advancing Science and Technology for Global Happiness."
Since 2008, we began to bring our businesses overseas. Starting with Singapore in 2010, we have established overseas subsidiaries in Malaysia, the United Kingdom and the United States. In Southeast Asia in particular, we are particularly active in conducting projects together with local universities and companies. 
The global website is renewed this time to strengthen our communication to the world to post Leave a Nest Group activities. 
We will continue to accelerate our initiatives across the world. Thank you for your continuous support.
 Click here for the global website (https://global.lne.st)
 <Rivenes Global Timeline>
| | |
| --- | --- |
| December 2010 | Leave a Nest Singapore Pte. Ltd. established |
| August 2011 | Leave a Nest America Inc. established |
| October 2013 | Leave a Nest Malaysia Sdn. Bhd. Established |
| June 2014 | Seed Acceleration Program "TECH PLANTER" started in Singapore |
| December 2014 | Science Castle Singapore for junior and senior high school students started in Singapore |
| June 2015 | TECH PLANTER in Malaysia started |
| June 2016 | TECH PLANTER in Thailand started |
| March 2017 | Leave a Nest United Established Kingdom Ltd. |
| March 2017 | Science Castle in Singapore Expanded acceptance of schools in Southeast Asia and internationalized |
| May 2017 | Started TECH PLANTER in PhilippinesStarted |
| April 2018 | Science Castle in Malaysia |
| May 2018 | TECH PLANTER in six Southeast Asian countries expand (Vietnam, Indonesia inaugural) |
| October 2019 | Career Discovery Forum in Malaysia beginning |
| January 2019  | Hyper Interdisciplinary Conference in Malaysia started |
| January 2019  | Nest-Bio Venture Lab (Malaysia) Opening |
| February 2019 | Hyper Interdisciplinary Conference in Singapore start |
| May 2019  | Ribanesu Malaysia's first local employees became the youngest representative director group |
| May 2019  | Career Discovery Forum in Singapore Started |
| July 2019 | Opened L-HUB SG (Singapore) |
Inquiries
Global Platform Development Division, Co., Ltd. (Contact: Takeda)
Tel: 03-5227-4198 Email: [email protected]