[HIC in Singapore 2020] Quick Technology Pitches from Varying Industries in Technology Splash Session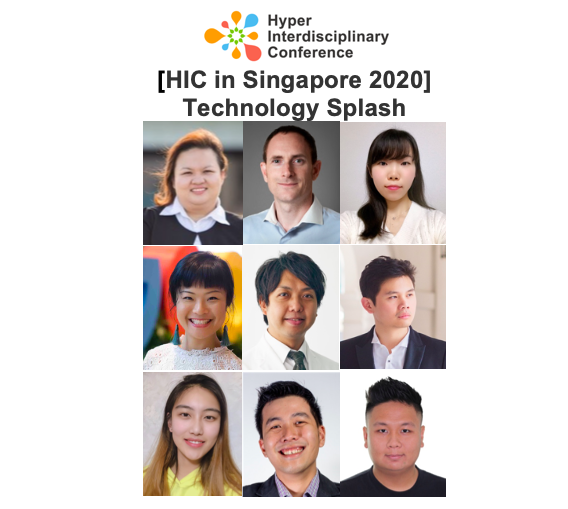 At Hyper Interdisciplinary Conference in Singapore, we will have a slot of back-to-back pitching! In the session, 9 speakers will be presenting, each of them having ONLY 4 minutes to introduce their technology or research. Come prepared to listen to mind-blowing technologies from a wide area.
Technology Splash started in Leave a Nest Japan during the 7th Hyper Interdisciplinary Conference on March 2018. It aims to supply a platform for all presenters, regardless of their industries or background as researchers or business ventures, to introduce their research and business to all participants. On the other hand, the participants will be able to learn about a different field with the knowledge and passion of the presenters.
Quoted from Japan:
"In a series of short presentations, the heat of the presenter and the heat of the participants collide, creating new splashes of research ideas and collaborations. That is technology splash."
Technology splash will give opportunity for presenters to get possible collaboration partners to talk to you to learn more!
The presentation format will be as follows:
Only presentation slide allowed with no animation or video

4 minutes presentation

No question will be asked nor presentation judged
———————
Technology Splash
Date: 29th February 2020
Time: 11:00 hrs – 12:00 hrs
Venue:NTU Alumni Club, 11 Slim Barracks Rise, Function Hall @ Level 3, Singapore 138664
———————
Below are the speakers' profile:
Dr. Mei Hua Tan, Deputy Chief Technology Officer, DeNova Sciences
Dr. Mei Hua obtained her BS and PhD degree from Nanyang Technological University. She has over 10 years of cell culture and stem cell experiences where her work focuses on studying the regulation of differentiation processes in embryonic stem cells. Currently she is exploring and building various in vitro organ models.
Dr. John Dangerfield, Chief Operating Officer, Austrianova Singapore Pte Ltd
Originally from the UK, John completed his PhD in molecular biology in Vienna in 2001 and has been COO at Austrianova Singapore since 2010. He was an Executive Committee member for Singapore Stem Cell Consortium and Council Member for BioSingapore. He has 17 publications, several books/chapters and inventor on many patents.
Ms. Yuna Yahata, Undergraduate Student, Fukushima University
Ms. Yuna Yahata is a freshman majoring in agriculture at Fukushima University, Japan. She hopes to bridge the gap between healthy life expectancy and the average life expectancy. With her interest in the relationship between intestinal bacteria and Alzheimer, she would like to reduce nursing care needs through new food development.
Ms. Fengru Lin, Chief Executive Officer, TurtleTree Labs 
What started as a passion to make cheese and the inability to find good milk in Asia, Fengru knew she had to do something about the challenges facing the dairy industry today. Coming from a background of 10x thinking in Google, Fengru boldly co-founded TurtleTree labs to improve the way milk is produced and consumed.
Dr. Kengo Suzuki, Chief Technology Officer, euglena Co., Ltd.
Dr. Kengo Suzuki is one of the co-founders of euglena Co., Ltd. He is a graduate of the Faculty of Agriculture and Life Sciences at the University of Tokyo and has a BSc in system engineering. He currently leads the company's R&D and is engaged in the production and development of euglena-derived biofuels.
Mr. Jogjaman Jap, Chief Executive Officer, Spectronik
Mr. Jogjaman has 12 years experience in Hydrogen fuel cell technologies. He managed fuel cell R&D programs for Boeing, Airbus, China Aerospace and SAIC Motors. He also delivered presentations at AUVSI, NASA, SAFRAN and Singapore Airshow. Jogjaman has a Bachelor degree in Mechanical Engineering from the University of California at Berkeley.
Ms. TuYuan, Undergraduate Student, University of Aizu
Ms. TuYuan from China is currently a third year computer science undergraduate student at University of Aizu in Fukushima, Japan. She likes challenging in a new environment hence previously joined an innovation program in Silicon Valley. Currently her research involves horror game production using Artificial Intelligence and designing task management applications to motivate students to work.
Mr. Tommy Tham, Director of Product Development, Enlipsium
Tommy has worked in the area of material research and commercialization for the past 5 years. Started working on nano silver coatings for touch screens in a startup, Cima Nanotech.  He then moved to 3M Advanced Material Division, working on the commercialization of additives for paint and coatings for the past 3 years.
Mr. Choong Jun Jie (Jae), Production Manager, FasRaP Pte Ltd
Jae is one of the pioneers who worked on the FasRaP project since the beginning 4 years ago. With a background in polymer and polymer composite materials, Jae was instrumental in bringing FasRaP from an idea to commercialization and the inception of FasRaP Pte Ltd.
—————
About Hyper Interdisciplinary Conference in Singapore
Date: 29th February 2020
Time: 08:30 hrs – 18:30 hrs (registration from 08:30 – 09:30 hrs)
Venue: NTU Alumni Club, 11 Slim Barracks Rise, Function Hall @ Level 3, Singapore 138664
Highlighted Contents:
09:40 – 10:00 Keynote Presentation
10:00 – 11:00 Mitsui Chemicals Singapore R&D Centre Session
11:00 – 12:00 Technology Splash
13:00 – 14:00 Skin Health for Southeast Asians
14:00 – 15:00 Nutraceutical Solution for Healthier Living
16:00 – 17:00 Developing Smarter Cities in Southeast Asia