TECH PLAN DEMO DAY in THAILAND 2020 Judges Announcement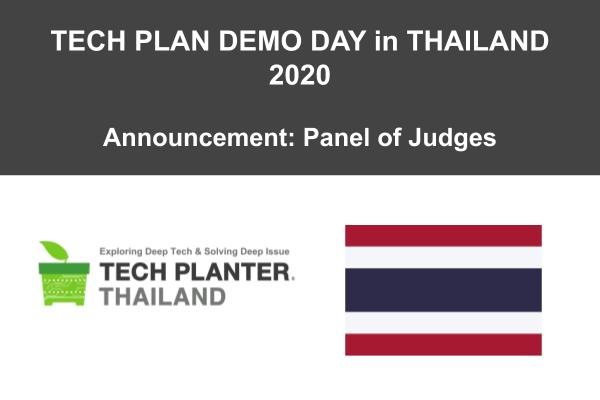 TECH PLANTER in THAILAND is a seed acceleration program designed for early-stage deep-tech startups & pre-startup researchers who are passionate about commercialisation and business creation. TECH PLANTER program focuses on real technology such as agri-tech, biotech, drone, IoT, medical, deep tech and others which can solve challenging problems faced by local communities and provide prototyping needs through seed funding or access to Japan superfactories and manufacturers.
9 finalists will pitch their business ideas to judges who are from Japanese corporations, Thailand local incubators and accelerators in the final round of TECH PLAN DEMO DAY in THAILAND 2020.
We are honored to announce the judges for this year in TECH PLAN DEMO DAY in THAILAND 2020 as below.
Dr. Kihoko Tokue
Managing Director, Leave a Nest Singapore Private Ltd.
Dr. Eiji Watanabe
General Manager, Mitsui Chemicals Singapore R&D Centre, Pte. Ltd.
Dr. Nares Damrongchai
Chief Executive Officer, Thailand Center of Excellence for Life Sciences (TCELS), Thailand
Mr. Vichian Suksoir
Deputy Executive Director (Innovation Development), National Innovation Agency (NIA)
Ms. Kamonphan Minjoy
Director, Yusarn Audrey IP Services (Thailand) Co., Ltd.
Mr. Yosavee Niranvicvhaiya
Manager, Deep Tech Partnership, Siam Cement Group
Dr. Tortrakul Wattanavorakijkul
Chief Executive Officer, Innospace Thailand
Mr. Archatwat Chareonsilp (Ohm)
Environmental Sustainability Policy and Innovation Director, Asia Pacific, PepsiCo
TECH PLAN DEMO DAY in THAILAND 2020 details as below:
Date: 11th July 2020, Saturday
Time: 13:00 – 18:30 hrs
Venue: TBC