Research Report: A Strategy for Conquering COVID-19, in collaboration with Deep Tech Ventures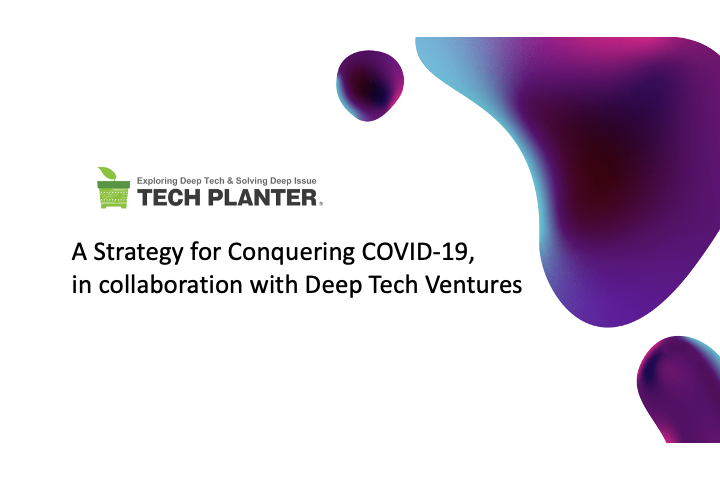 From 2020, Leave a Nest will use TECH PLANTER as a platform for "accumulation of science and technology to solve unsolved problems". Since the outbreak was reported in China December 2019, there has been a global outbreak of COVID-19  and there are numbers of unresolved deep issues around the world. Not only medical care, but also economic and cultural activities are being shaken up. The fundamental control of infectious diseases requires not only the improvement of vaccines and medicines, but also the implementation of new social rules, laws, regulations, and compensation. Many things, including new ways of thinking, need to be updated.
Under these circumstances, we need to create a collection of technologies that aim to solve unsolved problems, so that the economy and policies and aim to build a "new norm". "New Norm" is one of the ways for Leave a Nest to run its operation in a normal way. So, among the many passionate startups and researchers we have brought together since 2014, we have conducted a survey on ("The state of DeepTech on the assumption of a prolonged COVID-19, 2020) and we received responses from the team that they have taken steps to address this situation or plan to work on it.  (156 valid responses).
This article presents a selection of companies that have technologies and initiatives to update their healthcare infrastructure.
Table of contents
1. Strategy for conquering COVID-19, created with Deep Tech startups
    1-1Development of therapeutic drugs and vaccines
    1-2Inspection, tracking and isolation
    1-3Medical Supplies Management and Environmental Response
2. Selected survey results (12 companies)
3. Summary of Survey Results
A Strategy for Conquering COVID-19, Created with Deep Tech startups
Development of therapeutics and vaccines
In response to the epidemic of the COVID-19, there are currently lockdown, testing and quarantine measures in many countries have been taken. Going forward, if we are to escape economic stagnation and regain our freedom to come and go, we need not only symptomatic treatment, but also a cure for the disease. It is important that a vaccine is established. However, the development of a cure and vaccine is known to be a long and difficult process that takes 5 to 10 years. For example, the Ebola virus (2014-2016 West Africa and 2018-2019 outbreaks in Congo) The development of therapeutic drugs against this new virus is not yet complete. Even for COVID-19, a strategy for repositioning to use of already developed drugs is needed. We are ahead of the curve, but we need technology that can advance drug discovery faster and more effectively.
Therefore, collaboration with deep-tech startups who have knowledge of viruses and immunity will be important. For example, Thinkcyte Co., Ltd., which is promoting the development of machine learning driven image-based cell sorting equipment, is expected to enable high-speed drug screening based on the shape change of each cell caused by coronavirus infection. Metabologenomics, Inc. pays attention to the fact that the intestinal flora controls the whole body immune system by interacting with immune cells, and has developed a technology (intestinal design) that appropriately controls the intestinal environment that differs for each individual, aiming to connect to infection prevention technology by immune control. MiCAN Technologies Inc. is working to accelerate research on infectious diseases by delivering research purpose blood cells derived from human iPS cells to research institutes (free provision to research institutions as of March 27, 2020).
Advances in DDSs and drug carriers are also critical in COVID-19 control. Think-Lands Co., Ltd., which is developing hollow microneedles, wants to increase the priority for development of DDS methods, especially microneedle use in vaccine administration. Cyclodextrin Derivative Synthesis has strengths, and CyDing Co., Ltd. have been working on the development of anti-cancers. Cyclodextrin Derivatives, however, may be able to develop medical products and medical carriers that take advantage of the anti-virus action and the action of activating the vacc-nication. 
Since the infected people are spreading enormously, the prognosis of infectious diseases must be carefully monitored in the future. Based on the research on the relationship between the immune system and psychiatric disorders, RESVO Inc. has been working on the effects of maternal infection on their child health. It has already been developing methods for testing, preventing, and treating psychiatric disorders caused by immune disorders. Since COVID-19 pandemic, the company continues to conduct research and development in terms of whether or not an increase in psychiatric disorders has occurred or could not be prevented. Deep-tech, which aims to establish therapeutic agents and vaccines, has been accumulating and is beginning to move toward COVID-19 control. 
[Leave a Nest supported startup]. EMEs, Kao, Kitasato University, and others succeeded in obtaining antibodies against a new type of coronavirus (SARS-CoV-2). They announced that They have successfully obtained antibodies (neutralizing antibodies) that have the ability to suppress the infection of coronaviruses. This may lead to therapeutic or laboratory drugs.
Inspection, tracking and isolation
Until the advent of radical treatments and vaccines, basic measures to test, track, and isolate infected people (such as the Harvard Roadmap to Pandemic Resilience) do not seem to change across countries. Under such circumstances, it is increasingly important to preserve the lives of medical staff and prevent them from becoming exhausted and to make them sustainable. It is therefore necessary for medical institutions to update equipment, facilities, and systems to ensure greater safety and adapt to remote and isolated conditions. Kobata Gauge Mfg. Co., Ltd. has been promoting the development of medical devices such as measuring respiratory function and monitoring residual volume of medical gases, as well as developing products in the IoT field. AMI Inc., which is developing an IoT-enabled "superstethoscope," is working to reduce the risks of hospital-acquired health care professionals from remote stethoscopy and to digitally quantify auscultation by applying bioacoustic analysis techniques (announced on April 28, 2020, COVID-19 Distant Auscultation Project). In addition, Holoeyes, Inc. provides a conference service based on the VR, and has a mechanism that allows physicians in remote areas to see the same bones and blood vessels in the VR space for conferences. It will be one of the approaches to help doctors communicate, prevent nosocomial infections, and ensure normal physician development. Ball Wave Inc., a sensor manufacturer, is also looking to develop virus detection and disease-causing substances in exhaled breath. If it can be detected by its sensors, it will enable rapid and automatic management at the building level. 
Efforts centered on the Kobata Gauge were published in The Nikkan Kogyo Shimbun. (Prevent New Corona/health care disruption! Stretcher head dressing, delivered in 25 hours)
Medical Supply Management and Environmental Response
With the expansion of healthcare systems to control COVID-19, the flow of manufacturing and disposal of products also needs to adapt. However, each country's lockdown policy has resulted in limited logistics and construction, and more decentralized manufacturing and disposal infrastructure will be important. For example, while infectious waste can only be treated in disposal facilities in a limited number of licensed sites, Sustainable Energy Inc. is developing technologies to detoxify and fuels infectious waste in situ by running a vehicle-loaded subcritical water treatment facility currently under development into a decentralized medical infrastructure. On the other hand, Fermentstation Co., Ltd. is engaged in the business of manufacturing ethanol, which is expected to grow in global demand, using unused resources. Procurement of unused resources by region will allow the global logistical chain to be disrupted and ethanol to be stably delivered to medical institutions even when exposed to high levels of price fluctuation.
Selected survey results (12 companies)
Below is an excerpt of the responses from the survey, "Deep Tech to Update the Medical Infrastructure". Categories have been granted by Leave a Nest.
Drug Discovery
Thinkcyte Co., Ltd.
When cells are infected with a new type of coronavirus, they have been found to undergo changes in shape, such as multinucleation. Therefore, it is possible to perform rapid drug screening based on such phenotypic changes that cells undergo after viral infection.
Metabologenomics, Inc.
In order to respond to the threat of emerging infectious diseases that can emerge in the future, including new coronaviruses, it is important to increase the immune system and to prevent infections caused by the virus and to reduce its severity. The gut microbiota controls the systemic immune system by interacting with our immune cells. We are developing a technology (intestinal design) to properly control the intestinal environment that varies from individual to individual. Through the use of this technology, we can expect to be effective in preventing viral infections by enhancing immunity.
MiCAN Technologies Inc.
https://www.micantechnologies.com/
Through the provision of hemocyte-like cell products, we will help researchers study malaria, dengue, and other infectious and immune system diseases.
Think-Lands Co., Ltd.
https://think-lands.co.jp/index_english.html
We have been continuously developing hollow microneedles for about 5 years. Diabetes mellitus, central nervous system cases, and dental oral surgery are considered as indications. On the other hand, we considered vaccine administration to be a major market, but due to the spread of the new type of coronavirus, microneedle technology is attracting more attention, starting at the University of Pittsburgh.
CyDing Co., Ltd.
Application of the antiviral effects of cyclodextrin derivatives.
Vaccine adjuvant utilizing cyclodextrin derivatives
Development of Highly Functional Masks Using Cyclodextrin Derivatives
RESVO Inc.
https://www.realtech.fund/en/archives/portfolio/1663
Infections (Maternal immune activation: MIAs), such as maternal flu during the fetal period, are known to increase the chances of offspring developing psychoneurological disorders. Twenty years later, there is concern that the outbreak of the new coronavirus may lead to an explosion in the number of patients with mental illness. We have consistently worked on research and development of drugs (methods), prophylaxis, and therapeutic agents (methods) for psychoneurological disorders in offspring derived from MIA.
Inspection, tracking and isolation
Kobata Gauge Mfg. Co., Ltd. 
We are involved in the development of products in the areas of sensing and IoT, including measurement of respiratory function, which is a medical device, and monitoring of residual volume of medical gas. We are currently working with a number of medical needs and seeds projects.
AMI Inc.
We are working to reduce the risk of nosocomial infection among healthcare workers by teleauscultation and to quantify auscultation through the application of biosound analysis techniques.
Holoeyes, Inc. 
Conference service for VR. We have established a mechanism by which physicians in remote areas in VR space can provide real-time conferences while viewing models of the same bone and blood vessels.
Ball Wave Inc.
http://www.ballwave.jp/english/index.html
Our core technology, the sensitive ball SAW sensor, has the potential to assist in the development of breath analysis of disease-causing substances for virus detection or screening in medical settings.
Medical Supply Management and Environmental Response
Sustainable Energy Inc.
https://sustainable-energy.co.jp
We are developing technologies for fueling infectious waste by a vehicle-loaded subcritical water treatment system.
Fermentstation Co., Ltd.
https://www.fermenstation.jp/en/index.html
We continue to work on the business of manufacturing alcohol (ethanol) from untapped resources, which is of increasing global demand.
Summary of Survey Results
Survey: "The state of DeepTech on the assumption of a prolonged COVID-19"
Surveyed: TECH PLANTER entry teams (all 2014-2019)
Implementation period: Wednesday, April 15, 2020 – Sunday, April 19, 2020
Survey Methodology: Internet Survey (Google Form)
Q1.Are you working on technology or business plan related to pro-longed COVID-19 era?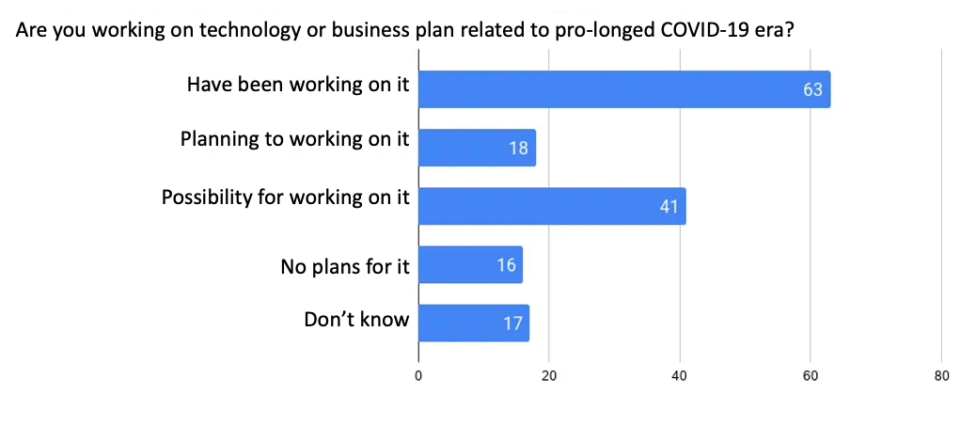 Q2. What kind of technology or business is it? (Omitted)
Q3. What is your technology field?