INTRODUCING NESTGARAGE.COM AS NEW KNOWLEDGE PLATFORM!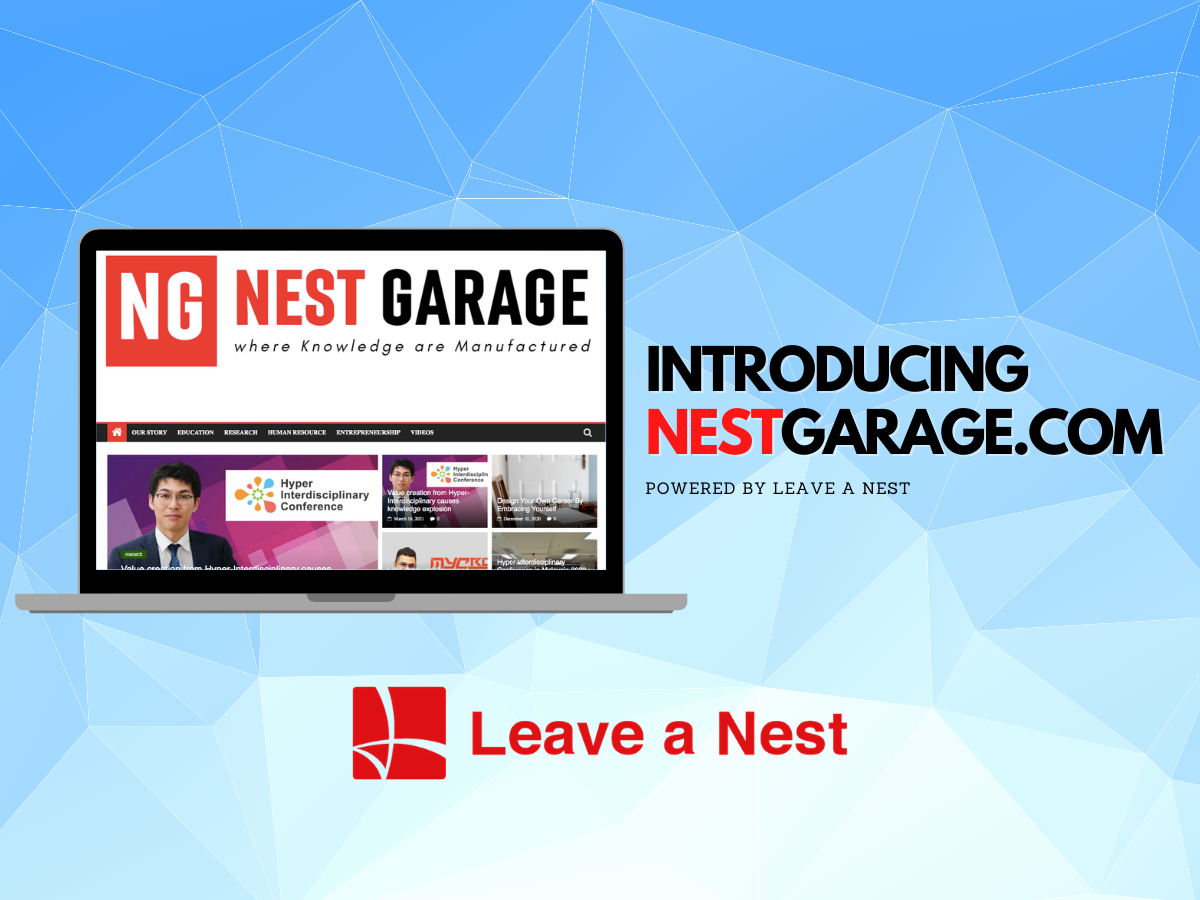 INTRODUCING NESTGARAGE.COM AS NEW KNOWLEDGE PLATFORM! 
Since 2002, Leave a Nest Group has been working on "KNOWLEDGE MANUFACTURING" and thrive on the vision of "Advancing Science and Technology For Global Happiness". Throughout this journey, we have accumulated a lot  of knowledge and exciting stories that we would like to share with everyone.
Therefore, Leave a Nest Group would like to  introduce a new  platform, NESTGARAGE.COM where you can explore accumulated knowledge and exciting stories throughout Leave a Nest experience and networks. Our hope is that through this platform, readers will be able to gain the depth of knowledge and also share the same vision with us to bring happiness to the world. Please visit the website at https://nestgarage.com
In order to realize this, NESTGARAGE.COM will feature different sections as follows. 
In our story section, you will be able to find stories and knowledge originally from Leave a Nest's founders and members. You may find out more about Leave a Nest founding story and philosophy that Leave a Nest have. Anyone interested in joining Leave a Nest would definately read this part!
Through the Education section, you will find exciting stories related to research by young researchers from school and also inspiring sharing from teachers and corporations that are involved in promoting Science and Technology related education.
Next, in the Research section, you can read stories related to exciting frontier research conducted by passionate researchers to bring new values to the world. The research from here may become a potential solution for your needs.
Besides that, you can also find articles related to career development, personal growth and  useful tips from experts in the section of Human Resource.
For the Entrepreneurship section, this is where you will discover the most inspiring stories from startups in TECH PLANTER communities that are trying to solve deep issues in the world. We will also cover how Leave a Nest have been supporting these startups as well.
In the Videos section, you will find highlights from our programs and exclusive interviews with different kinds of startups, academia, corporations, teachers and also students.
Last but not least, you will be able to download pdf copy of NEST GARAGE Magazine in MAGAZINE DOWNLOAD section to read full the content of the magazine. (COMING SOON)
NESTGARAGE.COM is a platform to further help connecting people, knowledge and technology from different parts of the world to solve issues in the world. If you are interested in any of the contents and would like to connect further, please contact us at [email protected]. Also if you are interested to also contribute your own articles to the web do let us know as well!