TECH PLANTER ASIA FINALS DEMO DAY 2021 Overview and Judges' Announcement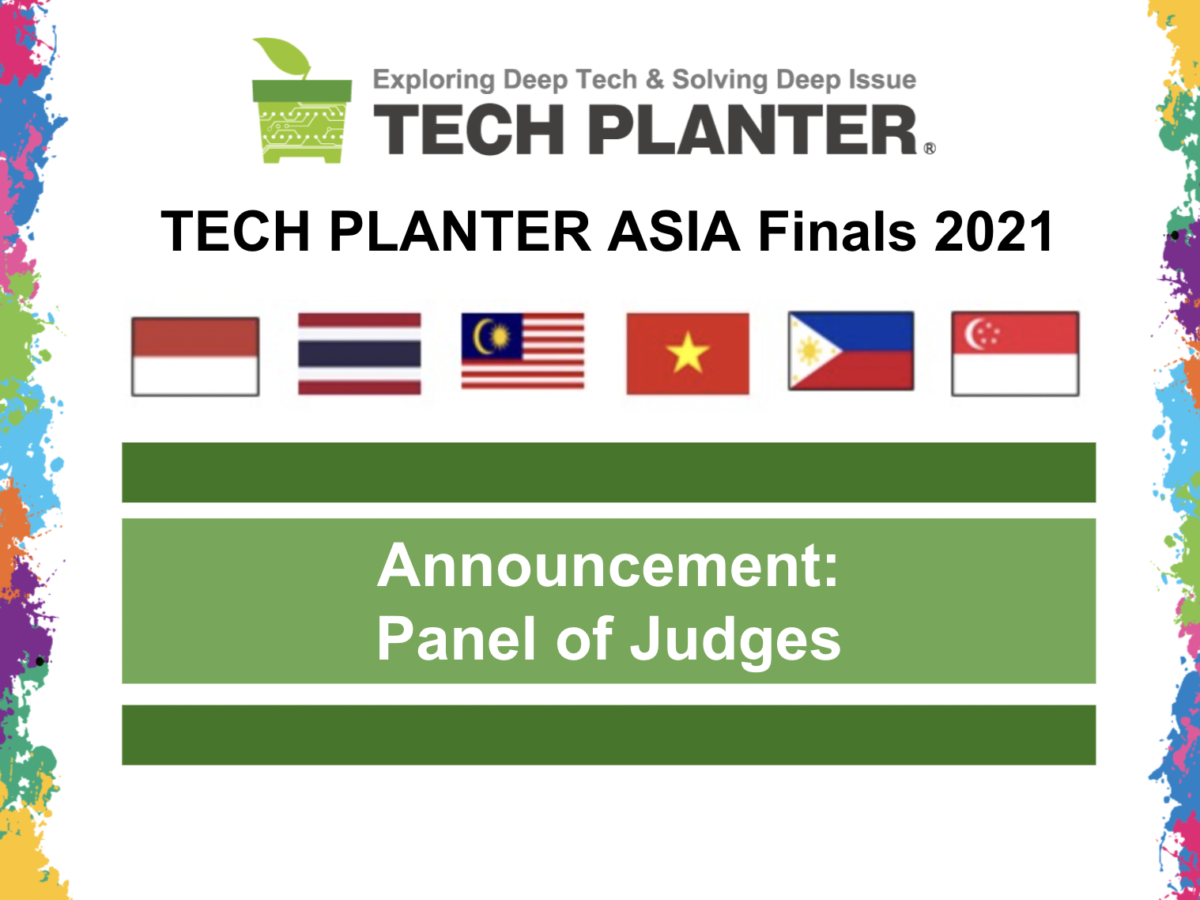 Leave a Nest Group has fortified its deep tech start-up ecosystem via local institutions and academia in 6 Southeast Asian countries, including: Singapore, Malaysia, Indonesia, Philippines, Thailand and Vietnam. We have successfully grown an ecosystem of deep tech ventures and startups. Fortunately, with great efforts throughout these years, we have managed to grow into the largest deep tech platform in Southeast Asia. 
In 2021, during the COVID-19 pandemic, we will be holding the TECH PLANTER DEMO DAY online. With this online platform, we will be able to bridge local start-ups, government agencies, universities and venture capital companies with Japanese companies. Additionally, via this technical sharing session, we will also discuss and identify various deep tech issues in Southeast Asia and provide a solution. On 21st August 2021, we will hold the TECH PLANTER ASIA FINALS 2021. On that day, 12 teams, 6 Grand Winners and 6 Leave a Nest award winning teams from their own country's TECH PLANTER will then share their updates! 
Panel of Judges 
Dr Ryuta Takeda (Head Judge)
Leave a Nest Co. Ltd. Japan 
Global Bridge Research Center, Director 
Mr Yoshikazu Uehara 
Mitsui Chemicals Singapore R&D Centre, Pte. Ltd.
Managing Director 
Mr Akitaka Wilhelm Fujii
Real Tech Holdings Co., Ltd.
President
Mr Kenji Minefuji
Mitsubishi Electric Corporation 
Manager at Business Innovation & DX Strategy Div. 
Mr Tetsuya Araki
Nihon Unisys. Ltd.
Manager of Global Business Development
Mr Satoshi Washiya 
ACSL Ltd. 
Chief Operating Officer, President, Board Director 
Mr Tsunemichi Mukai
Mitsui O.S.K. Lines Ltd. (MOL)
General manager, Ferry and Maritime Associated Business Division 
Mr Yusuke Miyazaki 
Manager
Nippon Shobukai
Overview of the event
・Date and time: 21st August 2021 (Sat), 13: 00-18: 00 (Singapore time)
・ Holding format: Online conference via Microsoft Teams
・ Language: English
・ Organizer: Leave a Nest Singapore Pte. Ltd.
Programme Timeline:  
13: 00-13: 30 Opening Ceremony 

13: 30-14: 20 Round 1: Philippines (2 teams), Indonesia (2 teams) 

14: 20-14: 30 Break

14: 30-15: 20 Round 2: Vietnam (2 teams), Malaysia (2 teams)

15: 20-15: 30 Break

15: 30-16: 20 Round 3: Thailand (2 teams), Singapore (2 teams)

16: 20-16: 30 Break

16: 30-17: 30 Judging Time

17:30-18:00 Awards and closing ceremony 
For enquiries: 
e-mail: [email protected]