Future EBI agents in the making; great success of the ONE-EARTH science workshop in collaboration with Dr. Suzuki from Euglena Co., Ltd.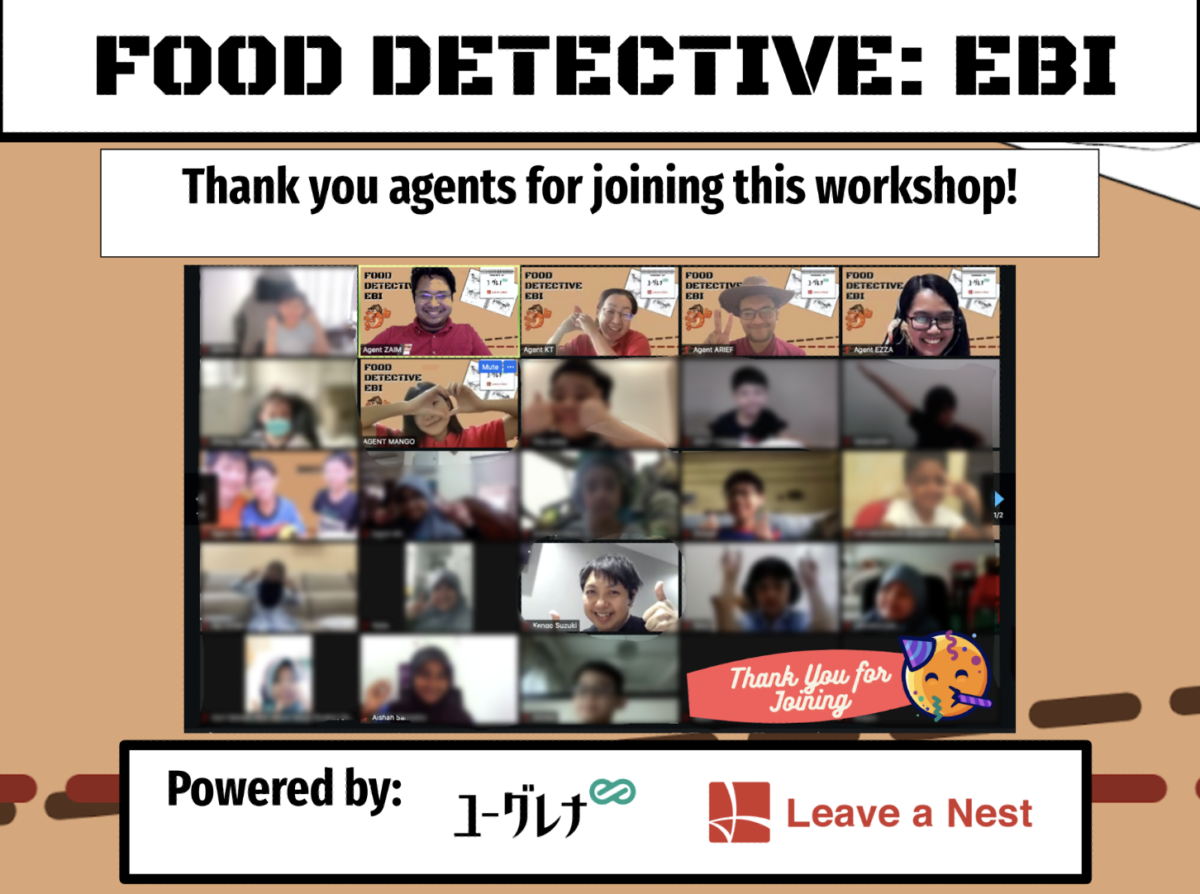 On 27th December 2021, Leave a Nest had the honour to conduct the 1.5 hour virtual ONE Earth program (science workshop) with Euglena Co., Ltd.. The aim of this science workshop is to stimulate the minds aged 8 to 10 (future researchers) via learning observation skills and doing simple experiments with items that are readily around us.
Total of 20 students from Singapore and Malaysia aged between 8 to 10 joined on the day. We also had 6 years old who joined in with his older brother.
During the 1.5-hour online workshop, students got to learn about how to identify the freshness of shrimps/prawns, their living environments, the nutritional values of shrimps/prawns, and learn how to identify between the 'shrimp' and 'prawn'. Lastly, students also gained knowledge on the cause of the colour change by the application of heat to the shrimp/prawns through experiment.
Through these experiments and short lectures, students were introduced to scientific ways of investigating the world around them in hope that they will start to develop the skills much needed in the world today.  Leave a Nest believes these skills are for all and is useful even if you do not become a scientist.
At the finale of the workshop, Dr Suzuki from Euglena Co., Ltd. gave a very interesting talk on microalgae Euglena. A unicellular microorganism that bears the characteristics of both plant and animal cells.
Euglena is abundant in nutrients, it consists of 14 vitamins like Vitamins C & D, minerals like Iron & Calcium, amino acids like Lysine & Alanine, 11 unsaturated fatty acids like DHA & EPA and 7 others like Chlorophyll & Paramylon (β-glucan). Dr Suzuki shared that Euglena has been made into cookies, the benefits of Euglena range from health, cosmetics to biofuel. He is currently working on the project to cultivate Euglena in space, so we do not have to transport food.
Leave a Nest Singapore will be celebrating its 12-year anniversary in 2022. We hope to bring lots of exciting workshops to school children virtually and hopefully some face to face to celebrate the moment as knowledge sharing with the next generation is where Leave a Nest Group started the business and how we hope to achieve "Advancing Science and Technology for Global Happiness". Watch out for our announcement on the future ONE Earth Program by Leave a Nest.