Join the 1st information session for TECH PLANTER DEMO DAY for THAILAND 2022!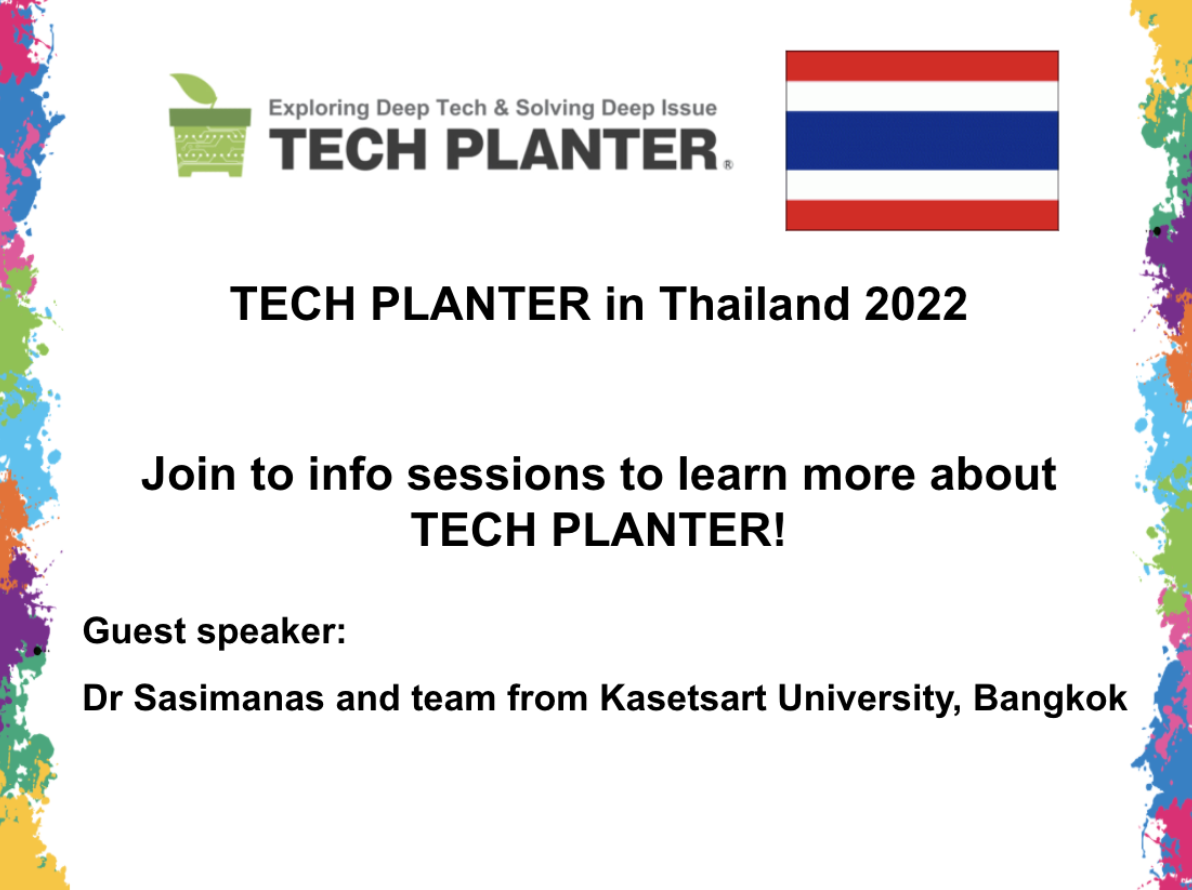 Leave a Nest will be starting the 2022 season of TECH PLANTER in the ASEAN region. Leave a Nest started this platform in 2014 in hope to support Deep-Tech startups all around the world. 
The TECH PLANTER programme has been conducted in 6 countries in the ASEAN region over the past few years and our network of startups has grown up to over 700 teams since 2014. The TECH PLANTER platform provides support holistically, starting from prototyping, IP strategy, investments, and last but not least, connecting the startups with large corporations from Japan.  
On the 6th April 2022, 15:00 – 16:00 (Thailand time), we will be conducting an information session for TECH PLANTER THAILAND via zoom. In this information session, we will be sharing about Leave a Nest and some details about TECH PLANTER as well. We will also be taking questions from our potential participants to clarify any doubts.  
Overview of the information session:
Date: 06 April 2022 (Wed)
Time: 15:00–16:00 (Thailand Time)
Mode: Online via ZOOM
Agenda for the day: 
Timeline 

(Thailand Time)

Activity

Content

1500-1520

Leave a Nest Session

Introduction of Leave a Nest by Dr Mango Loo, Research & Development Division, Leave a Nest Singapore.

(20 min)

1520-1530

Sharing Session 1 

Presentation by Alumni – Dr Sasimanas and team 

(Kasetsart University, Bangkok)

(10 min) 

1530-1540

Application demo

Filling up application demonstration

(10 min) 

1540-1600

Q & A Session

20 min Q & A from the participants. 

(The time may be extended when necessary)
To register for the first information session, 
Please click HERE
We will also plan to conduct our second information session on 20th April 2021 as well. If you are unable to attend the first session,  please try joining our 2nd information session.
We will soon update the link for the second information session, stay tuned! 
Lastly, we will also be hold Hyper Interdisciplinary Conference THAILAND on 19th November 2022
For any inquiries, kindly contact us: