Tsunagu Research Project 2022 is now open for applications!!!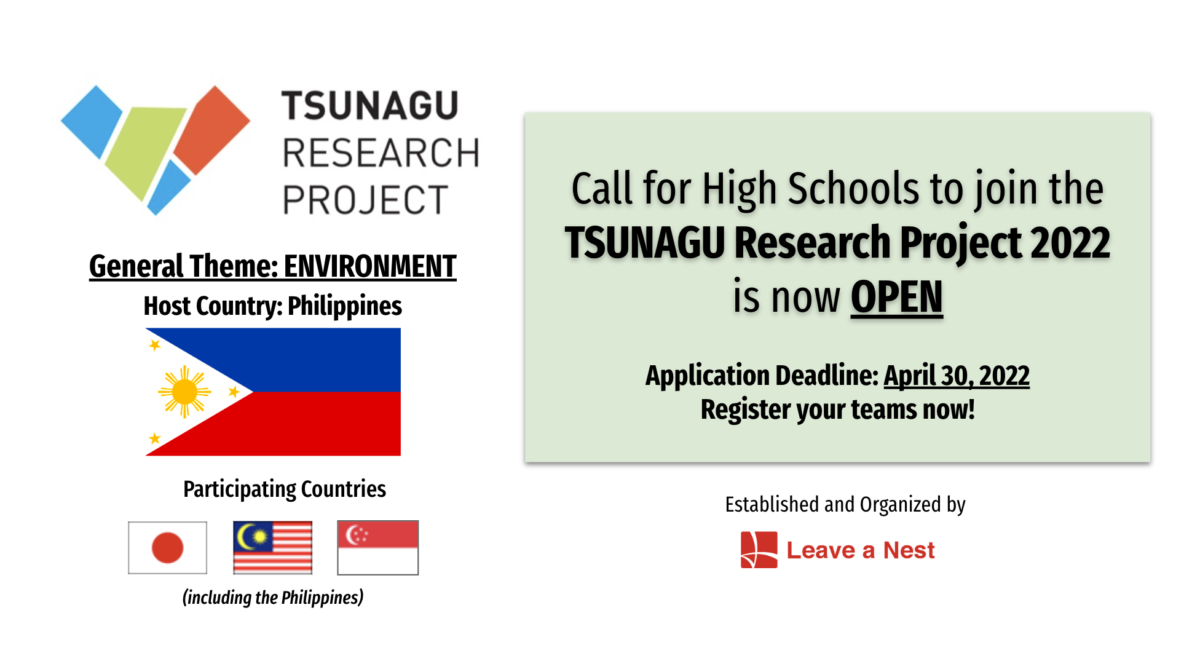 Leave a Nest Group (Leave a Nest Philippines, Singapore, Malaysia, and Japan) will be hosting the third Tsunagu Research Project 2022. The host country of this year's Tsunagu Research Project is the Philippines, with our primary research focus will be in Environment. Applications are now open for entry for schools from Japan and ASEAN countries.
What is the Tsunagu Research Project?
"Tsunagu" in Japanese means to connect. Tsunagu Research Project's main essence is for school students specifically, middle and high school students in ASEAN and Japan to get connected and collaborate with each other to practice research skills to help in solving social issues that exist to continue producing good solutions. It is the way of creating a knowledge-sharing circle according to the respective experience and expertise of young researchers by creating a knowledge circle consisting of sharing experience, working together, and discussing ideas. This is the unique platform for educational projects which allows the engagement between students by sharing knowledge.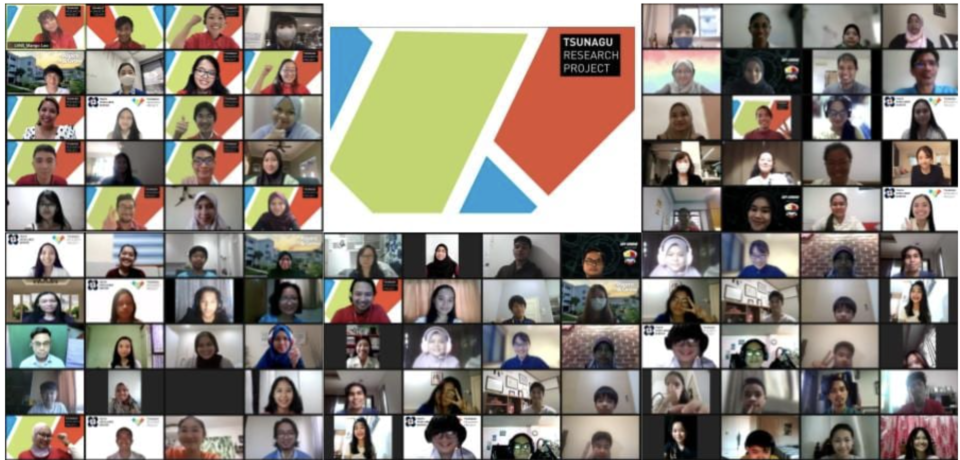 Welcome to Tsunagu Research Project 2022:
Host Country: the Philippines
Theme: Environment
Subcategory: Energy, Water, Waste
Visionary Partners: First Gen Corporation
Venue:

Online Platform via ZOOM
Tsunagu Research Project 2022 Timeline:
| | |
| --- | --- |
| Schedule | Contents |
| Application | April 1st to April 31st |
| Project Kickoff | June 9th  |
| Science Workshop + Icebreaker session | June 25th |
| Midterm presentation 1 | July 14th |
| Midterm Presentation 2 | September 29th |
| Final Presentation | December 18th |
| Reflection Session | January 14th, 2023  |
Activities in Tsunagu Research Project 2022:
Online Science Workshop & Ice Breaking

Experiment

Online Discussion

Presentation
▼▼▼▼▼▼▼▼▼▼▼▼▼▼▼▼▼▼▼▼▼▼▼▼▼▼▼▼▼▼▼
We are currently opening the application for schools participating in this project and welcome corporate partners.
Register now by 30th April 2022.
For School registration, kindly click here: APPLICATION FORM
▲▲▲▲▲▲▲▲▲▲▲▲▲▲▲▲▲▲▲▲▲▲▲▲▲▲▲▲▲▲▲▲
For more information about our previous years of Tsunagu Research Project:
Tsunagu Research Project official website: https://tsunagu.lne.st/
Tsunagu Research Project STAFF:
Bryan Angelo Foronda, BSc
Project Leader

Agrobiological Resource Sciences 
Leave a Nest Philippines, Inc.

Yevgeny Aster Dulla, PhD


Project Manager

Pharmaceutical Sciences
Leave a Nest Co., Ltd. Japan
Leave a Nest Philippines, Inc.

Nur Ahmad Zaim Hussin, BEng

Electronic Systems
Leave a Nest Malaysia Sdn. Bhd.

Leave a Nest Singapore Pte. Ltd.

Ying Hui Loo "Mango", PhD

Leave a Nest Singapore Pte. Ltd.

Human Factors & Industrial
Organizational Psychology

Leave a Nest Co., Ltd. Japan
Tsunagu Research Project 2021:
Countries: 4 countries (Singapore, Malaysia, Philippines, and Japan),
Schools and teams: 7 schools in total 14 teams
Host Country: Malaysia
Theme: Agriculture, focusing on Palm Oil
Silver Partner: FGV Holdings Berhad (FGV)
Tsunagu Research Project 2020:
Countries: 4 countries (The Philippines (host country) Japan, Malaysia, Singapore, and Japan),
Schools and teams: 7 schools in total 12 teams
Theme: Soil Science
Inquiry

The Philippines : Attention to Bryan, [email protected]
Singapore : Attention to Mango, [email protected]
Malaysia:  Attention to Zaim, [email protected]
Japan: Attention to  Satomi Maeda, [email protected]