TECH PLANTER Asia Final 2022 will happen on 20th August in Singapore- We are back to physical event.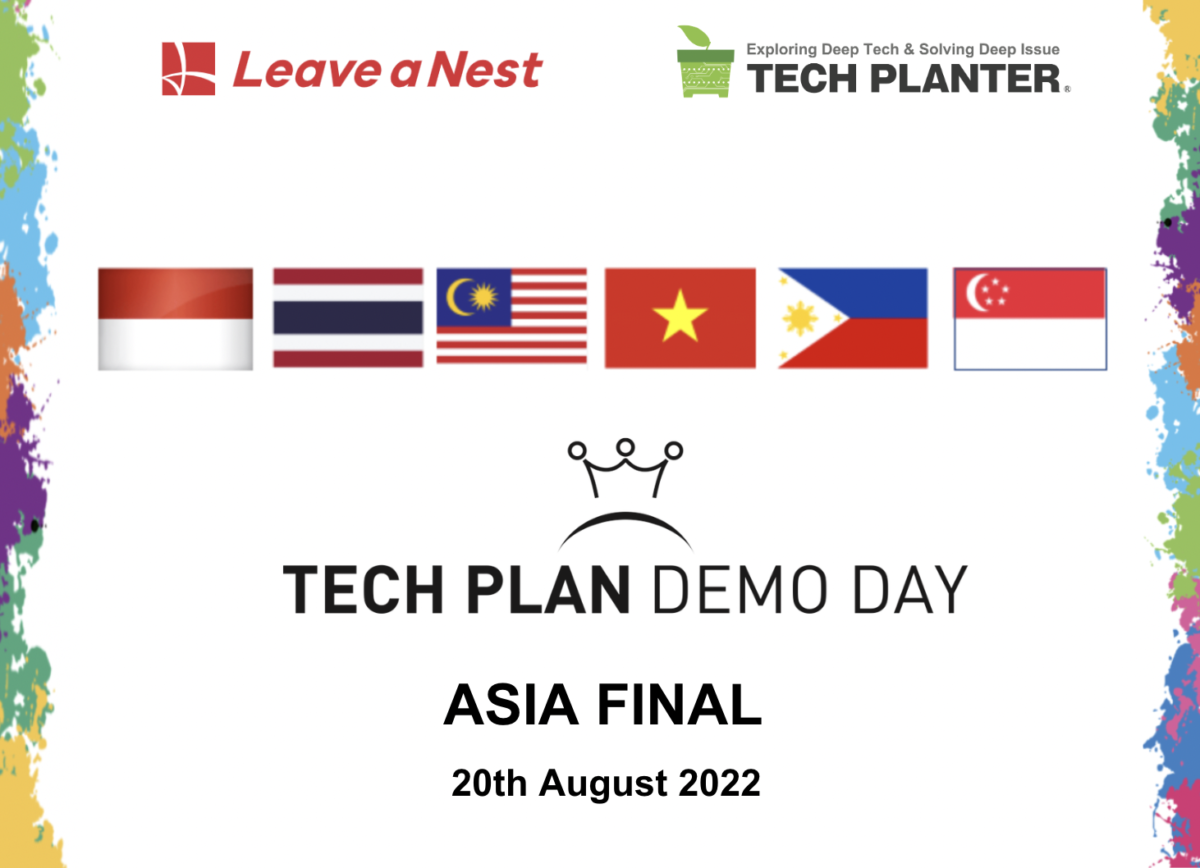 Leave a Nest Group has managed to fortify its deep tech start-up ecosystem via addition of new startups. Throughout the history of TECH PLANTER in Singapore, Malaysia, Indonesia, Philippines, Thailand and Vietnam  from 2014 to 2022, a total of 1129 teams were recruited. We have managed to develop an ecosystem within Asia that aims to nurture real tech ventures. Its steady growth has allowed us to be the largest deep tech discovery platform in Southeast Asia.
Being the largest deep tech discovery platform, the COVID-19 pandemic has not stopped us from conducting TECH PLANTER ASIA Finals 2022. Instead, TECH PLANTER Asia Finals 2022 will be held at The Meeting Point, 73B Ayer Rajah Crescent, Singapore 139966 on 20th August 2022. Apart from technical sharing, we also aim to bridge the TECH PLANTER finalists with Japanese firms. We would love to bring companies and start-ups together to solve existing deep tech challenges.
On 20th August 2022, 12  outstanding teams (Leave a Nest Award winners and Grand winners from six Asian countries) that stood out from 186 applicants, will be pitching and presenting their ideas and technologies. TECH PLANTER Asia Finals will be a great chance for the start-ups to showcase their work and how closely knitted they are within this ecosystem together with the corporations and government sectors. This event would also provide  teams from Asia to understand how Japanese companies would like to explore deep tech startups coming from Southeast Asia. The panel of judges mainly are from Japan and would be able to bounce off ideas during the session.
Program Overview:
Date and time: 20th August 2022 (Saturday), 13:00 – 18:00 (SGT)
Venue: The Meeting Point, 73B Ayer Rajah Crescent, Singapore 139966.
Language: English
Organiser: Leave a Nest Singapore Pte. Ltd
Programme Timeline:
Timing in SGT
Content
13:00 – 13:30
Opening Remark
13:30-14:20
Round 1

Philippines(2 teams), Indonesia (2 teams)

14:20-14:30
Break
14:30 – 15:20
Round 2

Singapore (2 teams), Vietnam (2 teams)

15:20 – 15:30
Break
15:30 – 16:20
Round 3

Malaysia (2 teams), Thailand (2 teams)

16:20 – 16:30
Break
16:30 – 17:10
Judging Time
17:10 – 18:00
Award Ceremony
TP Asia finalists:
Country
Teams
Short description
Philippines
Galansiyang Inc.
Theme: TANOM and LANTAWA: Utilizing drones and GIS technology for a rapid reforestation and to digitized forest monitoring.

Issue: High rates of deforestation especially due to mining and slow rates of rehabilitation

Biofloc Philippines
Theme: Intensive aquafarming using BIOFLOC Technology

Issues: Seafood meat supply deficiency and loss.

Indonesia
Electric wheel team
Theme: Custom EV Conversion with Swappable Battery.

Issues: 1:1 motorcycle per use ratio that leads to carbon emission in Bali.

NASHO
Theme: Nasho: Nanotechnology Based Coating and Self Cleaning Product.

Issue: People that wear eyeglasses usually have difficulty protecting their glasses from getting dirty.

Singapore
DRAVAM
Theme: Quality fueling business.

Issue: Inconsistency of fuel quality, leading to degradation of the damage of fuel lines and pollution.

Stratificare
Theme: StratifiREY Radioembolization CDx.
Issue: Mid to late stage, palliative liver cancer patients currently do not have a way to decide whether they should go for the potentially curative radioembolization (Y90-RE) treatment or other forms of treatment e.g. chemotherapy or immunotherapy.
Vietnam
Apicoo Robotics
Theme: Smart gripper for collaborative robots

Issue: Lack of hand devices for collaborative robots which had a rise in production due to automation

BKTENG
Theme: Transforming recycled plastic waste into electrical energy

Issue: Energy crisis, and negative effects of the use of fossil fuels to the environment; plastic waste

 Malaysia
Thinkers
Theme: Carbon + Calcium Generator for Generating Calcium Carbonate Nanoparticles.

Issue: Carbon capture and conversion into carbonate are limited by the slow gas permeation into the aqueous solution containing calcium-rich waste.

UMORIE
Theme: Graphene Battery For Electric Vehicles (EV).

Issue: The problem with Lithium Ion batteries is heavy, bulky and slow charging.

Thailand
MUU
Theme: Cow's milk made without cows (Lab-grown milk)

Issue: The current dairy industries are not sustainable, resulting in long-term downsides to people

NABSOLUTE
Theme: Booster for Better Health

Issue: Biotechnology innovation is not happening in Thailand and all technology are brought in from outside
We sincerely hope that all the innovative technologies that are being developed in ASIA will find their way to solve global issues soon.
To learn more about TECH PLANTER, kindly visit: https://en.techplanter.com
For more information or any inquiries or concerns, please send an email to Dr. Mango Loo at [email protected]