TSUNAGU INTERIM PRESENTATION 1 2023: A RESOUNDING SUCCESS!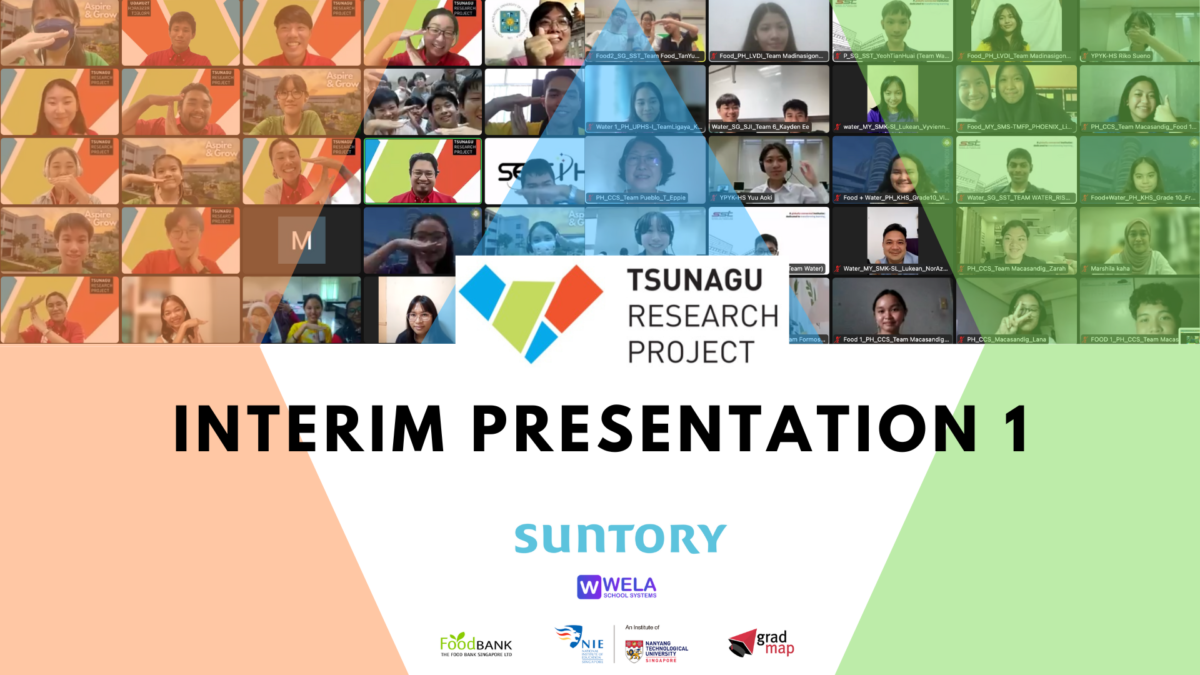 Step into the world of TSUNAGU Research Project, where passionate students are joining forces to tackle Singapore's most pressing challenges: food and water security. Since its exciting kickoff on June 5, 2023, the TSUNAGU research students have embarked on an exhilarating journey of discovery, culminating in the awe-inspiring Interim Presentation 1, held last July 5, 2023!

Imagine a vibrant atmosphere buzzing with intellectual energy as 16 teams delved deep into the intricacies of food-related issues, while another 11 teams took on the vital topic of water. Each group explored a vast array of subjects, encapsulating this year's overarching theme.
During the Interim Presentation 1, the teams transitioned into breakout rooms, guided by the Leave a Nest mentors as the facilitators. In the breakout room, the students had the opportunity to showcase their research endeavors. With just 5 minutes to captivate their audience, they shared their meticulously crafted plans and presented their research topics in concise yet impactful three-minute presentations followed by two minute Q&A sessions from their fellow students and external mentors. 
The variation of research topics covered by the students was simply awe-inspiring. From transforming agricultural waste into organic fertilizers to combat food scarcity, to harnessing the potential of rainwater to overcome the challenges of clean and drinkable water scarcity – their ingenuity knew no bounds. The TSUNAGU research students exhibited an exceptional sense of curiosity, propelling them towards innovative solutions that hold the key to Singapore's food and water security. 
Within the breakout rooms, vibrant conversations unfolded as minds united in pursuit of a common goal— to unravel the collective purpose that unites each team, find commonality, and to establish a synergy that would propel them towards impactful outcomes. Here's the list to unveil the overall goals that emerged from each breakout room which were also verbally presented by a volunteer student from each breakout room: 
BREAKOUT ROOM 1 TEAM FOOD 1: Addressing environment and food security issues from 3 perspectives: Agriculture, Urban Farming and Natural products & Packaging.
BREAKOUT ROOM 2 TEAM FOOD 2: Solving Food issue (food waste, food cultivation cost, and food preservation) in Singapore.
BREAKOUT ROOM 3 TEAM WATER 1: The optimization of water usage to achieve water security via reuse, improve water treatment and water resources in agricultural and environmental management.
BREAKOUT ROOM 4 TEAM FOOD + WATER: Common goal to explore aspects of environmental sustainability, Improving human health and also improving water quality for human well being.
WHAT'S NEXT FOR TSUNAGU RESEARCH PROJECT?
Interim Presentation 1 was just the beginning—a platform for these visionary students to present their research ideas and meticulously crafted plans. Now, armed with valuable feedback and insights from their peers and mentors, they'll eagerly dive into the heart of their experiments. 
In their journey towards Interim Presentation 2, the students will embrace the thrill of scientific inquiry as they embark on their experiments, eager to gather vital data that will shape their research. Every observation, every data point will guide them towards innovative solutions.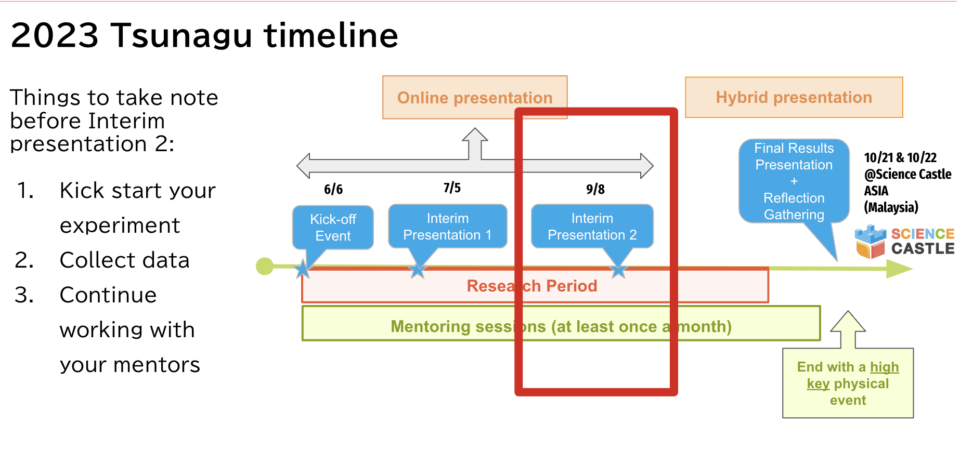 TSUNAGU Research Project 2023 Timeline
The Interim Presentation 2 will commence on the 8th of September 2023, which is 2 months away! This will give the students enough time to perform their experiments, collect valuable data, and of course to continue working with their mentors to further hone and refine their research ideas and slowly turn them into reality. So, let the experiments commence, the data flow, and the spirit of inquiry thrive. The countdown to Interim Presentation 2 begins, and with each passing day, the TSUNAGU research students inch closer to their collective vision!