TECH PLANTER Thailand will be happening this Saturday!!!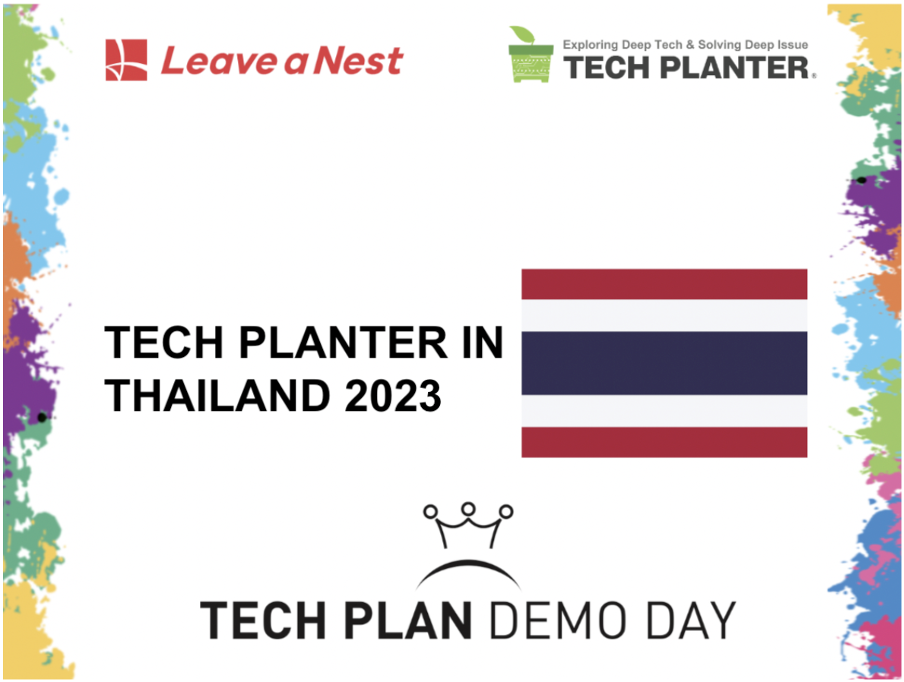 Leave a Nest Singapore will be hosting TECH PLANTER Thailand 2023 this Saturday, 22nd July 2023 at the KMUTT KX Building.
Date: 22nd July 2023 (Saturday)
Time: 12:00 hrs – 18:00 hrs (in Thailand local time, +1 for SGT; +2 for JPT)
Venue: KMUTT KX Building, Floor 7, 110 1 Krung Thon Buri Road, Bang Lamphu Lang, Khlong San, Bangkok 10600, Thailand
Full schedule: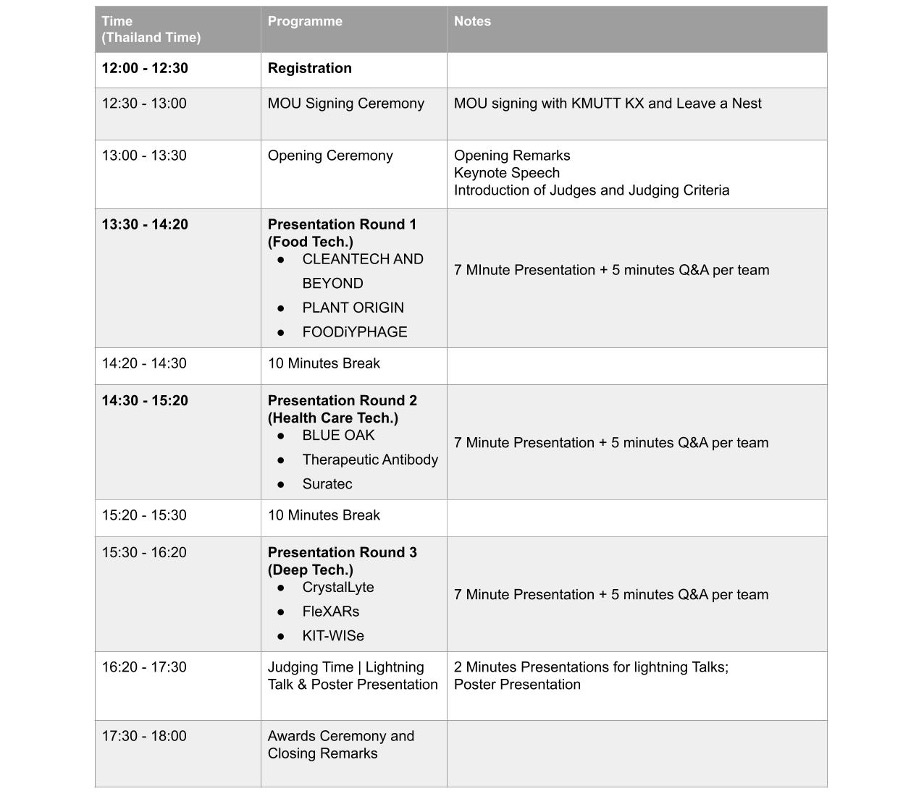 During this event, 9 outstanding teams with different categories that stood out from 35 applicants, will be pitching and presenting their ideas and technologies physically in Bangkok, Thailand. TECH PLANTER in Thailand 2023 Demo Day will be a great chance for the Deep Tech start-ups to showcase their work and how closely knitted they are within this ecosystem together with the corporations and government sectors. Check out the 9 finalists here: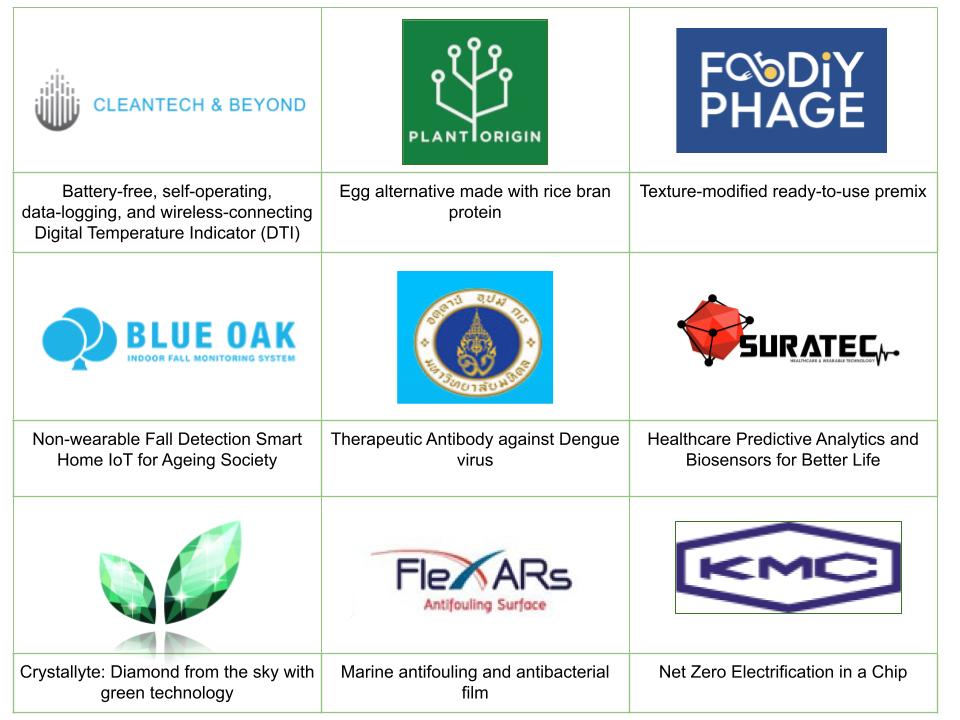 The finalists will be judged by our panel of 10 judges from government agencies, technology business incubators and companies from Thailand and Japan. The esteemed panel of judges brings a wealth of experience and expertise to the evaluation process. Their insights and feedback will provide valuable guidance and support to the finalists, helping them refine their concepts and potentially secure investment opportunities.
The Judges are as shown below:
Mr. Shohei Maekawa, Director, Leave a Nest Singapore Pte. Ltd.
Mr. Maekawa is the President of Leave a Nest UK. He was born in the USA and raised in Europe. He studied Zoology for his undergraduate degree and Evolutionary Anthropology for his postgraduate degree, both at University College London. With experience aboard and passion towards advancement of science and technology, he joined Leave a Nest in 2013. Currently president of Leave a Nest United Kingdom and Director of Global Bridge Laboratory of Leave a Nest Co., Ltd. He became Director of Leave a Nest Singapore Pte. Ltd. from May 1st 2019 with the vision to interconnect various industry partners for global development.
Mr. Narusan Dhanvarjor, Acting CEO and Head of Investment, InnoSpace Thailand Co, Ltd.
Narusan Dhanvarjor is currently an Acting CEO of InnoSpace (Thailand) and head of investment. InnoSpace (Thailand) is venture capital with 16 LPs from different sectors in SET and focuses on early-stage deep tech investment in Thailand to help develop startup ecosystem. Prior to join InnoSpace (Thailand) Narusan experienced in Banking, and retail industry then spent 7 years in Management consulting firm in Thailand took care of financial and state-owned enterprise in strategy and operation management before allocated to manage PE firm to invest in Innovation Driven Enterprise (IDE). Narusan joined innospace (Thailand) for 3 years as head of investment to design investment thesis, WOP, and invested 17 startups with 1 exit (as of June 2023).
Dr. Patrachart Komolkiti, CEO, KX Knowledge Exchange
Patrachart Komolkiti received his Bachelor's degree from Chulalongkorn University, Bangkok, Thailand, in 1997, his Master's degree from Northwestern University, USA, in 1998, and his Doctoral degree from Chulalongkorn University, Bangkok, Thailand, in 2011, all in Electrical Engineering.
From 2003 to 2016, he was a faculty member in the department of Computer Engineering, Assumption University, where he also served as the department chairperson. From 2016 to 2017, he joined the Smart Mobility Project by the Faculty of Engineering, Chulalongkorn University. From 2018 to 2022, he served as director of the Learning Innovation Center and acting director of the Office of Academic Affairs, Chulalongkorn University. He is currently the CEO of KX, King Mongkut's University of Technology Thonburi. He is also the Chair of eLearning Forum Asia.
Mr. Suebsit Sarntisart Associate Director, Global Business Synergy Department, Bank of Ayudhya PCL.
Mr.Suebsit is an expert in Japan-ASEAN Business Development & Investment, International Business Partnership & Acquisition, including Investment in ASEAN Startup. Throughout the experience of over 10 years in the specific field, Mr.Suebsit have been supporting over 600 companies of Global Conglomerates & SMEs including public entities on its expansion. Mr.Suebsit is currently an Associate Director of Global Business Synergy at the Bank of Ayudhya Public Company Limited which is a subsidiary of MUFG Bank, the World's 4th largest Financial Group and Japan's largest Financial Group. He is also the host of 'Japan-ASEAN Startup Business Matching Fair', the largest Startup Business Matching Fair in ASEAN.
Ms. Pitcharee Keeratithakul, Senior Innovation Developer, Innovation for the Economy Department, National Innovation Agency (NIA)
Graduated from Stanford University with Master of Science in Environmental and Energy Engineering, Ms. Pitcharee Keeratithakul has been working as Senior Innovation Developer of National Innovation Agency (Public Organization) under the Ministry of Higher Education, Science, Research and Innovation, Thailand for 7 years. She has been undertaking a facilitating role in international collaborative innovation projects including biochemical industries, alternative energy from agricultural waste, automation in manufacturing industries in Thailand and supporting the promotion of startup business in Thailand in collaboration with international agency and organization by building of startup ecosystem and support mechanism.
Mr. Chalermpol Tuchinda, CEO Nastda Holding Co.Ltd.
Chalermpol Tuchinda is the CEO of Nastda Holding Company Limited, a 100% subsidiary of the National Science and Technology Development Agency focused on investing in early-stage deep-tech startups. He has co-founded three companies and was instrumental in establishing Reuters Software Thailand Limited. With expertise in Digital Electronics, ICT, and Business, Chalermpol possesses extensive experience in the regional startup and technology ecosystem. He has provided valuable guidance to numerous tech startups and SMEs throughout his career.
Ms. Ratchanee Fab Teepprasan, Deeptech Innovation Advisor, TDPK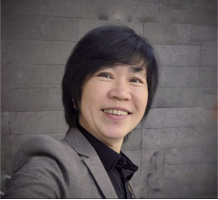 Ratchanee is a Deeptech Innovation Advisor at TDPK(True Digital Park) , responsible for ecosystem partnership and strategic plan for group R&D and innovation including digital transformation. She supports TDPK to expand its mission of Tech Startup Hub for Digital to also include DeepTech and Sciences domains. She focuses on lifesciences, health & food tech and plant agritech with the mission to develop new S-Curve and transform CP into a tech company. She helps business units find right startups, research partners and facilitates crucial stage of collaboration. She works alongside CVC team to evaluate investment opportunities. She graduated with a bachelor degree of Computer Engineering from Chulalongkorn University and master degree of IT Engineering from Toyohashi University of Technology, Japan. Ratchanee is passionate about science communication and is currently planning to do a public outreach initiative to bring researches out from labs and to connect scientists to people at large.
Mr. Norio Asahara Regional R&D Director, Ezaki Glico Co., Ltd.
Glico manufactures not only confectionery and ice cream, but also a wide range of food categories such as beverages, dairy products, processed foods and baby milk powder. Mr. ASAHARA is the director of research and development in Glico Asia Pacific. He is looking for new research partners as well as technical support, investment and opportunities for various collaborations such as buying of new ingredients. He is responsible for new business in Asia Pacific.
Mr.Kenji Minefuji, Manager at Business Innovation Group & ME Innovation Fund, Mitsubishi Electric Corporation
Kenji Minefuji has led various open innovation activities with his business strategy and venture finance expertise. Since 2016, he has provided hands-on support for many startups in over 10 countries as a mentor. During his communication with startups, he developed novel collaboration schemes/concepts between startups and multinational corporations. He started his career as a research scientist of optical communication technology at the Information Technology R&D Center. In his mid-career, he planned the R & D strategy of the R&D center, and was in charge of resource allocation and project management, too. His deep understanding and experience of both cutting edge science & technology and business strategy made him launch unique open innovation activities with startups at the Center for Future Innovation. He plays a key role in running "ME Innovation Fund" established as a CVC fund in 2022.
Mr. Louis Murayama, Director, Real Tech Holdings Singapore
Louis is a Plant Biotechnologist by training (M.Sc. University of Freiburg, Germany) He worked as a Marie Skłodowska-Curie Fellow at the Jagiellonian University. In 2017, he joined the Tokyo office of Boston Consulting Group as a management consultant, where he specialized on corporate strategy and finance, advising firms on M&A, PMI and TSR (total shareholder return) maximization. Louis joined Real Tech Holdings as Growth Manager where he is currently providing strategic business development advice to portfolio companies.
Lightning Talk 
In addition to the impressive group of finalists, we are thrilled to announce that we have handpicked 6 exceptional teams to deliver lightning talk pitches and showcase their projects at our event.
These lightning talk pitches will provide a unique opportunity for these teams to captivate you with their innovative ideas and initiatives. Prepare to be inspired as they share their groundbreaking projects and their vision for the future of technology.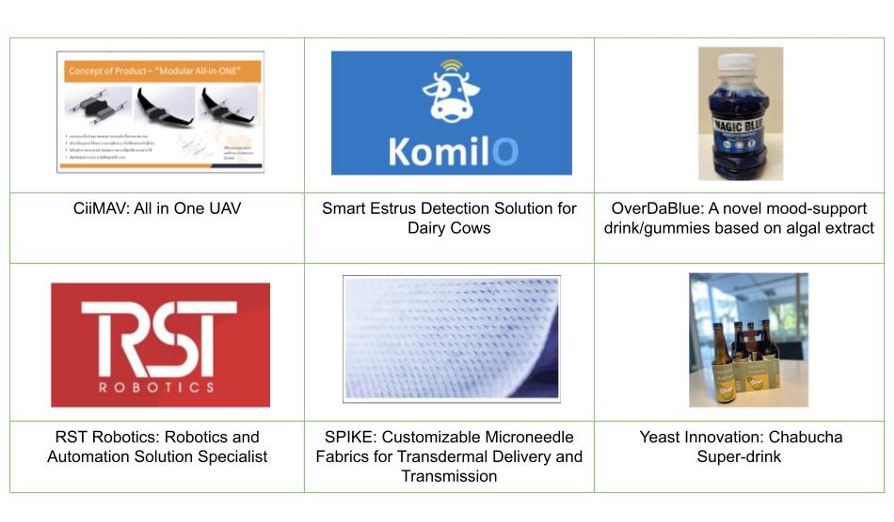 Don't miss the chance to witness these innovative minds in action as they compete for recognition and support. The presentations promise to be engaging, thought-provoking, and filled with potential.
For more information on the Judges, please refer to this link:
https://global.lne.st/news/sg/2023/06/30/tpth-2023-judge_announcement/
For more information on the Finalists, please refer to this link:
https://global.lne.st/news/sg/2023/07/05/tpth_finalist_announcement/
If you have any questions, do not hesitate to contact us at info[at]lne.st.