Leave a Nest Philippines convenes local and foreign partners for the 4th Hyper Interdisciplinary Conference in the Philippines!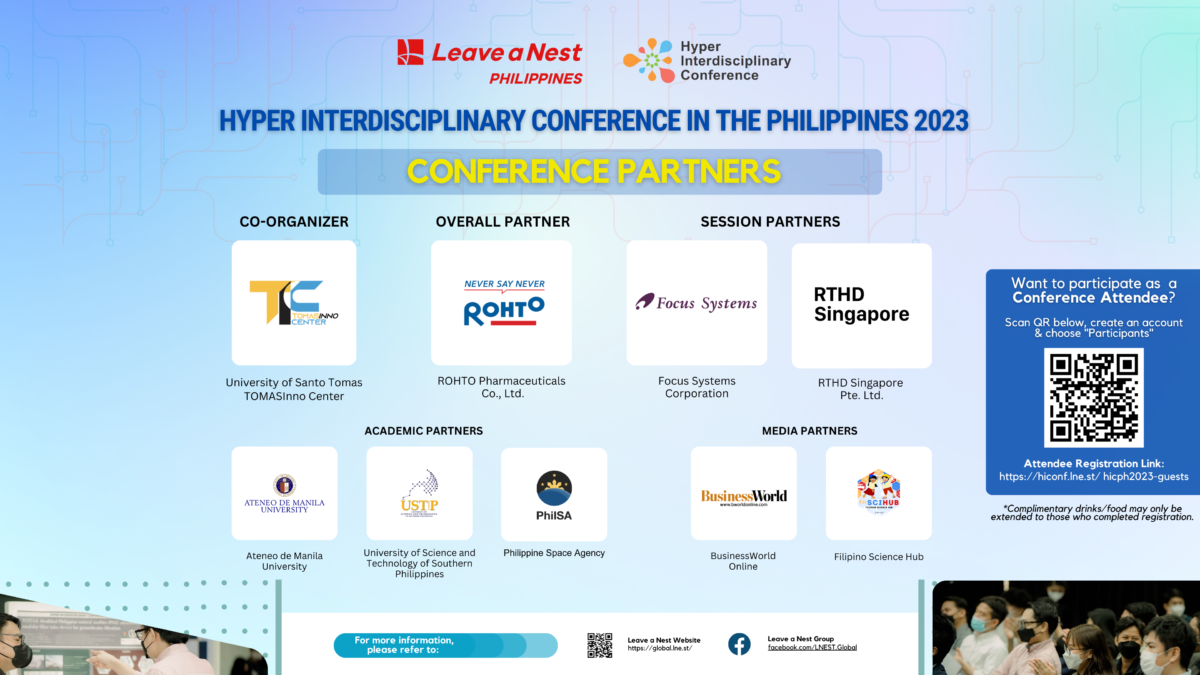 Leave a Nest Philippines will conduct its 4th Hyper Interdisciplinary Conference in the Philippines (HIC PH) on November 11, 2023 from 9;30am-5:30pm at the University of Santo Tomas (Benavides Building / UST Junior High School Building). The conference will revolve around the theme of "Convergence of Reformative Technologies for Localized Solutions" with the aim of pooling individuals and entities ranging from academia, government offices and agencies and corporate partners. This year, the conference welcomes local partners from the Philippines, and foreign partners from Japan and Singapore – all of whom will be instrumental in actively pushing technologies, research collaborations and partnerships to alleviate local deep issues. It is with high hopes that all attending researchers, startups, companies, government representatives and all conference participants will be able to interact with them during the conference to initiate collaborations!
In pursuit to the successful implementation of the Hyper Interdisciplinary Conference in the Philippines 2023, Leave a Nest Philippines will conduct this conference together with the University of Santo Tomas, through the TOMASInno Center, as the HIC PH 2023's Co-organizer.
University of Santo Tomas – TOMASInno Center (TIC)

The TOMASInno Center (TIC), under the University of Santo Tomas, was established in August 2019 by UST with the support of a grant from the Department of Science and Technology – Philippine Council for Industry, Energy and Emerging Technology Research and Development (DOST-PCIEERD), TIC serves as a hub for innovation and technopreneurship within and beyond the university ecosystem. Through co-organizing the HIC PH 2023, they actively pursue their mission of cultivating a culture of entrepreneurship, innovation, and technology-driven ventures.
Together with UST-TIC, the private companies who wish to positively contribute to the local research and innovation scene through HIC PH 2023 are as follows:
ROHTO Pharmaceutical Co., Ltd. (Overall Partner)
ROHTO Pharmaceutical Co., Ltd., is a Japanese manufacturer and marketer of pharmaceutical products, cosmetics and functional foods that was founded on February 22, 1899. Guided by their Never Say Never mindset, currently they are interested in the creation and advancement of over-the-counter (OTC) drugs, skin care, functional foods, regenerative medicines and especially eye care-related medications.

Focus Systems Corporation (Session Partner)

Focus Systems Corporation, founded in April 1, 1977, is an IT related company which is keen in carrying out their corporate slogan "Put Our Heart into Technologies". Their main business operations revolve around System integration, Information security, and IT services (consulting, development, operations, and maintenance). With their heart to bring happiness, Focus Systems partnered with researchers, startups, and other companies to work on projects in fields outside of IT such as business development, education, and agriculture. As Focus Systems continues to trigger and think together with interdisciplinary teams in Japan, they are also interested in extending their initiatives to other countries, as they see the potential in collaboration between IT and other fields in South East Asia.

RTHD Singapore, Pte. Ltd. (Session Partner)

Real Tech Holdings is a venture capital firm that started from investing in Japanese deep tech startups to solve global issues, until it raised the Global Fund in May 2020 to extend its reach to Southeast Asia. Currently, their wholly-owned Singapore subsidiary, RTHD Singapore, Pte. Ltd., was incorporated last February 2022 and focused on securing investments and growth support for deep tech startups in various technology fields (such as healthcare, food tech, drone, AI, etc.) within Singapore and other Southeast Asian countries.
HIC Philippines 2023 also recognizes the contribution of different Philippine universities as premium vessels of knowledge and provider of opportunities for their researchers to take part in collaborative efforts during the conference:
| | | |
| --- | --- | --- |
| Ateneo de Manila University | University of Science and Technology of Southern Philippines | Philippine Space Agency |
| | | |
Committed to delivering information that significantly contribute to the improvement of research and technology space here in the Philippines, the Hyper Interdisciplinary Conference in the Philippines have partnered with media outlets to provide our innovators and researchers a wider audience:
| | |
| --- | --- |
| BusinessWorld Online | Filipino Science Hub |
| | |
For more information about the Hyper Interdisciplinary Conference in the Philippines 2023, you may refer to this previous news release.
You may register as conference attendee by creating a Leave a Nest ID through this link (https://id.lne.st) and after logging in, go to this Registration Link (https://hiconf.lne.st/hicph2023-guests). Attendee registration is highly recommended to be sent on/before November 10, 2023.
If you have any inquiries, questions or concerns regarding the Hyper Interdisciplinary Conference in the Philippines, you may directly contact the project leaders and organizers of the conference: