Announcement of launching a novel one-stop support service for Japanese startups to enter into Southeast Asian Market – Already IPO-ed Japanese drone startup ACSL as our first partner –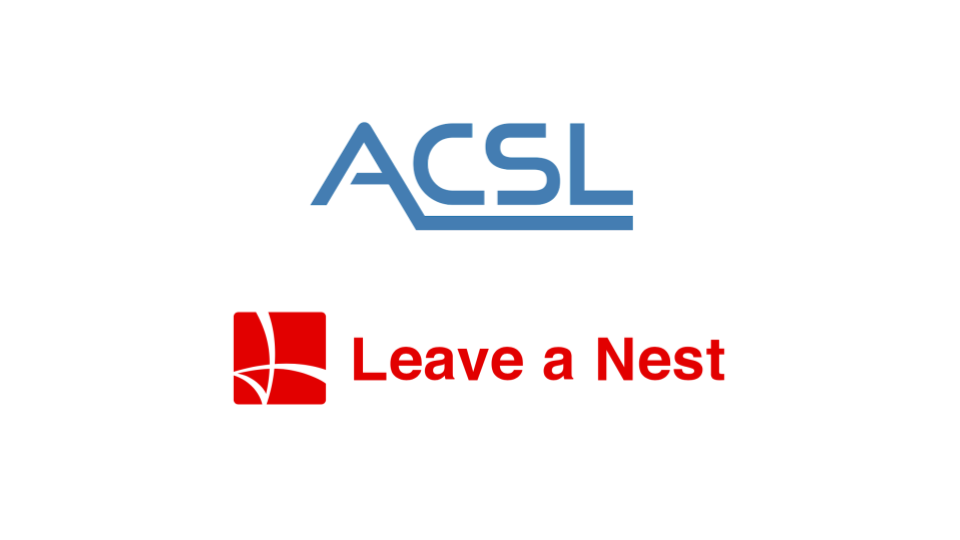 Leave a Nest Co., Ltd. (Representative : Dr. Yukihiro Maru, Head office: Tokyo, Japan; hereinafter referred to as "Leave a Nest") and Leave a Nest Singapore Pte. Ltd. (Representative: Dr. Kihoko Tokue; Head Office: Singapore; hereinafter referred to as "Leave a Nest Singapore") have launched a one-stop support service for Japanese technology based startups to enter Southeast Asian market. Leave a Nest Singapore as local partner, can offer this new service which covers wide range of activities; such as, providing incubation office, supporting sales and recruiting.
 We are pleased to announce that we start business alliance with a startup from Japan, Autonomous Control Systems Laboratory Ltd. (Representative: Dr. Hiroaki Ota; Head Office: Chiba, Japan; hereinafter referred to as "ACSL"), which develops and sells high-performance, high-quality drones made in Japan.
  Since 2014, Leave a Nest has been promoting real-tech seed acceleration program TECH PLANTER, which eventually became one of the largest startup ecosystems in Asia Pacific region. To date, we have discovered and incubated 598 startups in Japan and 627 startups overseas.
 Leave a Nest Singapore was established in 2010 as one of our core oversea subsidiaries. Now it evolves into a hub in Southeast Asia, and also being responsible for business development in Singapore and ASEAN 5 countries (Malaysia, Thailand, the Philippines, Vietnam, and Indonesia).
 In order for startups to expand their business into rapidly growing Southeast Asian market from Japan, they must go overcome various hurdles. We realized through TECH PLANTER program that they face challenges; such as, establishment of oversea branches, collaboration with local companies and governments, and recruitment of passionate local people. Usually, startups just started their activities in Southeast Asia does not have any expertise and networks. That is why we established our program to solve such problems.
 Leave a Nest and Leave a Nest Singapore, we will provide L-HUB (L-nest Innovation HUB) SG as an office space for startups passionate in solving global challenges. This will promote collaboration between Japanese and local startups in terms of technology. We will also support the entry of Japanese startups into Southeast Asians market by leveraging our incubation expertise we have developed to date, as well as our network with private companies, government agencies, and universities. 
 ACSL, the first startup Leave a Nest Singapore has made business alliance this time is one of the selected finalists at the 6th Deep Tech Grand Prix 2018 in TECH PLANTER program, and received Nihon Unisys AWARD. Not only limited to this success, they are already listed on the TSE Mothers market in December 2018, recently attracting many business partners from the world.
 If you are considering your business expansion into Southeast Asia, please contact to Leave a Nest.
<Contents of one-stop service>
   Residency at L-HUB SG office space 

adjacent to the Leave a Nest Singapore Head Office

 

Hands-on support by Leave a Nest communicators

 

Sales support to promote collaboration with local startups, government officials, private companies, etc.

  Support for participating

 in career events at the top two universities in Singapore (NUS and NTU)
<About L-HUB SG>
Address: 19 Tai Seng Avenue,5th Floor, 534054 Singapore

Access: 5 minutes walk from MRT Tai Seng Station
Office Size: 169 square feet (15.7m2)
Number of seats: Approximately 10 seats (one seat can be used)
Facility: desk, printer, keyed cabinets, WIFI
<Inquiries>
Leave a Nest Singapore Pte. Ltd., Mr. Maekawa [email protected]
Autonomous Control Systems Laboratory Ltd. (ACSL), Mr. Tsukada [email protected]