Leave a Nest announces investment and partnership with Mindanao-based edu-tech startup Wela Online Corp.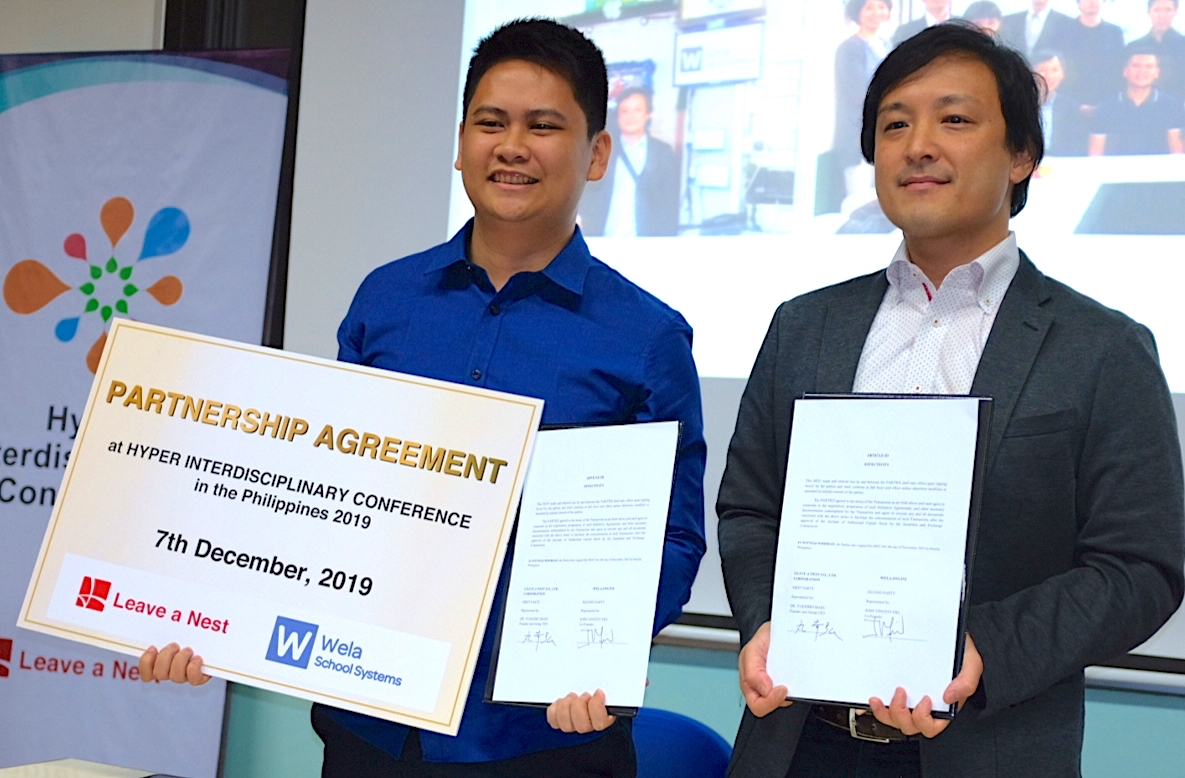 Pasay City, Philippines – Leave a Nest Co., Ltd. a knowledge-based platform company nurturing the next generation real-tech entrepreneurs headquartered in Tokyo announced its investment and partnership with Cagayan de Oro based Edu-tech Startup Wela Online Corporation (Wela) at the recently concluded Hyper Interdisciplinary Conference, on December 7, 2019, in Manila. 
This partnership between these two education-focused organizations aims to increase the momentum in the delivery of frontier technologies in the Philippine education System.
Since 2017, Leave a Nest has been involved in the Philippine innovation community through its flagship acceleration program TECH PLANTER. The yearly program aims to discover scientists, researchers, and entrepreneurs in the field of real-tech who share the vision of  "Advancing Science and Technology for Global Happiness". 
In the same year that Leave a Nest began their presence in the Philippine innovation space, Brothers Chris Ian Fiel and John Vincent Fiel established their company Wela Online Corp. Both graduates of Computer Science from Xavier University, the brothers built a company that serves technology solutions for their clients. 
Wela is a multi-award startup being recognized by different incubators and accelerators in the country including IdeaSpace, and QBO Innovation Hub, to name a few. Wela is also a recipient of the startup grant from the Department of Science and Technology's Philippine Council for Industry, Energy and Emerging Technology Research and Development. (DOST – PCIEERD)
In 2018 and 2019, Wela joined as one of the selected finalists at TECH PLAN DEMO DAY with their flagship offering Wela School Systems, an integrated school management system that provides tools to increase productivity and streamline data management for teachers and a school management solution that informs parent once their children are safely in school when the scan the RFID-enabled identification cards. Wela was also selected to receive a TECH SEED GRANT from Leave a Nest Singapore. 
To date, Wela has 27 clients all over the Philippines and has generated over PHP 6 Million pesos in revenue from its first 3 years in operation. 
Wela, with its growing network in the Philippines with education systems and infrastructure inside schools, and Leave a Nest with its network with Edu-tech startups and frontier technologies, and corporate partners aim to bring innovation in the country's education platform.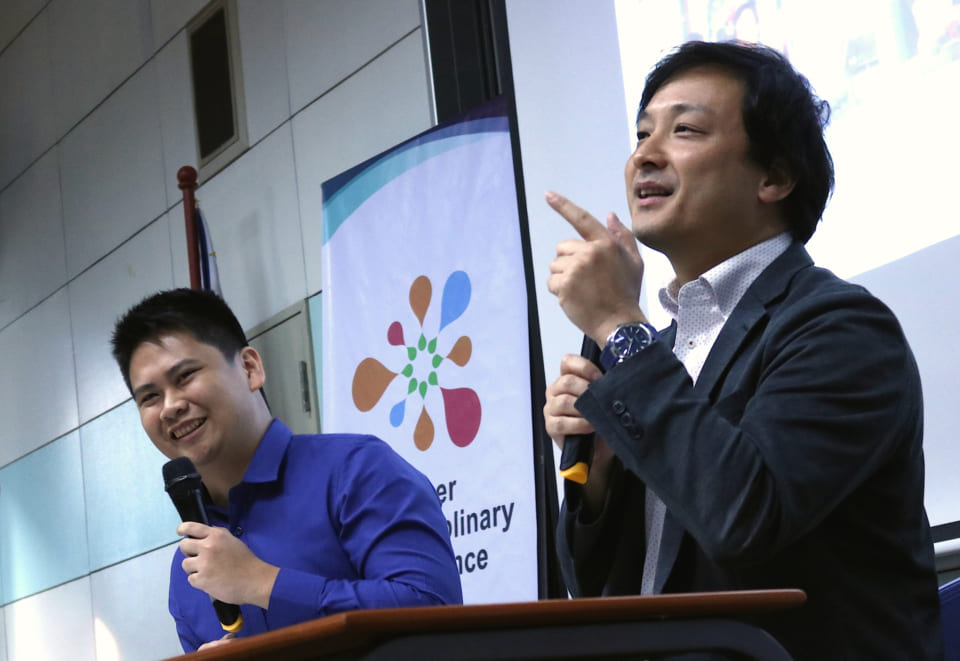 "From the time I met you, I've been believing that you have the potential to become the No.1 entrepreneur in Southeast Asia. I'm so counting on you, as you have started up your company at  the age of 24 to challenge education issues which is totally the same story as mine when I started Leave a Nest Co., Ltd. in 2002." said Dr. Yukihiro Maru, Founder and Group CEO of Leave a Nest Co., Ltd. as he publicly address John Vincent Fiel of Wela Online Corp.
" We will support you with bridging other Southeast Edu-tech startups and also manufacturing partners from Japan." he adds.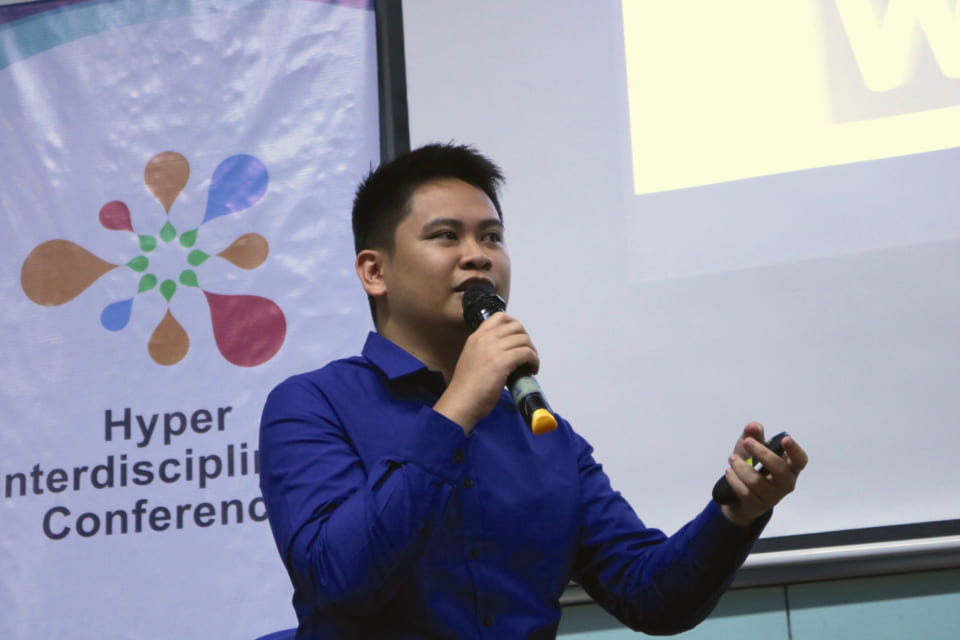 "We are happy and excited about this partnership with Leave a Nest. The partnership will support Wela's growth, but more importantly, it will help us deliver the positive impact we hope to deliver to our users." said John Vincent Fiel, CTO of Wela Online Corp.
| | |
| --- | --- |
| At Starland International School installed Wela School Systems | Team Wela Online and Leave a Nest at Hyper Interdisciplinary Conference in the Philippines |
Contact us
Nami Akinaga, Leave a Nest Co., Ltd.    [email protected]