【11/28 (Sat)】Round Table Bridging Southeast Asia and Japan's Deep Tech Ecosystems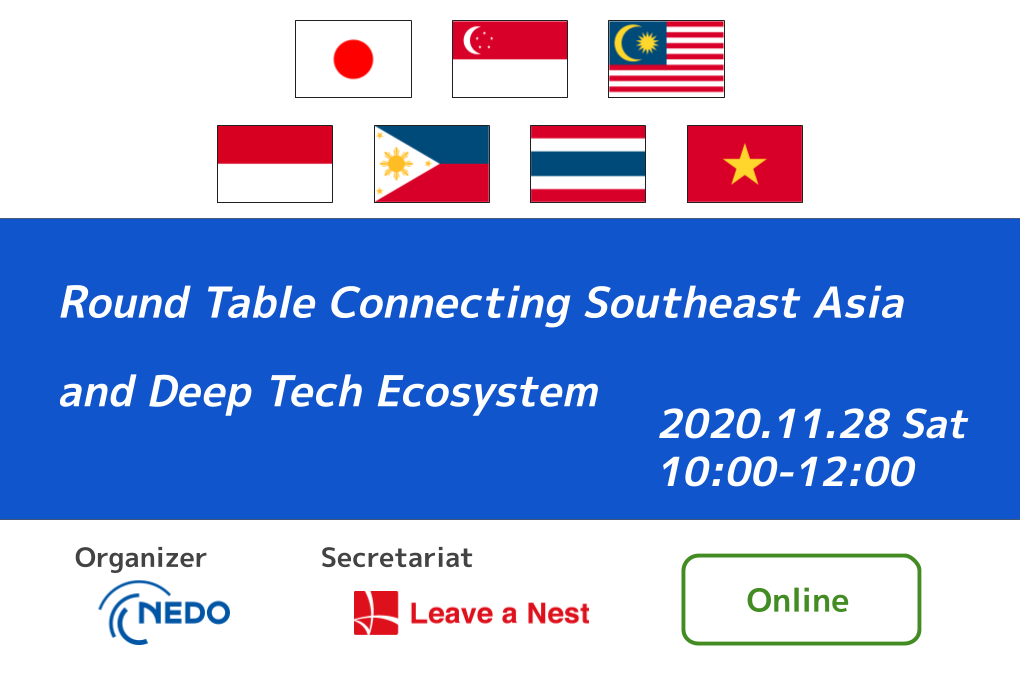 On Saturday, November 28, 2020, as part of a project* commissioned by the New Energy and Industrial Technology Development Organization (NEDO), Leave a Nest will hold a roundtable** in which top players from government agencies, VCs, and accelerators that support startups in the deep tech field with research and development in 6 Southeast Asian countries will be invited to give a bird's eye view of the startup ecosystem in their respective countries.(Apply from here)
  In Southeast Asia (which includes Singapore, ranked 17th in the world for startup ecosystems***), the formation of an ecosystem to foster startups in the field of deep tech with research and development is accelerating. How then should Japan, which boasts of a strong foundation for manufacturing, build up a relationship with the rapidly developing Southeast Asian deep tech startups?
  In this event, government agencies, VCs, and accelerators representing seven countries (Singapore, Malaysia, Indonesia, the Philippines, Thailand, Vietnam, and Japan) will give presentations about their startup ecosystems and the strategies that they have to support these ecosystems. We will also hold a Roundtable with the same members to discuss how the Southeast Asian and Japanese startup ecosystems can work together, making bridges across countries to create new markets.
*Survey on Overseas Expansion Support for R&D-Based Startups:
https://www.nedo.go.jp/koubo/CA3_100219.html
**What is a round table
This is a place where participants can freely exchange ideas on a theme. The facilitator assists in facilitating so that a lively discussion occurs on an equal footing among participants.
***from The Global Startup Ecosystem Report 2020:
https://startupgenome.com/article/rankings-top-40
■Event Outline
Date:28th November 2020
Time:10:00-12:00 (JST)
Location:Online
Language:English
Fee:Free
Organizer:NEDO New Energy and Industrial Technology Development Organization
Secretariat:Leave a Nest Co., Ltd.
Timeline(JST)

Agenda

10:00am – 10:05am

Opening introduction

10:05am – 10:55am
Presentation on the Seven Countries Ecosystem:
Government agencies, VCs, and accelerators from seven countries – Singapore, Malaysia, Indonesia, the Philippines, Thailand, Vietnam, and Japan – will give presentations on their startup ecosystems and how they are helping foreign startups enter their home markets (7x 7 minutes)
10:55am – 11:00am
Break
11:00am – 12:00pm
Round Table:


A 9-member roundtable consisting of government agencies, VCs, and accelerators from 7 countries, plus 2 facilitators from Leave a nest. They will discuss what measures are needed to build a startup ecosystem that connects all of Southeast Asia by leveraging each country's startup support system.
■Speakers:
Country
Name
Japan
New Energy and Industrial Technology Development Corporation (NEDO)
Director General, Innovation Promotion Department
Mr. Takeshi Yoshida
Singapore
Action Community for Entrepreneurship
Chairman
Mr. James Tan
Malaysia
CREST
Senior Vice President
Dr. NorAzmi Alias
Indonesia
UMG Idea Lab
Investment Associate of UMG Idealab


Mr. Muhammad Luthfi Azis Juharta

Philippines
QBO
Director
Ms. Katrina Chan
Thailand
Innospace Thailand
Head of Investment
Mr. Narusan Dhanvajor
Vietnam
Topica Edtech Group

CEO Regional




Dr. Jenny Dang
■How to Apply
Please fill out the form below to apply
https://lne.st/seminar20201128
We will use the personal information we collect to contact you about your application for participation in the event. The personal information you provide will not be used for purposes other than those described above (except when required by law).
■Contact Us
For more information, please contact us at the following
Leave a Nest Contact: Ueno and Takeda
Phone: (+81)-3-5227-4198
Email: [email protected]