New Year's Greetings for 2023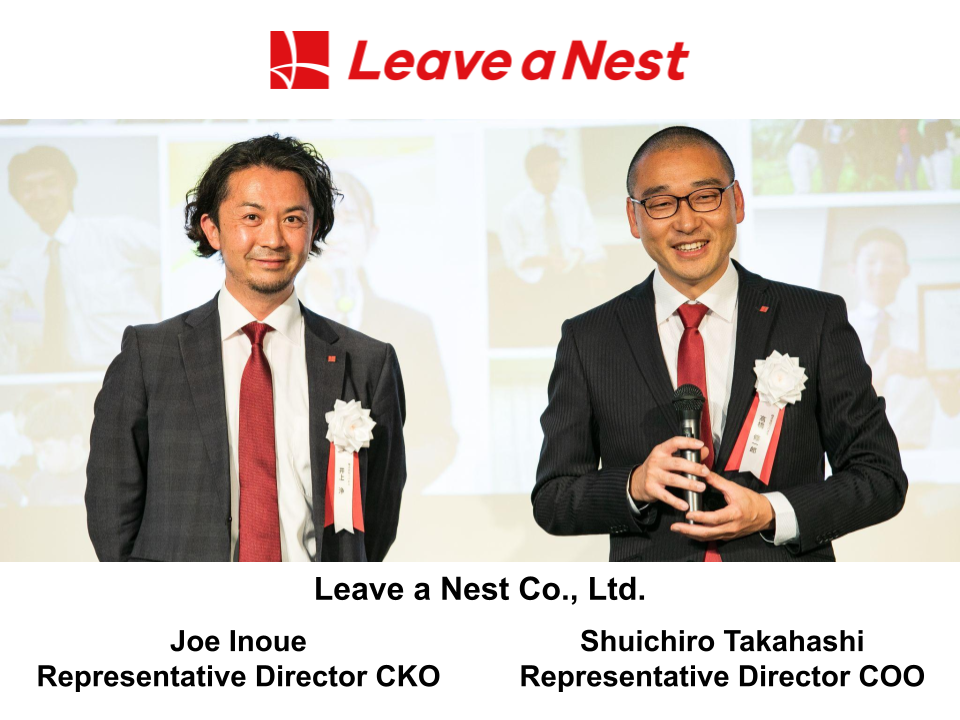 The year 2023 has begun.
The year 2022 was a year in which the foundations of our planet was shaken: health, society, and nature. We have seen many negative news such as COVID-19 syndrome that has been continuing for several years, the invasion of Ukraine by Russia, and large-scale flooding due to global environmental changes. The world is now in a chaotic period of great change, and each individual is being asked to reconsider our own way of being and to act according to our own will. At Leave a Nest, we all have decided to change ourselves in order to accomplish the proverb "大人虎変(Taijin Kohen)*" in 2022.
*Meaning: The daily self-improvement of a wise man in step with the passage of time. Or, the institutional change of a good ruler, whereby an old system is transformed into a new and better system.
The last year marked the 20th anniversary of the founding of Leave a Nest group. We changed the corporate logo and expanded the Tokyo office space, and Joe Inoue became the new Representative Director CKO (Chief Knowledge officer), and the organization was updated to a co-president system for the first time since the establishment of our company in May, 2022. Last August, we established a wholly owned subsidiary, Leave a Nest Knowledge Co., Ltd, which, together with Leave a Nest Capital Co., Ltd., launched in August  2020, and Leave a Nest Co., Ltd., our main company, will form the core of the Leave a Nest Group, a more effective knowledge manufacturing company, thereby strengthening our foundation for the next 20 years. 
However, the future that lies ahead for the new Leave a Nest Group is fraught with challenges. Although international and political frameworks have been developed to achieve the global goal of decarbonization, humanity has yet to acquire even the core technologies needed to solve the problem. Looking at the domestic situation, the "knowledge" of Japan, especially in the area of manufacturing, is in a critical condition in terms of its inheritance and utilization.  The declining birthrate is steadily eroding the vitality of Japan's other regions, and it has been pointed out that by 2050, more than half of all residential areas will have a declining birthrate and an aging population, and may eventually disappear. Regional reformations cannot wait.
On the other hand, if we broaden our perspective, we can find some positive facts in the environment surrounding Japan. Southeast Asia, which is geographically close to Japan and has deep historical, ethnic, and cultural ties with Japan, is now entering a period of development with a growing population. It is no exaggeration to say that Japan's future for the next 20 years will depend on whether or not it can enter another growth period together with Southeast Asia.
The year 2023 is the year for the Leave a Nest Group to "connect Japan's other regions with Southeast Asia". We will activate connections between the two regions, increase liquidity, and create a true platform that is not just a global platform with just a slogan. Our greatest challenge this year will be to make decisions and take action with a strong will to simultaneously create projects and businesses that will contribute to the global community and Southeast Asia.
In Japan and around the world, there is a shortage of people with the entrepreneurial skills to take on new challenges in any direction. I promise you that the Science Bridge Communicator®︎ at Leave a Nest, will take the initiative and show leadership more than anyone else during this year. The knowledge we manufacture in the process will be promptly shared at Leave a Nest University to create world-changing projects with future global contributing leaders.
In 2023, we will effectively utilize the foundation of knowledge manufacturing that we have firmly established to date to leap forward toward our vision of "Advancing Science and Technology for Global Happiness".
January 4, 2023
Leave a Nest Co., Ltd
Representative Director COO,  Shuichiro Takahashi
Representative Director CKO,  Joe Inoue