Started a Collaboration with "Soil", a General Incorporated Foundation Supporting the Establishment Phase of Non-Profit Ventures, to Develop a New Mechanism that Reinvests the Knowledge and Funds of Experienced Entrepreneurs to Adress Social Issues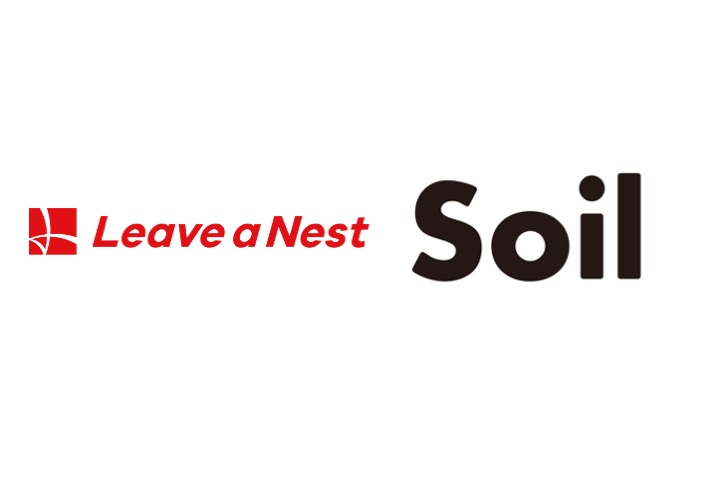 As part of its Entrepreneurial Investments, Leave a Nest Co., Ltd. has started a collaboration with the general incorporated foundation Soil, a non-profit startup incubator and accelerator established in January 2023, to support non-profit venture companies in their establishment phase. Soil Foundation began offering financial grants to non-profit startups on 25 January 2023, employing the knowledge and funds gained by Tetsushi Hisata, the president of Soil Foundation, from his own for-profit startup. Yukihiro Maru, Group CEO and Representative Director of Leave a Nest Co., Ltd., has been appointed as a councilor of the foundation.
◆ Press release from Soil: https://prtimes.jp/main/html/rd/p/000000002.000114666.html
◆ About Soil: https://soil-foundation.org/
◆ Interview with Mr. Hisata, Soil Foundation's Representative Director:
 https://soil-foundation.org/media/469
Soil Foundation defines a non-profit startup as a team working on a business that is not profitable at the moment, but is meaningful to society, and supports it by providing financial grants in order for the company to achieve growth during the establishment stage, which is especially challenging in terms of fundraising.
While the ecosystem of for-profit startups in Japan is beginning to mature, non-profit startups still face challenges in attracting funding due to the perception that "they don't make money", despite their social significance in areas like poverty and inequality, environmental issues, healthcare and welfare, education, and community development. In January 2023, Mr. Satoshi Hisata became the representative director of Soil Foundation, with the goal of building a mechanism to address this issue. Leveraging the assets he acquired through the listing of his for-profit startups, he aims to lay the groundwork for aspiring non-profit startups to thrive.
The name of the foundation, "Soil", originates from its goal to serve as the soil supporting non-profit startups, contrasting seed investors who focus on nurturing for-profit startups for them to flourish beyond the seed stage.
Leave a Nest started collaborating with Mr. Hisata because they share the same vision of creating a new model that enables entrepreneurs like him to reinvest the capital and business development knowledge acquired from their own IPOs or M&As into startups struggling to secure funding, with the aim of fostering growth.
To accelerate activities that contribute to solving deep issues, Leave a Nest has also launched Germination Fund I Investment Limited Partnership, an unlimited-term fund specializing in seed-stage venture investments, which prioritizes problem-solving over profits from share sales. Through the partnership with Soil Foundation, we will work together to nurture non-profit activities and startups that are challenging for Germination Fund to support, and foster all initiatives contributing to the global community, regardless of whether they are for-profit or non-profit
Roles of Germination Fund and Soil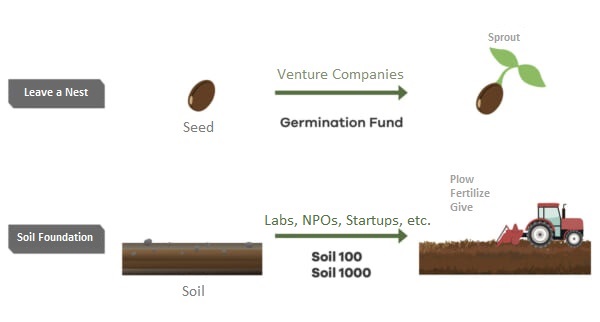 Soil 100 and Soil 1000, two grant programs offering up to 1 million yen and 10 million yen respectively for non-profit startups, were introduced this year. The application period for these programs began on January 25th and continued until February 14th, 2023.
Soil 1000 and Soil 100 Programs
◆About Soil 1000
We offer grants (donations) of up to 10 million yen to non-profit startups with exceptional teams, ideas, and accomplishments. Our aim is to support startups hindered by the lack of funds despite their great potential.
Details: https://soil-foundation.org/soil1000
*This program has so far selected the Digital Journalist EDucation Institute (D-JEDI).
◆About Soil 100
This program provides grants of up to 1 million yen and business review assistance to non-profit startups who have not yet established a track record around the time of their company's inception. This program provides support of up to 500,000 yen during the three-month business review period and up to 500,000 yen upon reaching the final decision on its commercialization.
The program is also open to individuals in the initial phases of a project who have already established their company and are actively working on their business (involvement in the three-month program is negotiable).
The program additionally offers financial support to those in the establishment phase, aiming to reduce barriers to achieving ambitious goals and making the decision to "embrace new challenges" a personal choice.
For more information: https://soil-foundation.org/soil100
◆About the Representative Director
Tetsushi Hisata / Representative Director of Soil Foundation
In 2007, during his university studies, he established Speee, Inc. and became its Representative Director. In 2011, he stepped down from that role to concentrate on developing new businesses. In 2018, he founded Datachain and took on the position of Representative Director. Then, in January 2023, he launched Soil Foundation, a general incorporated foundation, and assumed the role of its Representative Director.
◆Outline of Soil Foundation
For inquiries regarding this matter
Leave a Nest Co., Ltd.
Corporate Planning Office
Attn. Matsubara
TEL: 03-5227-4198
MAIL: [email protected]