Success story from 2014 Taiwan Tech Plan Grand Prix Team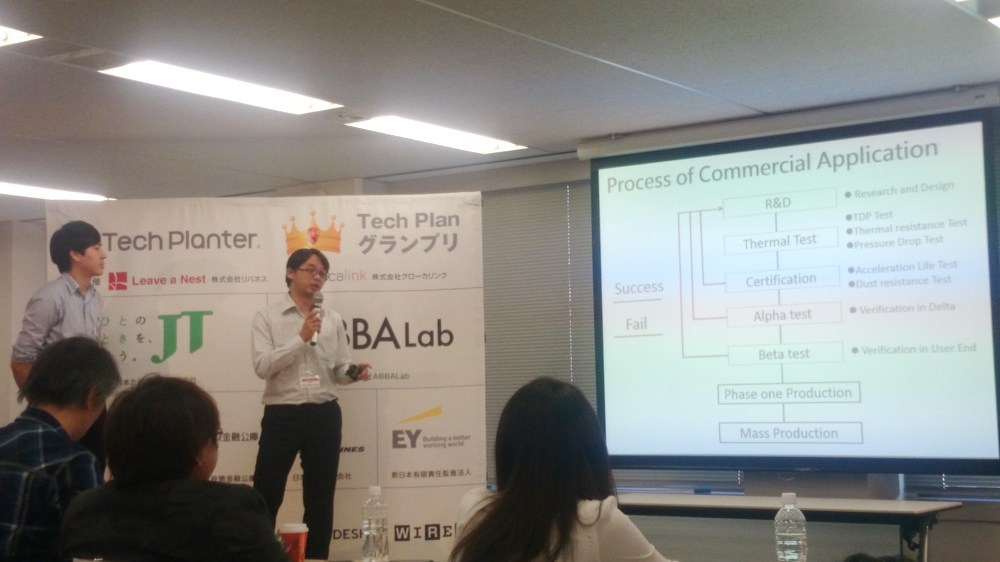 As a Ph.D student, you will always have a desktop at your seat. However, you need to clean the rotary fan in the computer periodically for maintaining its performance. When I was a student, I considered a new type of fan which is immune to dust. So that I wouldn't need to clean a fan anymore. I tried several methods and finally chose a new type of fan called multiple vibrating fan. It worked well but its lifetime was not long enough because the reliability of the power source "piezoelectric material" is not very good and I couldn't find a good method to solve the problem. After my graduation, I went to Purdue University for a Postdoctoral researcher position and worked on a new topic. However, I never give up so I continued considering a new solution for the issue.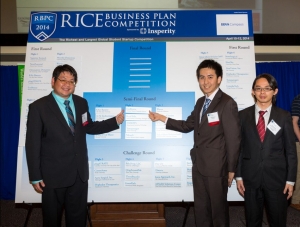 ▲ Their first challenge at RICE competition.
Contest was the start line  
In Sep. 2014, I started a tech company called 達創電子 where I put my passion, creativity, money and time. Now, I am working on an innovative electromagnetic fan. The electromagnetic fan is an oscillating cantilever beam whose motion is induced by means of electromagnetic force. The flow field generated by the fan is strong enough to cool electronic devices. Besides, there is no bearing in the fan so it is a highly reliable cooling device comparing to traditional rotary fans.  The story begun in 2012 when I joined a technology contest called TECO GREEN TECH with the members in my LAB. At that time, we both were students and just wanted to get a cash prize for our living. We had no confidence and never thought about becoming a champion because other teams presented great concepts and ideas. However, We finally won the first place and ten thousand US dollar prize money. It was a good start but I never dreamed of starting a company. After the contest, We successively joined in Acer incredible green contest and National Science Council TAIWAN Innovation and startups plan. In the process, I met a lot of people and learned knowledge of business. Most importantly, I gained strength, courage and confidence by each contest. Crazy decision  In Mar. 2014, I made a crazy decision – joined Rice Business Plan Contest (RBPC) in USA. This is the largest business contest in the world. More than 800 people participated in this event including 255 judges and 46 picked teams from Stanford, MIT, Harvard, Berkeley, RWTH Aachen University. In the final round, my team members presented in front of more than 200 judges. They are experts in the field of economic, law, engineering, business and finance. You needed to answer all questions they ask you. The only thing you can do is to look at yourself, face your weakness, and answer their questions. To our surprise, we finally were awarded a third place while our competitors were all native english speakers. After this contest, it was clear to me that I can do something big instead of just joining a business contest.
It all comes down to connection  
In Sep. 2014, I decided to establish my own company. However, I was the only one person and I really needed someone to help me. I had a little money originated from previous contests. However, it was not enough for my business. Also, I encountered some manufacturing tasks that I could not find a proper solution for in Taiwan. Meanwhile, 2nd Tech Plan Grand Prix was held. It was a good chance for new start-ups to look for collaboration. In the contest, Leave a Nest introduced us to people such as Gracezone Marketing for our manufacturing issue. We also visited several factories who possessed high level manufacturing skill in Tokyo.  There were a lot of people who helped me along the way. I met most of them in business contests. My funding was also from business contests. I don't think it is a necessary process. However, it is a good chance to grab something which is helpful to you. I think cash prize is not the most important in a business contest because you can find it from other places. However, the connection you build in these events is valuable and irreplaceable. You can approach people who are helpful to you in a business contest.  For building a successful company, you need to pay a lot on the way to build a business. However, it is more important to find people who can assist you, support you and stay with you.
(Written by: Hesien Chin Su)