1st Tech Plan Grand Prix regional round in Malaysia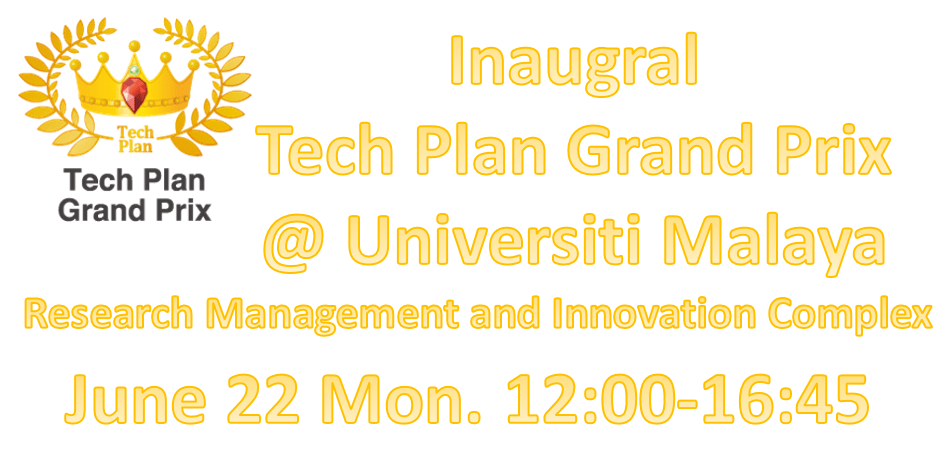 Tech Plan Grand Prix Regional Round will be held at Universiti Malaya on 22 Jun 2015.
For more information about the event and Leave a Nest Malaysia
This event has attracted various participants who is interested to transfer their research output into business in the field of bio science, life sciences, engineering field and hardware technology. Tech Plan Grand Prix Regional Round winner will be sponsored to travel to Japan to showcase their idea in Tokyo, Japan where Final round for Tech Plan Grand Prix will be held.
Find out about Tech Planter Scheme
Tech Plan Grand Prix is different from existing business contest in that it put strong emphasis on creating supporting platform for participating teams. Teams who will be joining the event is at various stage of development. Some teams are still at the very early stage of forming teams and others have already developed prototypes.
This event will be a great opportunity for those who is thinking about starting up a business or those who has ideas but do not know where to start from. We welcome participants who is hoping to change the world we live today with your ideas! We hope to see you there on next Monday.
Event details
Date: 22 June 2015 12:00-16:20 (16:20-16:45 networking time)
Pick ups from the event
12:15-12:30   Prof. Dr. Rofina Yasmin Othman, Director of UMCIC,  Universiti Malaya
12:30-15:15   team presentations 15 teams will be giving presentation in    the area of bio science, engineering etc.
Venue: Research Management and Innovation Complex, Universiti Malaya
If you want to find out more about the event, please click the link below for program introduction and stories of past participants!
Success story of past participants