DNA & Hovercraft workshop @ KLESF was a full house!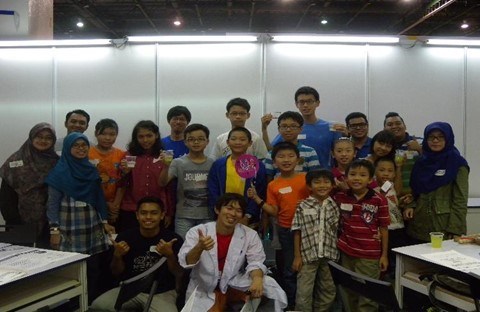 Leave a Nest Malaysia Sdn. Bhd. joined Kuala Lumpur Engineering and Science Fair (KLESF) @ MIECC on 31 Oct and 1 Nov to bring the world of Science and Engineering to Malaysia School Children.
Their program was unique in that not only did they bring Science and Technology from Japan, their teaching assistants were mixture of Malaysia University students (UM and MJIIT) and Japanese University students.
These students are currently studying for their degree so are capable of talking about what's happening in Science. These information is valuable since you can hear them first hand hot from the oven.
During DNA workshop, participants were give mission to extract DNA from vegetables using household materials. The main message from the lecturer was not about DNA but about how to approach life with scientists' point of view. Asking questions and trying to figure out how to tackle the obstacles in study or life in general.
For engineering workshop, be an engineer, make your own hovercraft gave participants a chance to create own hovercraft with urethane, motors and propeller. Students were given topic about air flow and use of appropriate materials for mission (in this case use of light materials for hovercraft to float easily).
Up coming event will be held at Penang International Science Fair on 14-15 Nov in Penang. Leave a Nest Malaysia will be bringing Magical Look of DNA to Penang for the 2nd time. Please come and join us on Nov 14.  See you there!