TWO REPRESENTATIVES FROM MALAYSIA TO SCIENCE CASTLE SINGAPORE !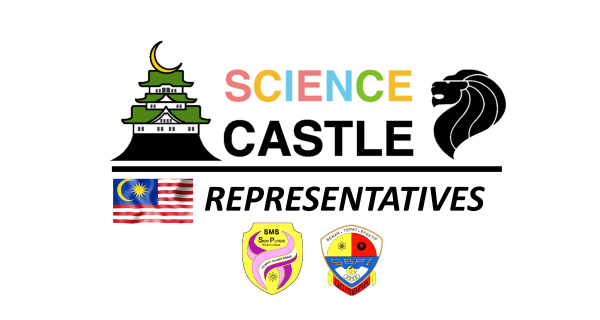 1 Day to go for SCIENCE CASTLE in SINGAPORE 2017 to Kick-off !
We are proud to announced that we will have two representatives teams from Malaysia to SCIENCE CASTLE in SINGAPORE 2017.
The first team is from SBPI GOMBAK with their project " CacoTiles". They would like to solve pollution problems caused by Quarry of natural's materials to make tiles. So, how they solved the problem ? They made an innovation of using EGGSHELL to become the main component of their tiles. We are exciting to hear how they were succesfully came out with this solution. Lets hear their explaination during SCIENCE CASTLE in SINGAPORE 2017.
Another team come from SM SAINS SERI PUTERI with their innovation project of " Watt-Savvy Tiles". They saw the problems in recycling things and also energy usage in their school. Therefore, they come out with their innovation of making tiles that can generate energy and at the same time using the recycling materials as components. This innovation is surely interesting and we are looking forward to hear about their presentation during SCIENCE CASTLE in SINGAPORE 2017.
Both teams will join with other teams from JAPAN and SINGAPORE to present about their precious project and innovation. It will be full of excitement to see young scientists and researchers from different countries gathering together and share about their and research and findings.
These two teams are being fully sponsored by Leave a Nest since Leave a Nest saw the potential of the research to be shared with the world !
Hopefully with the participation from Malaysia, SCIENCE CASTLE in SINGAPORE 2017 will be more exciting and interesting!
Please follow our SCIENCE CASTLE WEBPAGE and SCIENCE CASTLE FACEBOOK PAGE for live updates from SCIENCE CASTLE in SINGAPORE 2017
See you at SCIENCE CASTLE in SINGAPORE !
【Special Sponsor】
Mitsui Chemical, Inc
【Partners】
IMDA PIXEL [email protected]
【Content Sponsor】
Science Center Singapore
【Official Website】
https://en.lne.st/sc-singapore2017/ (English)
https://s-castle.com/castlemeeting2016/castle-sg2017/ (Japanese)
【Facebook page】
https://www.facebook.com/ScienceCastleAsia/
【Any inquires】
Leave a Nest Malaysia Sdn.Bhd , FATIN ILYANI ABDUL GHANI
Email : [email protected] | Phone : 018 2233 230