TECH PLANTER in MALAYSIA 2018 NOW OPENED FOR REGISTRATION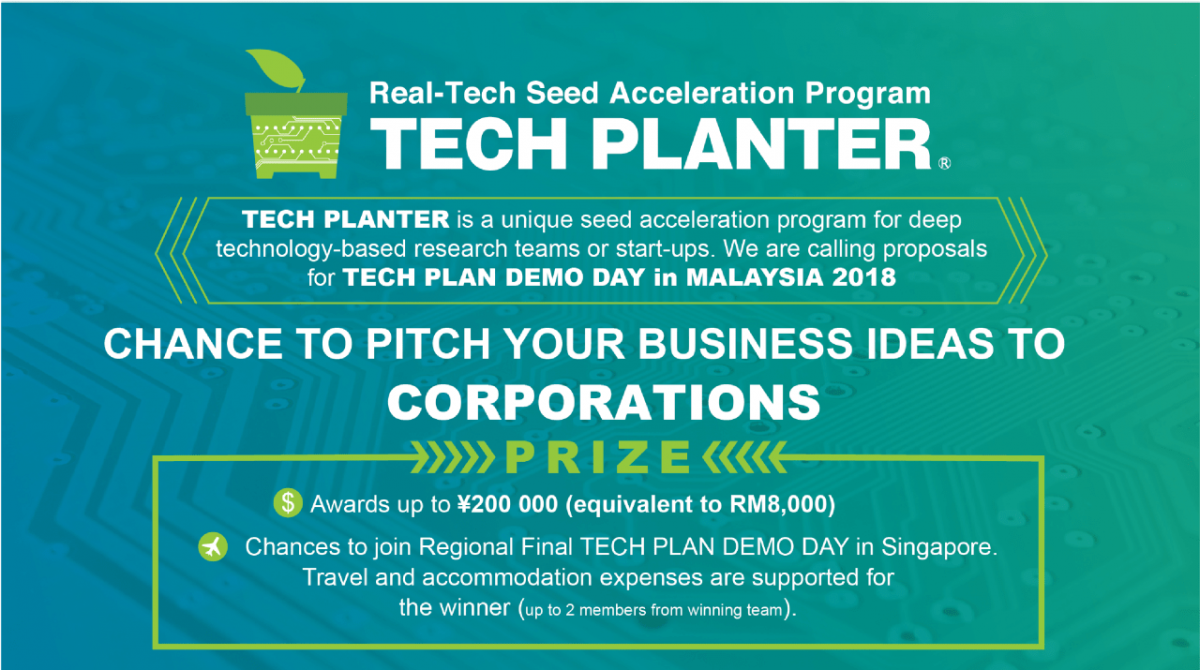 Hello startups, researchers and students!

We are proud to open application for TECH PLANTER in MALAYSIA 2018.

TECH PLANTER is a real-tech seed acceleration program specifically designed to identify and nurture startups/researchers that leveraged science and technology for innovative businesses.
It's been 3 years since Leave a Nest Malaysia has launched TECH PLANTER program in Malaysia in 2015. Until today, we already have 78 teams participated in our program and the number of applicants keeps increasing year by year!

2018 round will be more exciting as we are gathering more partners from Malaysia as well as from Japan that will surely give more supports to applicants in our global community.

Overview of TECH PLANTER in Malaysia 2018

Registration: 1st January – 30th March 2018
Announcement of Finalist: 18th April 2018
Final Demo Day: 12th May 2018 at Kuala Lumpur
Who should Apply for TECH PLANTER ?
Anyone who wants to change the world with strong passion and deep knowledge of Science and Technology.
Startups

who need help to accelerate their growth and explore potential collaboration with big companies and makers community

Researchers

who have passion and core technology to bring their project/product to commercialisation

Students

who want to share their big innovative idea to explore the potential of prototyping.
If you are interested to apply, please register your team at: http://bit.ly/TPMY2018Registration

Report on TECH PLANTER in MALAYSIA 2017
https://en.techplanter.com/2017/05/15/tpmy2017-report/

Report on TECH PLANTER MEETUP 2017
https://en.techplanter.com/2017/08/23/meetupmalaysia2017/

Need More info ?
■Official Website Tech Planter: http://en.techplanter.com/

Enquiries :
[email protected]
+6018 2233230