Announcement of Judges for TECH PLAN DEMO DAY in MALAYSIA 2018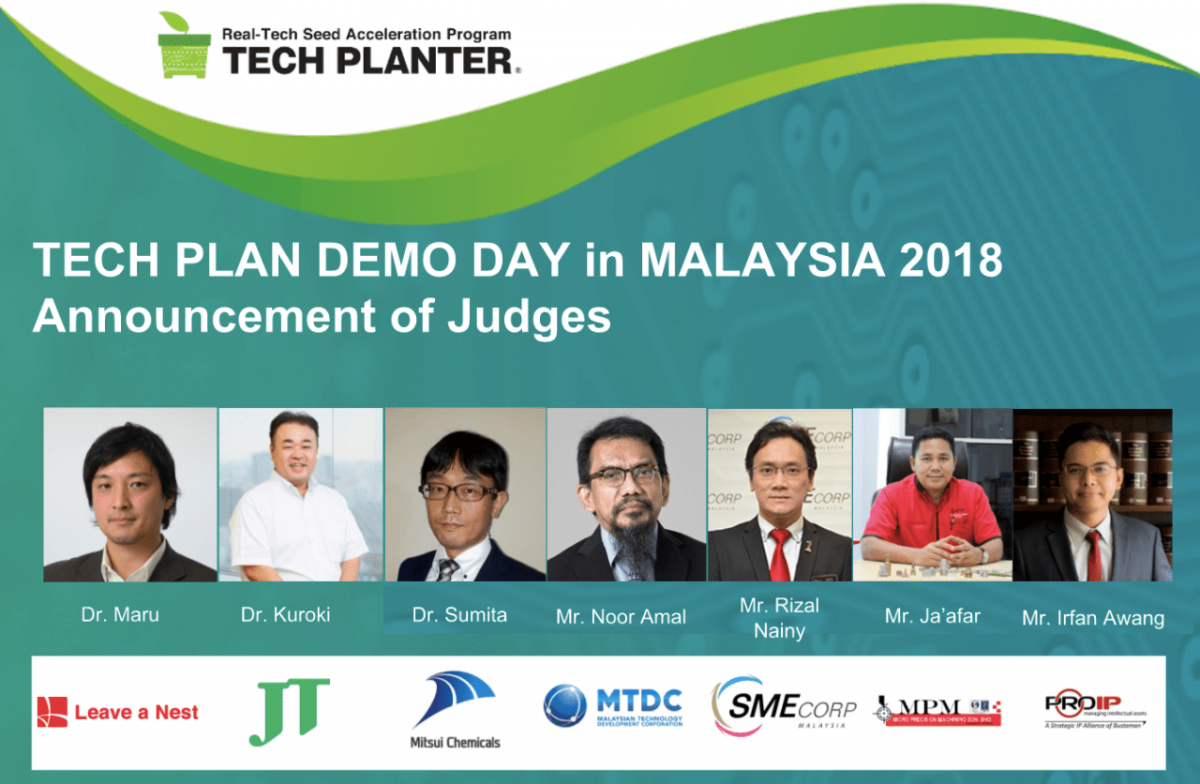 Counting the days until TECH PLAN DEMO DAY in MALAYSIA 2018 on 12th May 2018!
TECH PLANTER in MALAYSIA is an acceleration program specifically designed for early stage deep-tech startups & pre-startup researchers who are passionate about business especially in the field of Biotech, robotics, agri-tech, healthcare, IoT, nanotech.
For the final round of TECH PLAN DEMO DAY in MALAYSIA 2018, 12 top finalists will pitch their business ideas to judges who are from Japanese corporations, Malaysian government agencies and companies.
We are honoured to announce the judges for TECH PLAN DEMO DAY in MALAYSIA 2018 as below.
Dr. Yukihiro Maru
Founder and CEO, Leave a Nest Group
Dr. Yutaka Kuroki
Director, Business Development and Corporate Strategy, Japan Tobacco Inc.
Dr. Toru Sumita
General Manager, Mitsui Chemicals Singapore R&D Centre, Pte. Ltd.
Mr. Noor Amal Morad
Senior Vice President, Strategic Planning Department
Malaysian Technology Development Corporation Sdn. Bhd. (MTDC)
Mr. Rizal Nainy
Deputy Chief Executive Officer,
SME Corporation Malaysia (SME CORP)
Mr. Irfan Awang
Head of Patent, PRO IP Sdn. Bhd.
Exco Member, Innovation and Technology Managers Association (ITMA)
Mr. Ja'afar b. Othman
Chief Executive Officer, Micro Precision Machining Sdn. Bhd. (MPM)
TECH PLAN DEMO DAY in MALAYSIA 2018 details:
Date : 12th May 2018 (Saturday)
Time : 10.30am – 6.00pm
Venue : Dewan Mahkota, Level 5, SME Corp., Platinum Sentral, Kuala Lumpur.
Our TECH PLAN DEMO DAY in MALAYSIA 2018 finalists: https://en.lne.st/2018/04/20/tpmy_12_finalists/
For any enquiries about TECH PLAN DEMO DAY in MALAYSIA, please contact:
Mr. Abdul Hakim Sahidi
Email: [email protected]
Tel: +6018-2233 230