Keynote Speakers for Hyper Interdisciplinary Conference in Malaysia 2019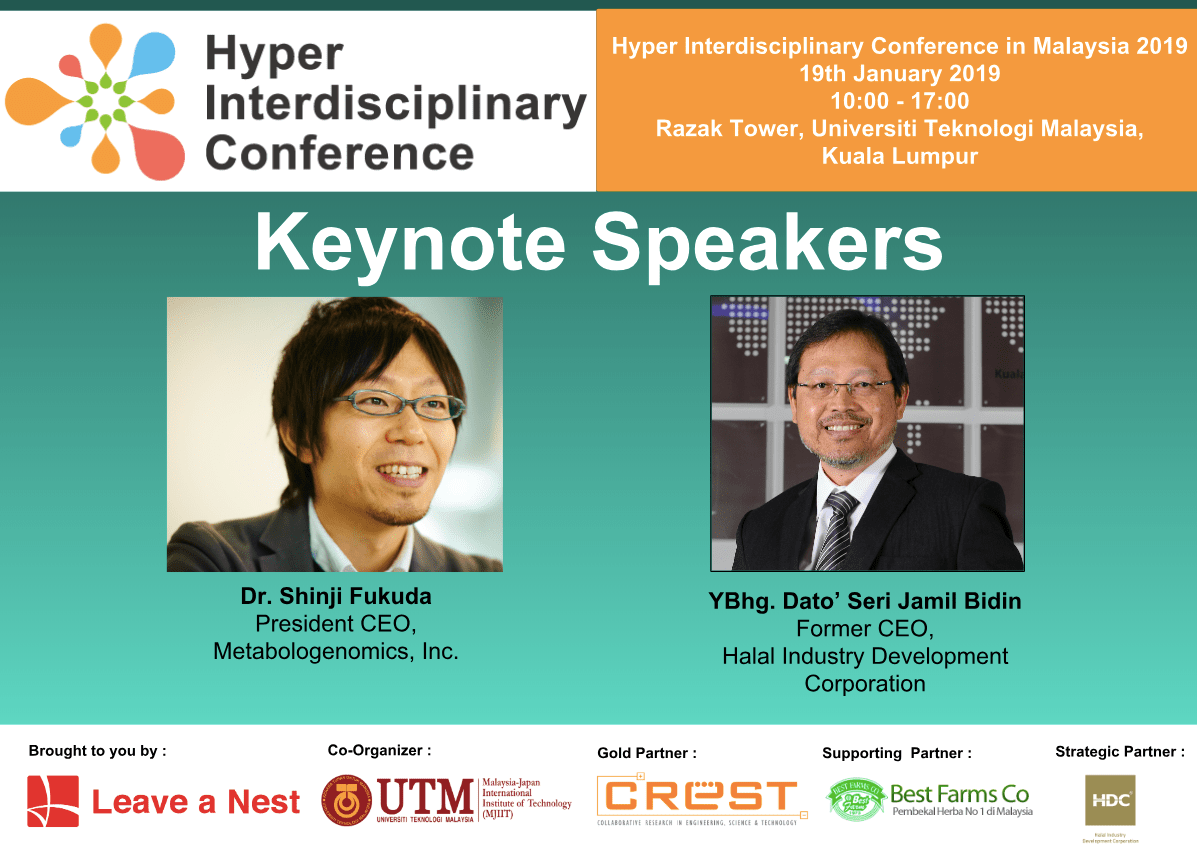 Hyper Interdisciplinary Conference in Malaysia 2019 is a unique platform for researchers, industry, startups, and government agencies to exchange knowledge and explore possible opportunities based on halal theme. It will witness the creation of new ideas and innovative solutions for halal from the perspective of culture, pharmaceuticals, food, and technology.
Leave a Nest Malaysia Sdn. Bhd. is proud to announce our special Keynote Speakers from Malaysia and Japan who will share their wisdom and thoughts with the audience during Hyper Interdisciplinary Conference in Malaysia 2019.
1. YBhg. Dato' Seri Jamil Bidin
Former CEO
Halal Industry Development Corporation Sdn. Bhd. (HDC)

YBhg. Dato' Seri Jamil Bidin, is a graduate in Accountancy and holds a Master Degree in Business Administration (Finance) from the United Kingdom. Prior to his appointment as the Managing Director/Chief Executive Officer of HDC, he was the Corporate Advisor of KUB Malaysia Berhad, a main board conglomerate with business in information and communication technology, education and training, food beverage and events, energy, property development and construction.
With more than 30 years involvement in various positions at public listed companies and sitting on the board of several companies in various industries, he was appointed by the Prime Minister of Malaysia on 16 August 2006 to lead HDC, a wholly owned company of Ministry of Finance which was established on 18th September 2006, to develop the halal industry with a mission of making Malaysia as the Global Halal Hub. Under his leadership, HDC receives the prestigious Global Islamic Finance Award (GIFA), Halal Industry Development Achievement Award, the Global Halal Industry Leadership Award during the World Chinese Economic Summit (WCES) in 2016 and The Strategic Business Partner Award at The BrandLaureate World Halal Best Brands Awards in 2018.
Dato' Seri Jamil Bidin received The BrandLaureate Most Eminent Brand Icon Leadership Award in 2017 and The Halal Brand Champion Leadership Awards in 2018 for his vision, dedication and commitment towards helming the development of Malaysia's Halal industry. Through the dynamic leadership and deep insight, Malaysia has been recognised as a global leader in Halal.
2. Dr. Shinji Fukuda
President CEO of Metabologenomics, Inc.
After obtaining his PhD (Gut Microbiology) from Graduate School of Agriculture, Meiji University in 2006, Dr. Shinji Fukuda undertook several research positions at RIKEN. He was then appointed as Project Associate Professor at Institute for Advanced Biosciences, Keio University in 2012.
Currently, he is also holding other posts as PRESTO researcher in JST from 2015; visiting professor in University of Tsukuba School of Medicine from 2016; and group leader of Intestinal Ecosystem Regulation Group in KISTEC-KAST from 2017. His main findings, gut-microbiota derived metabolites shape host physiological homeostasis, were published in two Nature papers in 2011 and 2013.
He has won many prestigious awards including the Young Scientists' Prize by the Commendation for Science and Technology by the Minister of Education, Culture, Sports, Science and Technology (MEXT) in 2013; selected as the Nice-Step researcher by National Institute of Science and Technology Policy (NISTEP) in 2015; and the highest award, the first Bioscience Grand Prix in 2015 with the business plan "Creating a healthy society based on your brown gems". In the same year, he founded and is the President CEO of Metabologenomics, Inc.
Save the date and join this conference in Kuala Lumpur next week!
Previous news release on Hyper Interdisciplinary Conference in Malaysia 2019:
About Hyper Interdisciplinary Conference (HIC)
HIC Full Program
HIC Panel Discussion