APPLICATION DEADLINE OF SCIENCE CASTLE MALAYSIA EXTENDED TO 1st MARCH 2019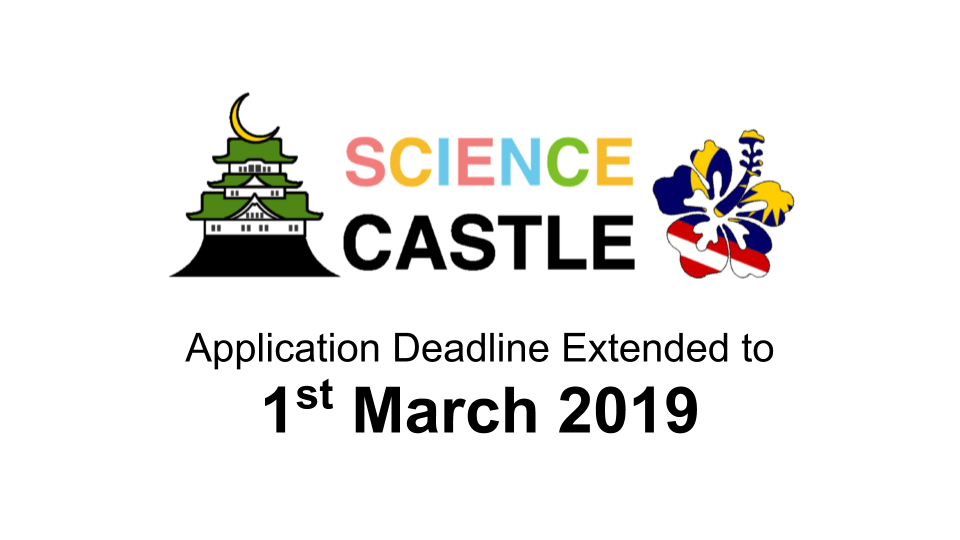 Good Day to all great teachers and young researchers.
To give the chance for more young researchers to participate in SCIENCE CASTLE in MALAYSIA 2019, Leave a Nest will extend the application deadline of SCIENCE CASTLE in MALAYSIA  to 1st March 2019.
Therefore, for those teams and schools that didn't submit the application yet, please quickly go to https://en.s-castle.com/malaysia2019/ and register your research teams.
As this year SCIENCE CASTLE in MALAYSIA,  we already confirmed participations from Japan's schools. It will be exciting avenue for all Malaysian young researchers to share their unique researchs projects and exchange idea with teams from different country and schools.
Highlight of SCIENCE CASTLE in MALAYSIA 2019
Exciting ORAL and POSTER PRESENTATION

Interactive Luncheon

Interesting Science Workshops by companies
FEES

TEACHER : RM50/person

STUDENT: RM50/person
* Covered for lunch on 13th April, dealing with application and abstract book creation
Again, please don't miss to register your team before 1st March 2019.
Click the link to register your team now!
https://en.s-castle.com/malaysia2019/
Further info :
Contact Mrs.Fatin (018-2233-230)