Let's Explore the fun of science during your school break by joining NEST CAMP!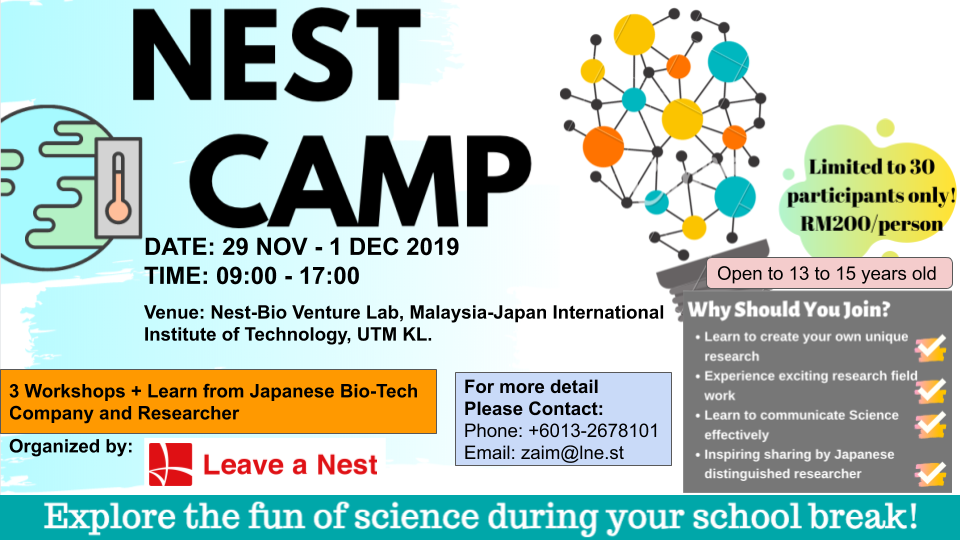 Do you have a plan activity for your kids during this school break? If not yet, We would like to suggest you to bring your kids to explore the fun of science during this school break. The kids will learn to become a young researcher and meet with Japanese Distinguish researcher.
On 29th November 2019 until 1 December 2019, Leave a Nest Malaysia will organize a science camp called NEST Camp. The objective of this camp is to expose the students about scientific research methodology and critical thinking skills through the Research-Based Education (RBE). This camp also will encourage the students to come up with innovative solutions to solve existing problems in the society.

Why should your kids join?
✨ Learn actual research skills from real researchers
✨ Experience exciting research field work
✨ Sharpen observation and reasoning skills in 3 workshops
✨ Learn to communicate Science topic effectively
✨ Encourage students to create their own research ideas 
✨ Special sharing by Japanese researcher from a highly successful biotech company
Below are the details of the camp:

Venue: Nest Bioventure Lab, Malaysia-Japan International Institute of Technology (MJIIT), Universiti Teknologi Malaysia, Kuala Lumpur.
Date: 29th November 2019 – 1 December 2019, Friday – Sunday
Time: 09:00 – 17:00
Fee: RM200 per student (Inclusive of workshop materials, breakfast, Lunch  & e-certificate)
Target participants: Secondary school students (age 13 to 15)

***Note: Accommodation is not provided as this camp does not require students to stay overnight at the venue.

LIMITED TO 30 SEATS ONLY!
REGISTRATION DEADLINE : 20th November 2019

We would like to invite all secondary school students to join us and let's become a young researcher.

Kindly refer to link attached for the registration!
LIMITED SEATS AVAILABLE. REGISTER HERE NOW!
Previous Science Workshops by Leave a Nest Malaysia Sdn Bhd:

1. Kodobot Workshop

2. Microbial World Workshop

3. Triple Frutti Workshop

For more details, please contact:
[email protected]
[email protected]
Tel : +6018-2233230