Let's sharpen your researcher senses in Euglena for All workshop!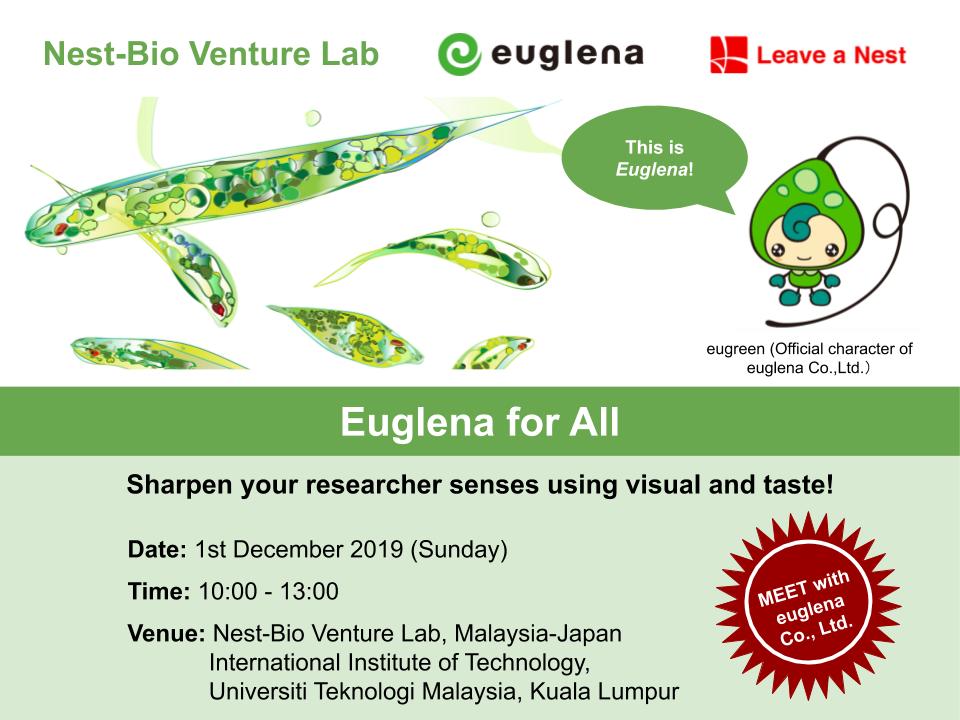 Have you heard of Euglena? Let's discover this microorganism using your visual and taste senses!
On 1st December 2019, Leave a Nest Malaysia will be conducting a workshop on 'Euglena for All'. This workshop will be conducted as a part of NEST Camp program starting from 29th November to 1st December. In NEST Camp, you will be exposed to many examples of how science and nature can solve issues within community or even globally.
'Euglena for All' workshop will allow you to get to know Euglena, a microorganism that have animal and plant characteristics. This workshop will give you the chance to observe Euglena from water that you have collected from your surroundings.
You also have the privilege to meet researcher from leading Japan biotech company, euglena Co., Ltd!
Below are the details of 'Euglena for All' workshop
Venue: Nest Bio Venture Lab, Malaysia-Japan International Institute of Technology (MJIIT), Universiti Teknologi Malaysia, Kuala Lumpur.
Date: 1st December 2019, Sunday (Day-3 of NEST Camp)
Time: 10:00 – 13:00
Target participants: Secondary school students (age 13 to 15)
Fee: RM200 per student (Inclusive of 3-days of workshop materials, breakfast, lunch & e-certificate)
(50% Discount for a Group of 2 and above Registration)
Note: Sleeping accommodation is not provided as this camp does not require students to stay overnight at the venue.
LIMITED TO 30 SEATS ONLY!
REGISTRATION DEADLINE : 25th November 2019
We would like to invite secondary school students to discover the fun in science through this workshop and become the next-generation researcher.
Join NEST Camp to explore the world of Euglena.
Register here: http://bit.ly/NESTCamp2019