Hyper Interdisciplinary Conference in Malaysia 2020 : Session 3 : Liberalisation of Healthcare : "Accessibility and Affordability For All", Panelist Announcement!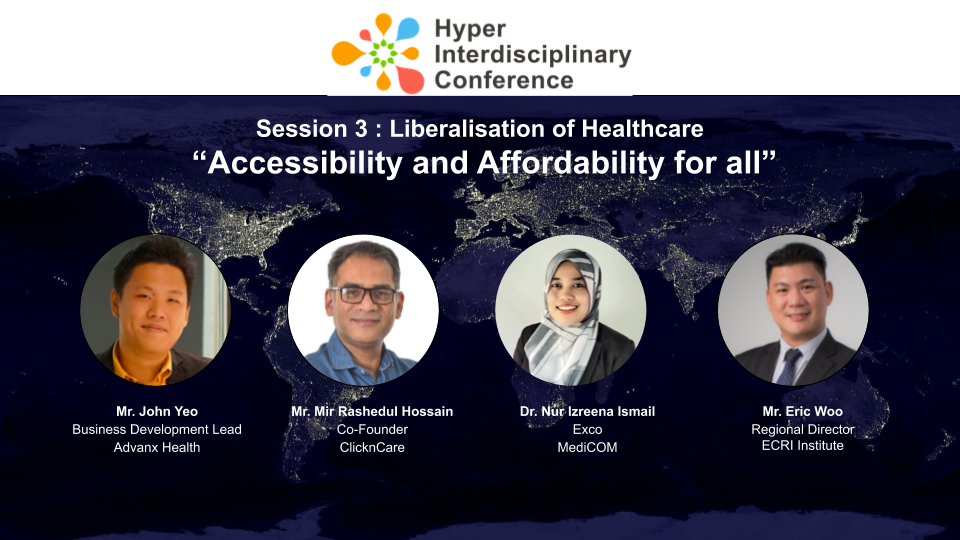 Hyper Interdisciplinary Conference in Malaysia is pleased to announce the panelist for Session 3 with the title of Liberalisation of Healthcare: "Accessibility and Affordability for all"
Session 3 will be an exciting session for all to understand how we could cope with the advancement of technology in Healthcare and at the same time ensuring that everyone gets the same opportunity to access and afford the healthcare service. We bring you panelists from various background to share their opinion and how to move forward.
<Panelist>
Mr. John Yeo,
Business Development Lead
Advanx Health

Mr Yeo (John) Keh Hau is a pharmacist by profession and a businessman with many connections in many organizations. He has obtained his Bachelor of Pharmacy (BPharm) and is currently pursuing his Master of Business Administration (MBA, Health Care Management) at Cyberjaya University College of Medical Sciences. 

Mr Yeo is currently the Business Operations Manager of Advanx Health, Special Interest Group 2 (SIG-2) of Digital Health Malaysia and a committee member of the MPS Health Technology, Devices and Innovations Chapter Committee Member. He is currently now a workshop speaker and is experienced in sharing on various occasions within pharmacy student community which include MyPSA Young Entrepreneurship Programme, UCSI UPSA Youth X Talk and MyPSA metamorphosis.

Mr. Mir Rashedul Hossain
Co-Founder
ClicknCare

With more than 20 years of experience in Business Development & New Business, Rashedul Hossain co-founded ClicknCare and advising Business Development. He is also Founder of MicroInspire Bangladesh, a micro insurance BPO working for the mass market.

Prior to this, Rashedul Hossain was Country Manager of MicroEnsure Bangladesh Limited a subsidiary of MicroEnsure UK holdings Ltd. , the world's first and largest micro insurance specialist company with presence in Asia & Africa. RashedulHossain was also the Head of Business Development for the Financial Services division of Grameenphone, a subsidiary of Telenor Group. Widely experienced in working with public and private sector players, including government policy makers, regulators, NGOs, private corporations, development partners, and other key stakeholders, Mr. Hossain is also responsible for identifying new markets and business opportunities in the region and expanding the scope of the current business.

Dr. Nur Izreena Ismail
Exco
MediCOM Malaysia

Nur Izreena Ismail obtained a Bachelor of Medical Sciences in 2011 and Bachelor of Medicine, Bachelor of Surgery (BMBS) in 2013 from University of Nottingham, United Kingdom. Currently she is undergoing Masters specialist training in Internal Medicine in Pusat Perubatan Universiti Kebangsaan Malaysia.

Her involvement in community outreach health and humanitarian programmes started to kick-off back in 2010 when she was still a medical student. During that time, she participated as a voluntary health care officer in Cambodia and Kota Samarahan, Sarawak. After coming back to Malaysia post graduation, she then became involved in Pertubuhan Amal Kebajikan dan Perubatan Malaysia (MediCOM) in 2017 as Vice President and later as EXCO committee in 2019. She was involved in humanitarian and medical aids including circumcision programmes all over Malaysia. On top of that, she was one of the co-founders and coordinators of the first MediCOM 'Klinik Wakaf' in Pulau Mabul, Semporna Sabah which has been operating since 2017 up until now..

Mr. Eric Woo
Regional Director
ECRI Institute

Eric Woo joined ECRI Institute in February 2015 as a Regional Director. He is responsible for the business development activities of ECRI Institute in the Asia Pacific region and operational management of the regional office. 

Before joining ECRI Institute in 2015, Mr. Woo was the Chief Operating Officer of a private hospital for sports injuries and stem cell Technology. He was also engaged in Malaysia as part of the panel representative from the private healthcare system for innovation research and development. He was also involved in many round-table discussions initiated by the Ministry of Health and Ministry of Science Innovation and Technology Malaysia for the guideline development for stem cell technology. His 20 years of experience in the healthcare industries includes serving as Regional Manager, Country Manager and Product Manager of several medical devices and implant organization. innovation. He also conducted numerous cadaveric workshops for surgeons to stay educated on cutting-edge technology and surgical procedures. He is a frequently invited speaker in wide range of health technology-related topics for health conferences in Malaysia, Singapore, Taiwan, Indonesia, Thailand and Pakistan.
<Moderator> 
Mr. Abdul Hakim Sahidi
Managing Director, Leave a Nest Malaysia Sdn. Bhd.

Abdul Hakim Bin Sahidi received his Bachelor Degree in Electronic System Engineering from Malaysia-Japan International Institute of Technology (MJIIT), UTM. He was one of the pioneer members at Leave A Nest Malaysia when he joined the company in 2016. His passion is in business and he is a self-made entrepreneur ever since he was a student at the university. His current mission is to nurture more technopreneurs in Malaysia and connect them to a bigger global technopreneurship ecosystem. From 1st May 2019, he was appointed as the first local Managing Director in Leave a Nest Malaysia with strong passion to create more localized programs in Malaysia, to contribute to the growth of the country and the world.
Come and meet with the panelists exclusively at Hyper Interdisciplinary Conference in Malaysia these upcoming 18th January 2020 to unravel more about the emerging technologies in healthcare sector!
Register now as participants of the Hyper Interdisciplinary Conference in Malaysia 2020.
Participation is FREE and lunch will be provided.
Previous news release on Hyper Interdisciplinary Conference in Malaysia 2020:
Details for Hyper Interdisciplinary Conference in Malaysia 2020
Date: 18th January 2020

Time: 09:00 – 17:30

Location: Level 4, ZELL-V Wellness Hub, Menara Ruyi 30A, Lorong Kapar Jalan 2/87G, Off, Jalan Syed Putra, Taman Seputeh, 58000 Kuala Lumpur.

Contents: Plenary Speech, Panel Discussions, Poster and Industry Exhibition. 
Timeline for Hyper Interdisciplinary Conference in Malaysia 2020
TIMELINE
ACTIVITY

0900-0930

Registration

0930-0950

Welcoming Remarks

0950-1005

Title: Policy and Overview of Traditional and Complementary Medicine in Malaysia

By : Dr. Chai Koh Meow,

Senior Principal Assistant Director

Traditional and Complementary Medicine (T&CM) Division

Ministry of Health Malaysia

1005-1030

Title: Future of Healthcare

By : Dr. Hooshmand Palany

Chairman, Healthcare Working Group

ASEAN-Business Advisory Council

1030-1130

Session 1: Personalized and Artificial Food from the Perspective of Halal

1130-1230

Exhibition + Poster session Core Time

1230-1400

LUNCH

1400-1500

Session 2: Healthcare 4.0: Are Malaysians Ready for It?

1500-1600

Session 3: Liberalization of Healthcare: Accessibility and Affordability for All

1600-1600

Session 4: Bridging the Gap between Traditional & Modern Practice in Healthcare: A possibility?

1600-1730

Closing Ceremony 
For enquiries:
Please contact: Dr. Nurul Syazwani, Research Development Division, Leave a Nest Malaysia Sdn. Bhd. at

[email protected]