TECH PLANTER in MALAYSIA 2020 strive for new approach through Online Information Session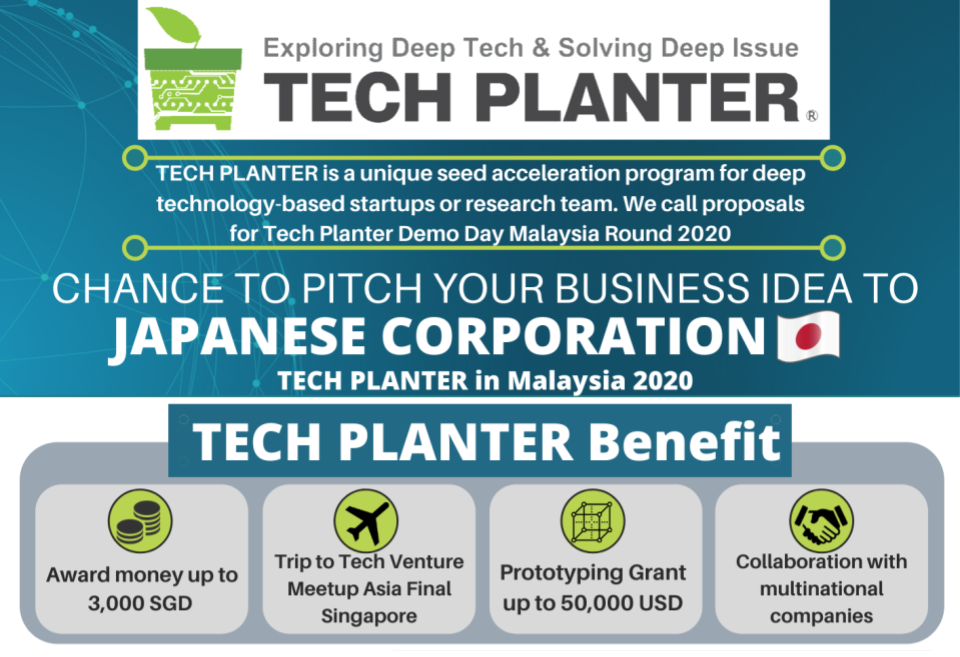 Leave a Nest Malaysia Sdn. Bhd. is opening applications for TECH PLANTER in MALAYSIA 2020 until 5th June 2020.
TECH PLANTER  started in Japan in the year 2014 as a real-tech seed acceleration program, creating an ecosystem to grow seeds of technology from startups and also universities. It is also a platform to implement and bring science and technology to the society. Besides Japan, this program has also expanded to other countries including the UK, US and six ASEAN countries including Malaysia. In 2019, TECH PLANTER advanced further by exploring deep tech & solving deep issues in the society.
Early this year, Leave a Nest Malaysia Sdn. Bhd. has again collaborated with universities to conduct TECH PLANTER Information Session to share about this platform closely to potential applicants from researchers as well as startups.
The list of universities that hosted the Information Session is as follows.
| | | | |
| --- | --- | --- | --- |
| No. | Name of University  | Date | Guest speaker |
| 1.  | Business Innovation & Technology Commercialization Center, Universiti Teknologi Mara (BITCOM, UiTM) | 24th February 2020 | MiCAN Technologies  |
| 2.  | Center for Research and Instrumentation Management, Universiti Kebangsaan Malaysia (CRIM, UKM) | 5th March 2020 | – |


Unfortunately, worsening of pandemic COVID-19 in Malaysia has led to the issuance of a Movement Control Order by the government to fight against this pandemic and break the infectious chain from spreading to the public. In response to these, Leave a Nest Malaysia Sdn. Bhd. took one step ahead to conduct its first TECH PLANTER in MALAYSIA Online Information Session. 
The details of the Online Information Session is as follows.
| | | | |
| --- | --- | --- | --- |
| No. | Date | Time | Guest speaker |
| 1. | 17th April 2020 | 11:00 am-12:00 am | Secrura LipsLLP |
| 2. | 20th April 2020 | 11:00 am-12:00 am | Acet Innovates Sdn. Bhd. |
| 3. | 24th April 2020 | 11:00 am-12:00 am | Acet Innovates Sdn. Bhd. |
Through this Online Information Session, we were able to reach out to researchers and startups more interactively and share our vision with them borderless through digital platforms. The attendees were also able to exclusively hear personal experience from TECH PLANTER Alumni as the guest speaker in this Information Session and interacted with them.
We thank all the attendees for allocating their time to join our first TECH PLANTER MALAYSIA Online Information Session 2020.
About TECH PLANTER in MALAYSIA 2020
An ultimate real-tech startup platform and acceleration program specifically designed for entrepreneurs/researchers who utilize the power of science and technology.

It started in Japan in 2014 and has now expanded to the UK, US and 6 ASEAN countries including Malaysia.

Simple application process.

The project must not be a field of study but a challenging issue for humanity.

Intellectual property rights will stay with the applicants.

Provide technical reference for the solution or product.

Postgraduate candidates, researchers, startups and university students are welcome to apply.

2 free mentoring sessions for finalists before the Demo Day.

The Grand Winner will receive JPY300,000 (around RM9000), return airfares and accommodation to represent Malaysia in Tech Venture Meetup Asia Final in Singapore).

Outstanding projects by incorporated startups stand a chance to be considered for prototyping funds worth up to USD50,000 with Japan Super Factories.


Target fields
Biotech, agri-tech, energy, new materials, medical technology, artificial intelligence, IoT, robotics, and engineering.
Application deadline: 5th June 2020
Click here to learn more about TECH PLANTER Program
https://en.lne.st/2019/07/21/tpmy2019_winners/
https://en.techplanter.com/events/tech-planter-malaysia/
To register for TECH PLANTER in Malaysia 2020:
https://en.techplanter.com/2020entrytp/