Welcome Advanx Health! The First Malaysian Biotech Startup To Join Nest-Bio Venture Lab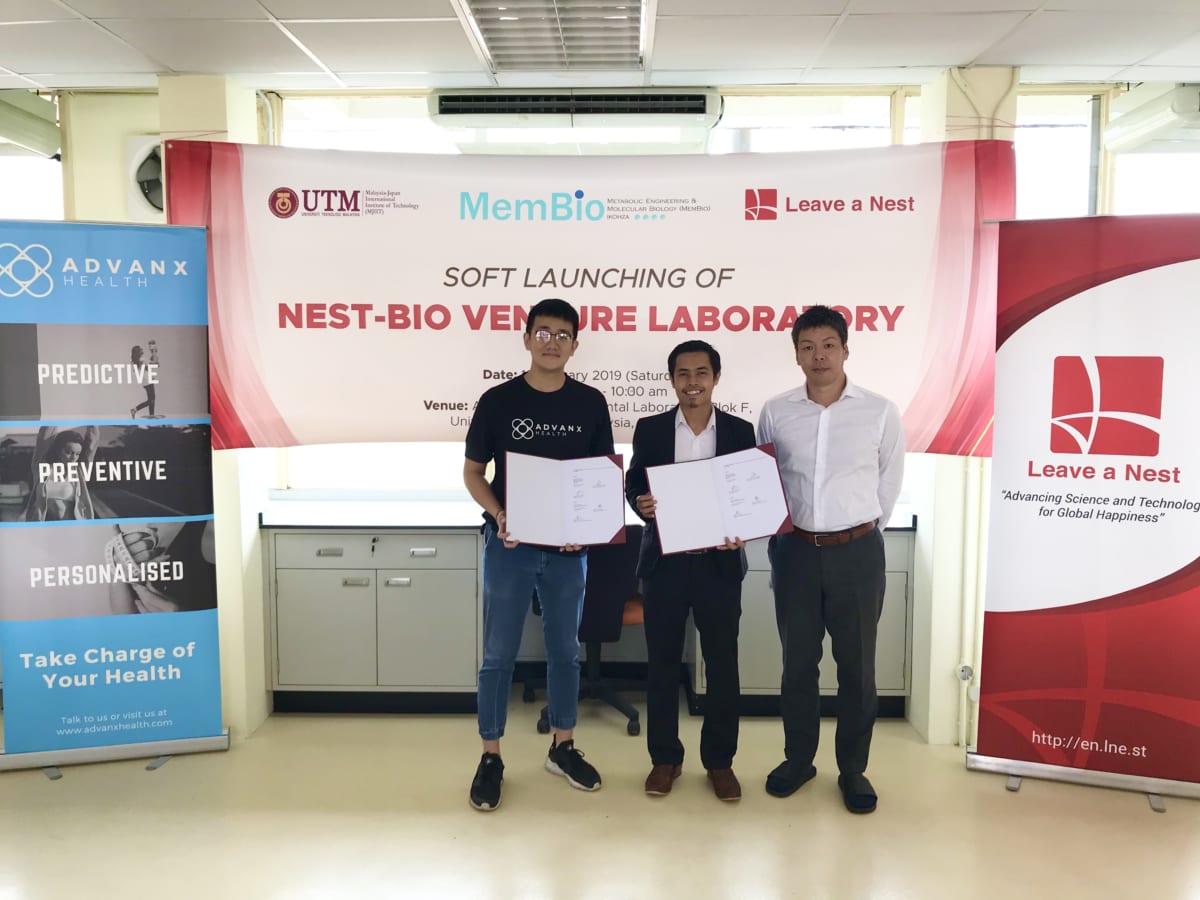 On 14th August 2020, Leave a Nest Malaysia Sdn. Bhd. signed an agreement with Advanx Health at Nest-Bio Venture Lab (NBVL), MJIIT-UTM, Kuala Lumpur. Advanx Health is the first Malaysian biotech startup to join Nest-Bio Venture Lab.
The agreement was signed by Mr. Abdul Hakim Sahidi, Managing Director of Leave a Nest Malaysia Sdn. Bhd. and Mr. Yong Wei Shian, Founder and CEO of Advanx Health in the presence of Assoc. Prof. Dr. Hirofumi Hara, Head of Memo-Bio iKohza, MJIIT-UTM.
Advanx Health was founded in February 2018 by Mr. Yong Wei Shian. Advanx Health is a team of healthcare professionals that combine genetic data and lifestyle to help Malaysians to understand more about themselves. Advanx Health also provides a platform that allows customers to engage with providers of different solutions after receiving their health report. The reason why Advanx Health chose NBVL is because of its perfect location (centre of Kuala Lumpur), complete equipment, and high-end facilities. The collaboration with Leave a Nest Malaysia Sdn. Bhd. will support the development of an in-house system for Advanx Health. 
Leave a Nest Malaysia Sdn. Bhd. together with MJIIT-UTM would like to position NBVL to be the place where it can nurture more biotech startups and bridge them to international partners especially from Japan.
We welcome biotech startups to join NBVL. 
Contact us and tell us about your business needs at [email protected]
About Nest-Bio Venture Lab
Nest-Bio Venture Lab was a joint venture lab between Leave a Nest Malaysia Sdn. Bhd. and Malaysia-Japan International Institute of Technology (MJIIT), Universiti Teknologi Malaysia (UTM). NBVL will have an incubator for biotechnology startups and incubatees will have the privilege to use the lab space, access to one of a kind, high-end machines such as Next Generation Sequencing (NGS) machine, and obtain expert consultations from MJIIT, UTM. Two successful biotechnology startups from Japan, euglena Co., Ltd. and Metabologenomics, Inc. (Metagen) have agreed to participate as premier international partners for NBVL. The collaboration is also to support the grooming of effective science communication skills among postgraduate candidates through human resource training. Apart from that, Leave a Nest Malaysia Sdn. Bhd. and MJIIT, UTM will develop and conduct educational programs such as science workshops for young researchers from secondary and primary schools in the near future.
For more details, please visit:
Nest-Bio Venture Lab : https://nlab.lne.st/
The launch of Nest-Bio Venture Lab: https://en.lne.st/2019/01/20/nest-bio-venture-lab/
Advanx Health: https://www.advanxhealth.com/
**This news was written by Muhammad Laduni Bin Aslan.