NEST WORKSHOP : TechnoGen and Drone 101 Workshops by Leave a Nest Malaysia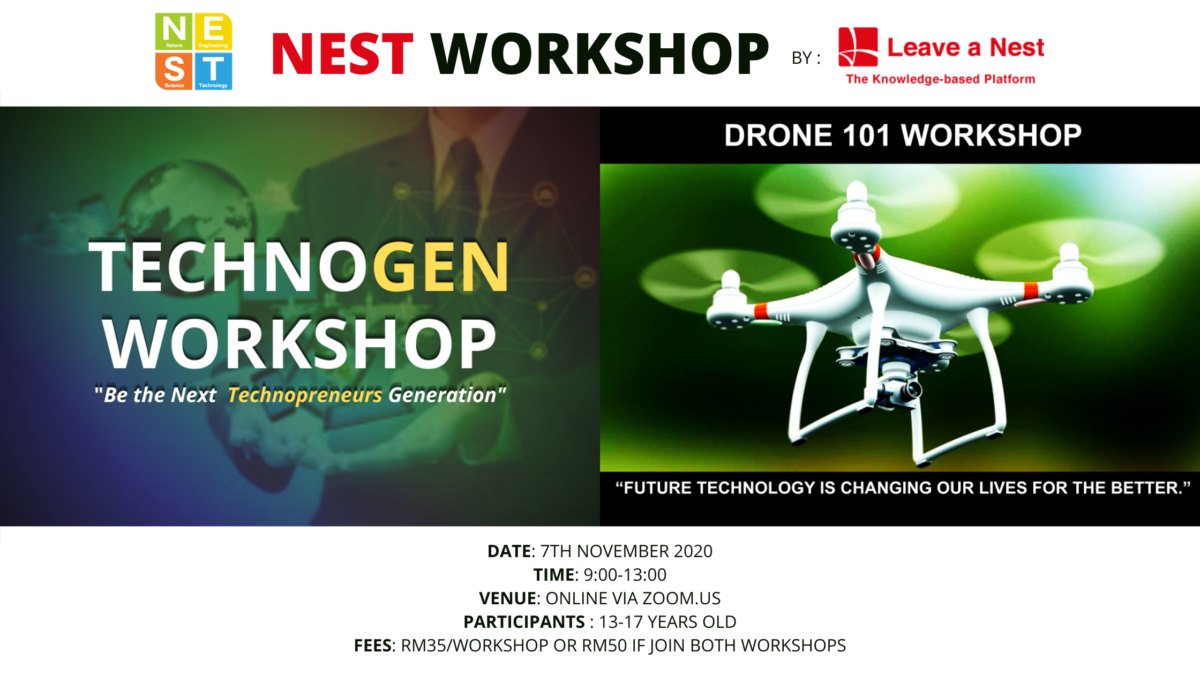 Leave a Nest Malaysia will be conducting two workshops for secondary school students in November 2020! These specialized workshops are to convey the wonders and fun in science and technopreneurship values  to students in Asian countries. Here are the workshops overviews:
Overview of Technogen Workshop
Be the next generation of inspiring technopreneurs! This workshop will guide participants who have the passion in entrepreneurship to equally appreciate the problems and opportunities that exist in their community. Participants will be asked to think creatively and use available resources in their surroundings to create beneficial solutions that can be monetized. Get to know who are the icons of technopreneurs, develop technopreneurship skills and embrace the right mindset after attending this workshop. 
Overview of Drone 101 Workshop
You don't need to know how to program a drone, you don't need to know how to pilot a drone to join this workshop! Learn about technologies of the future in Drone 101 Workshop. This workshop will reveal drone special properties, the mechanics and unique designs that made it a special flying robot. Participants will be challenged to design future drones that can glide through air and water and solve problems in big cities! 
Details of Workshops
Date: 7th November 2020
Timeline:  
9:00-10:50 (MY Time) – Technogen Workshop
11.00-13:00 (MY Time) – Drone 101 Workshop 
Teaching and learning method: Via online (Zoom)
Target Participants: Secondary school students (age 13-17)
Workshop Fee: RM50 for 2 workshops, RM35 for 1 workshop
Registration deadline is on 1st November 2020.
For registration, please click this link or email to [email protected] or [email protected]