NEST WORKSHOP COMPLETED: TechnoGen and Drone 101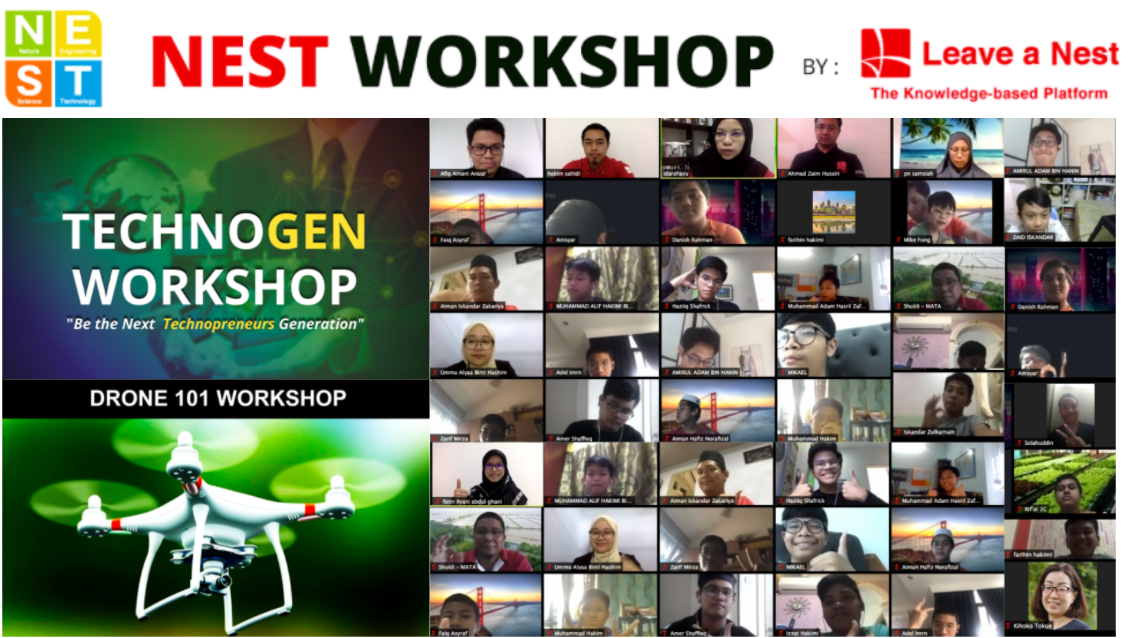 Leave a Nest Malaysia conducted two workshops for secondary school students on 7th November 2020. It was a half-day workshop and attended by 24 participants from as young as 7 years old to 15 years old.
The first workshop, Technogen Workshop focused on setting the mindset of young technopreneurs. It was delivered by Mr. Abdul Hakim Sahidi in an interactive session where participants were guided on how to appreciate the problems and opportunities that exist in their community through discussions and hands-on activities. Participants were also trained to think creatively and use available resources in their surroundings to create beneficial solutions for the world.
Second workshop on Drone 101 was delivered by Ms. Idara*hayu Ayob and in collaboration with Aerodyne Group. In this workshop, participants learned about the theory of flight and the mechanical aspect of drone. Through simple experiments, the participants also demonstrated Bernoulli's Principle. In group discussions, they were challenged to solve current technical issues before drone could become a transport in the future. Finally, using videos exclusively made by Aerodyne Group to show actual drone applications have helped the participants to understand the type of things that can be monitored by drone but impossible to be done by human beings.
Leave a Nest Malaysia received encouraging feedback from students, parents and teachers for these two workshops and we look forward to continue bringing more original science workshops in 2021. Thank you to all participants and Aerodyne Group for the great support!
Join us in our next program, Great Teachers Seminar on 21st November 2020.
What is Great Teachers Seminar?
A platform for teachers and parents to discover effective and innovative approach to enhance STEM education.
Why should teachers and parents join this seminar?
-To understand the potential career path for STEM students related to IR4.0
-To learn innovative methodology of teaching STEM to the students from STEM experts.
-To know useful technologies and tools that can support in STEM teaching and learning.
-To network with like-minded teachers and parents who are passionate to exchange ideas and knowledge on STEM education.
Register here: https://www.eventbrite.com/e/great-teacher-seminar-2020-tickets-121500628651