Final Presentation of the International Joint Research Project, TSUNAGU RESEARCH PROJECT at Science Castle Japan.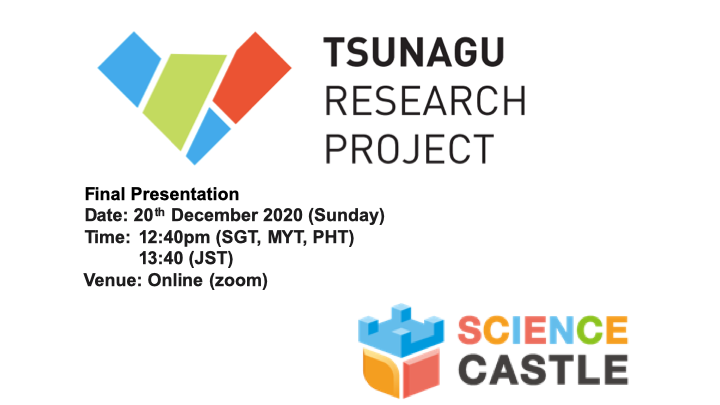 2020 is a crucial year where all physical activities are restricted including outbound travel due to the COVID-19 Pandemic. Thus, the TSUNAGU RESEARCH PROJECT is the golden opportunity for the students to work with people across borders which is conducted online. This is a great example of an initiative to tackle this current situation, in order to continue to provide opportunities for school students to learn of other countries' issues and apply research skills to collaboratively solve the global issues together.
The final presentation of the international joint research program, TSUNAGU RESEARCH PROJECT, in which young researchers from Southeast Asia and Japan gather to work together on research based on the same theme, will be held at the "Science Castle Japan", an academic conference for junior and senior high school students sponsored by Leave a Nest. Students with different values, cultures, and living environments have different senses of challenges and themes, even if they have the same theme. This year, which is the first year, we have formed a cross-border team with the theme of "Soil" and have been conducting research while sharing opinions and ideas with each other and learning from each other.
Event Tentative
Date: December 20, 2020 (Sunday)
Time: 13: 40 ~ 15: 40 (JST),  12: 40pm ~ 2: 40pm (SGT, MYT, PHT)
Format: Virtual Platform (ZOOM)
List of Participating Schools This Year
In 2020, a total of 7 schools, 15 teams, and 48 people from 4 countries participated.
Japan: Urawa Jitsugyo Gakuen High School / Kansai International Academy Junior and Senior High School
Singapore: School of Science and Technology, Singapore (SST) / Clementi Town Secondary School (CTSS)
Malaysia: Sekolah Berasrama Penuh Integrasi Gombak (SBPI) / Sekolah Sains Seri Puteri (SESERI)
Philippines: Philippine Science High School – Western Visayas Campus
Schedule
Time

(MYT, PHT, SGT / JST)

Content

12:40 / 13:40

Opening Remarks (Dr. Satomi Maeda, Director of Leave a Nest Centre for Educational Research)

12:50 / 13:50 

Keynote Speech by Earth Life Research Institute (ELSI), Tokyo Institute of Technology.

13:05 ~ 14:35 /

14:05 ~ 15:35 

Final Presentation by participating schools of Tsunagu Research Project

Each theme research presentation 15 to 20 minutes, Q & A session (5 minutes each theme)

Teams:

Soil and Environment / Soil Engineering

Soil and Crops

Soil Pollution

Soil and Ecosystem / Soil Ecosystem

 14:38 ~ 14:40 /

15:38 ~ 15:40

Commentary by Earth Life Research Institute (ELSI), Tokyo Institute of Technology.

Closing remarks by Leave a Nest
*JST = Japan Standard Time
*MYT = Malaysia Time
*PHT = Philippine Time
*SGT = Singapore Time
For the TSUNAGU Research Project session at SCIENCE CASTLE JAPAN 2020, we'll be joined by Earth Life Research Institute (ELSI), Tokyo Institute of Technology.

Earth Life Research Institute, Tokyo Institute of Technology
The Tokyo Institute of Technology Earth Life Research Institute (ELSI) is a new research institute established in 2012 by the World Premier Institute, WPI program of the Ministry of Education, Culture, Sports, Science, and Technology of Japan (MEXT), which aims to form a world-class research base. ELSI is researching "to elucidate the origin of the earth and life based on the environment of the early earth where life was born". ELSI aims to unravel the fundamental mystery of humankind by fusing a wide range of disciplines such as "earth science", "life science", and "planetary science" which is indispensable for knowing the early earth. Research on the Earth, where life was born and nurtured, will also lead to the exploration of the possibilities of life on extraterrestrial planets. At ELSI, it has been named the new discipline created by the fusion of disciplines as life and planetary science, and are working to form an international base in life and planetary science.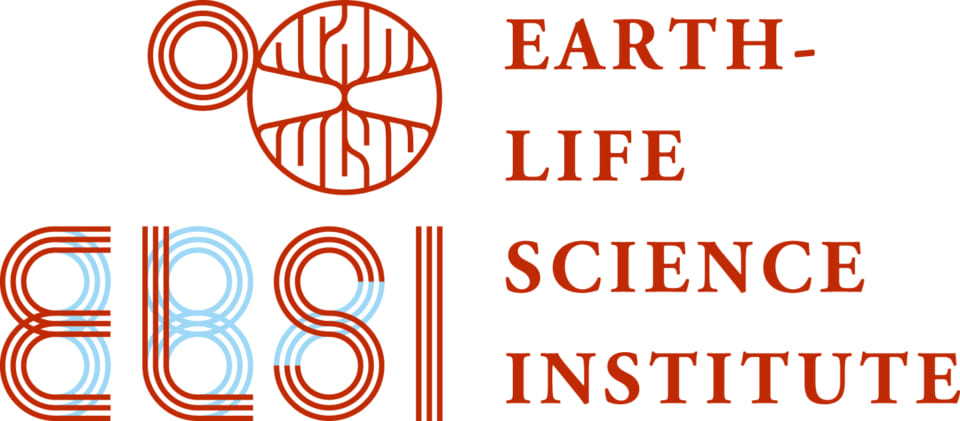 We will be conducting TSUNAGU Research Project at SCIENCE CASTLE 2021 at respective regions in Japan, Singapore, Malaysia next year, 2021. Kindly check out our website for more information. 
Click here for the official website of the TSUNAGU Research Project and Science Castle 
For more information, do not hesitate to drop us an email at [email protected] or please contact:
PH: Mr. Yev Dulla ([email protected])
MY: Mr. Nur Ahmad Zaim Hussin ([email protected])
SG: Ms. Elizabeth Wee ([email protected])