Join Aerodyne Special Session in HIC MY 2021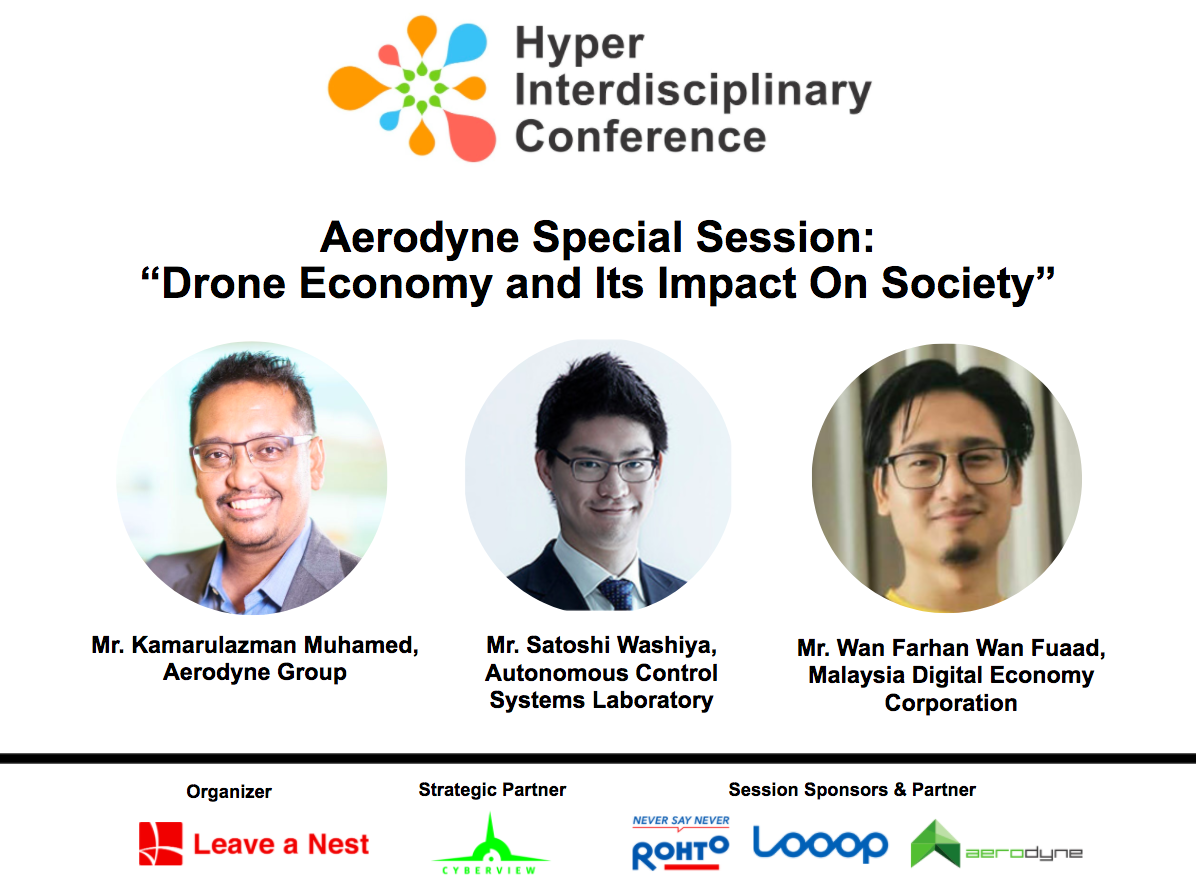 Leave a Nest Malaysia Sdn. Bhd. is proud to announce Panelists for Aerodyne Special Session in the Hyper-Interdisciplinary Conference in Malaysia 2021 (HIC MY 2021).
The event will be held as below:
Date: 16th January 2021
Time for Aerodyne Special Session: 16:00-16:50 (MY time)
Please connect using Online Microsoft Teams (register as participant here)
Session Description: 
The idea of package delivery to people living in remote locations or transporting people with drones seemed impossible a few years ago. Many were thinking about the repercussions that could go far beyond transportation. But the new era of drone has arrived. The impact that it will have on society is only limited by our imagination. In this Aerodyne Special Session, Panelists will shed light on the true meaning of Drone Economy. They will also share their thoughts on the biggest enabler for Drone Economy to take-off and how it can give immense benefit to the society. 
Here are the honourable Panelists in Aerodyne Special Session:
Mr. Kamarulazman Bin Muhamed
Founder and Group CEO, Aerodyne Group
Mr. Kamarul is the Founder and CEO of Aerodyne Group, a Malaysian-based drone solutions provider that is ranked second in the world by Drone Industry Insights of Germany. He was named by Nikkei Japan as the CEO of top-10 hottest start-up of 2019. Mr. Kamarul led Aerodyne from a 3-person startup in 2014 to global company with presence in 35 countries in just 6 years. He is a TEDx speaker and a drone industry thought leader and has presented his ideas and innovation on AI, drones and Industry 4.0 around the world. An auditor by training, Mr. Kamarul spent his formative years in the city of London before switching his career to the tech industry upon returning to Malaysia after a 10-year stint in the UK. Mr. Kamarul is an avid explorer and has travelled to more than 100 countries, both for business and pleasure.
Mr. Satoshi Washiya
President, COO & Board Director (Representative Director),
Autonomous Control Systems Laboratory (ACSL)
Mr. Satoshi Washiya holds an M.S. of Architecture from Graduate School of Creative Science and Engineering, Waseda University, Japan. He has served both domestic and multinational companies in corporate wide transformation project at Tokyo, Japan and Stockholm, Sweden office of McKinsey & Company. He joined ACSL in July 2016.
Mr. Wan Mohd. Farhan Bin Wan Mohd. Fuaad
Manager, DroneTech & 4IR Ecosystem,
Malaysia Digital Economy Corporation (MDEC)
Mr. Wan Farhan is a Digital Economy & Startup Evangelist with management consulting experience in  delivering Digital Transformation projects across various industries. With his technical and entrepreneurship background, he advises startup companies in business strategy, market insights, funding, corporate collaboration & government relation. At Malaysia Digital Economy Corporation (MDEC), he currently leads the DroneTech & 4IR Ecosystem Development with the support of ecosystem partners to realise the USD384mil local market potential by 2025. The initiative aims to catalyze the growth of DroneTech companies, accelerating IR4.0 technology adoption and positioning Malaysia as the DroneTech Epicenter and Launchpad to the ASEAN market. 
Don't miss this exciting session to meet and interact with our Panelists! 
About Hyper-Interdisciplinary Conference in Malaysia 2021
Hyper-Interdisciplinary Conference (HIC) started off as an internal communication platform in 2012 between Leave a Nest members in Japan to exchange and share their research findings in order to create a new research field. Since then, it has evolved to become a unique conference where corporations, governments, startups, and researchers, and from different fields gather to create and integrate novel body of knowledge. Hyper-Interdisciplinary Conference in Malaysia (HIC MY) 2021 will bring the theme of "OFF-GRID INNOVATIONS" where we will discuss independent technologies that can be utilized in remote areas, islands, and villages.
For more details about HIC, kindly visit our official HIC website.
For any inquiries, contact us at : [email protected]