Hyper-Interdisciplinary Conference in Malaysia 2021 (HIC MY 2021) : Announcing Panelists for Panel Discussion 2 "Circular Waste Management Towards a Sustainable Community"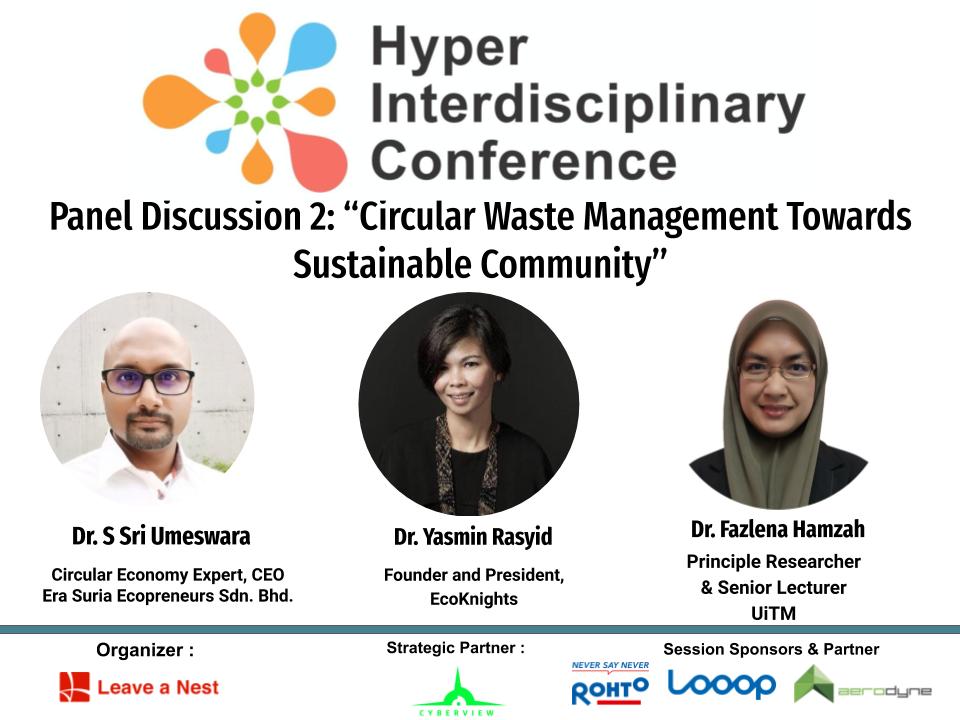 Hyper Interdisciplinary Conference in Malaysia 2021 (HIC MY 2021) is just around the corner and Leave a Nest Malaysia Sdn. Bhd. is honoured to announce the panelist for Session 2 entitled Circular Waste Management Towards a Sustainable Community.
With the theme of 'Off-grid Innovations', Hyper Interdisciplinary Conference in Malaysia 2021 will bring together leading academic scientists, researchers, corporations, government agencies, startup, educators as well as school students to discuss the potential technologies and solutions to solve issues in society such as energy management, waste management, mobility and accessibility. Through the discussion, we hope to propose good solutions towards creating a smart community, smart City and hopefully a smart nation.
It is increasingly evident that the adoption of sustainable production and consumption patterns and the proper management of solid waste can significantly reduce impacts on both the environment and health. But how exactly are we going to do that?
This sub theme will discuss the sustainable solutions to effective waste management in a community and ways to reduce plastic waste and landfill without doing more harm to the environment. The importance of having a successful waste management also will be discussed throughout the session to increase awareness among the audiences.
Here are the honourable Panelists for this session:
Dr. S Sri Umeswara
Circular Economy Experts
Founder & CEO, ESECO Sdn. Bhd.
Dr. S.Sri Umeswara is the founder & CEO of ESECO – Circular Economy Experts. He holds a Master of Science in Waste Management & Environmental Management, and a PhD in Energy and Environment. He is a Malaysian Delegate and Subject Matter Expert at UNEP (United Nations Environment Programme) Expert Group on Marine Litter and Microplastics. He had received a certificate of appreciation from the Mayor of Petaling Jaya, for his efforts in cultivating 3Rs communities and promoting 'Circular Economy' via its IoT system and mobile application 'MyReturns' among the residents of Petaling Jaya in 2019. In his many articles, and presentations at local and international conferences, and media appearances, Dr. S.Sri Umeswara shares his expertise on waste management, circular economy and sustainable living.
Dr. Yasmin Rasyid
Founder & President, EcoKnights 
Dr. Yasmin Rasyid is a biologist by profession, environmentalist by passion. She founded a Malaysian non profit community organization called EcoKnights in 2005 with the aim of promoting sustainable living through advocacy, community skills and awareness development programs, scientific research with research institutions, and strategic stakeholder engagements. She also has experiences in social entrepreneurship development and has worked with government agencies and corporate organizations in policy development and community mobilization in sustainable economic development. She also has published works in journals centered on sustainable community development.
Dr. Fazlena Hamzah, 
Researcher and Senior Lecturer, UiTM
Dr. Fazlena Hamzah, Senior Lecturer from Faculty of  Chemical Engineering, Universiti Teknologi MARA (FKK UiTM) Shah Alam. Has been working with FKK UiTM since 2010 and appointed as Leader of Research Interest Group in Biocatalysis and Biobased Material Technology. The research group is focusing on the utilization and transforming of waste material into value added products. Some current research developments within the group are : 1) The development of plastic and pollazonic pavement, 2)Reutilization of waste carbon from the carbide industry for gas capture and 3) Transforming used cooking oil into valuable products. The group also continuously engaged with university communities by providing seminars and training to create awareness on reutilizing of solid waste material.
Join us and interact with our panelists.
For more details, kindly visit our official HIC website.
For any inquiries, drop us an email to: