Join the 1st Information Session for TECH PLANTER in Malaysia 2021!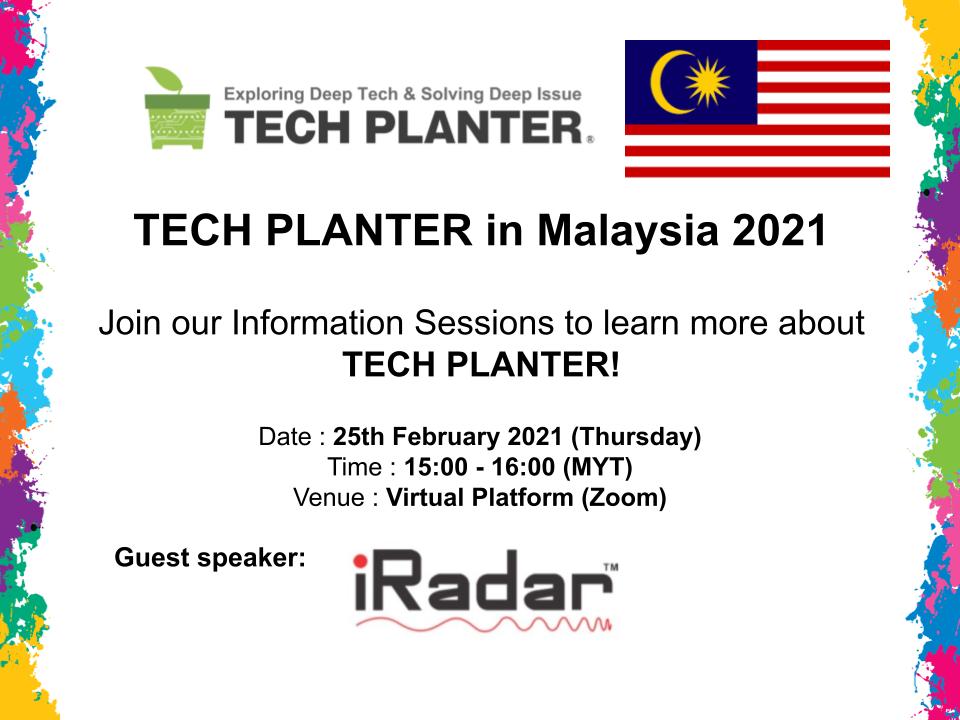 Leave a Nest will be starting the 2021 season of TECH PLANTER ASEAN. TECH PLANTER is a platform that Leave a Nest started in 2014 to support Deep-Tech startups around the world. We are conducting this programme in 6 countries in the ASEAN region and our network has grown to over 700 teams since 2014. TECH PLANTER platform allows support to startups from all aspects including prototyping support, IP strategy, investments, and moreover connecting with large corporates, especially from Japan.
This time on 25th February 2021, we will be conducting an information session for the TECH PLANTER in Malaysia 2021. In this information session, we will share about Leave a Nest and TECH PLANTER. We will also invite the Grand Winner for TECH PLAN DEMO DAY in Malaysia 2020 & Grand Winner for TECH PLANTER Asia Final 2020, team iRADAR-GBSAR.
Overview of the information session:
Date: 25th February 2021 (Thursday)
Time: 15:00 – 16:00 (MYT)
Method: Online via ZOOM
Agenda of the day:
1) Introduction by Leave a Nest
2) Explanation about TECH PLANTER in Malaysia 2021
3) Sharing from iRADAR-GBSAR
4) Q&A Session
REGISTRATION FORM KINDLY CLICK HERE
We will also conduct our 2nd information session on 1st April 2021. Please be sure to join the 2nd session if you are unable to join the 1st one.
About other information sessions:
News release on TECH PLANTER MY 2020 winners:
Congratulations to Winners of TECH PLAN DEMO DAY in MALAYSIA 2020!
About Leave a Nest: https://global.lne.st/
About TECH PLANTER: https://en.techplanter.com/
For any inquiries, kindly contact us:
in[email protected] (attention to Mr. Afiq Amani or Mr. Hakim Sahidi)