Join the 2nd TECH PLANTER in Malaysia 2021 Information Session!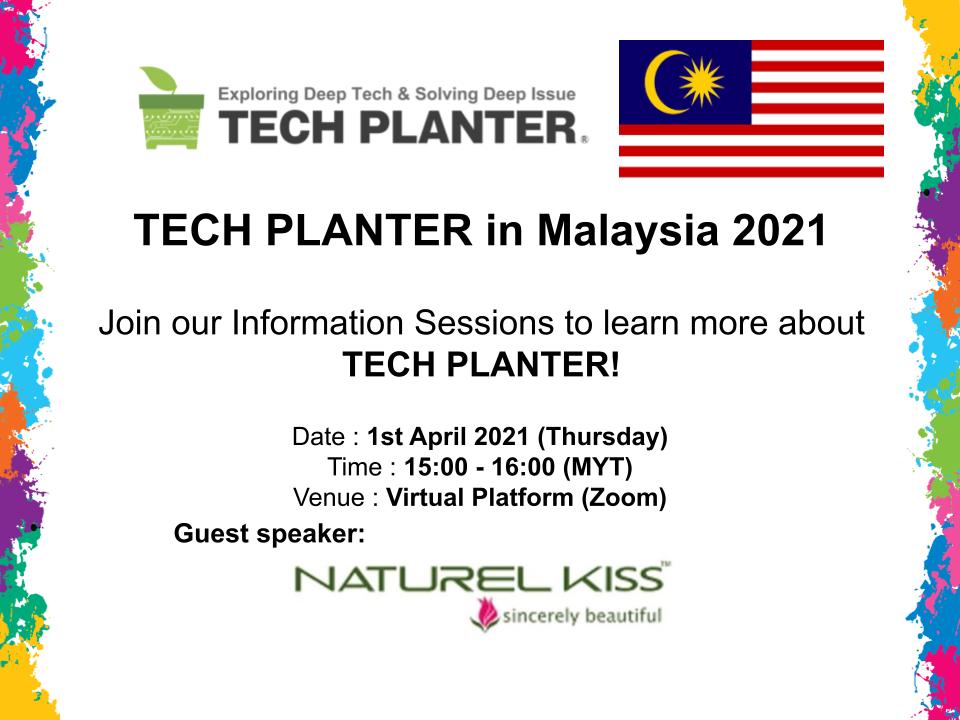 We will be calling out for entry to TECH PLANTER in Malaysia 2021 and prior to this, we would like to invite you to join our info sessions. This will be a perfect opportunity for those thinking to join TECH PLANTER this year!
TECH PLANTER platform allows support to startups and researchers from all aspects including prototyping support, IP strategy, investments opportunities, and connecting with large corporates, especially from Japan.
This time on 1st April 2021, we will be conducting the 2nd information session for the TECH PLANTER in Malaysia 2021. In this information session, we will share about Leave a Nest and all you need to know about TECH PLANTER. We will also invite the receiver of Leave a Nest Award for TECH PLAN DEMO DAY in Malaysia 2020, team Naturel Kiss to share about their experience in TECH PLANTER.
Overview of the information session:
Date: 1st April 2021 (Thursday)
Time: 15:00 – 16:00 (MYT)
Method: Online via ZOOM (Link : https://lnest.zoom.us/j/96400418511)
Agenda of the day:
1) Introduction by Leave a Nest
2) Explanation about TECH PLANTER in Malaysia 2021
3) Sharing from Naturel Kiss
4) Q&A Session
REGISTRATION FORM KINDLY CLICK HERE
News release on TECH PLANTER MY 2020 winners:
Congratulations to Winners of TECH PLAN DEMO DAY in MALAYSIA 2020!
About Leave a Nest: https://global.lne.st/
About TECH PLANTER: https://en.techplanter.com/
For any inquiries, kindly contact us:
in[email protected] (attention to Mr. Afiq Amani or Mr. Hakim Sahidi)