TECH PLAN DEMO DAY in Indonesia 2021 Judges Announcement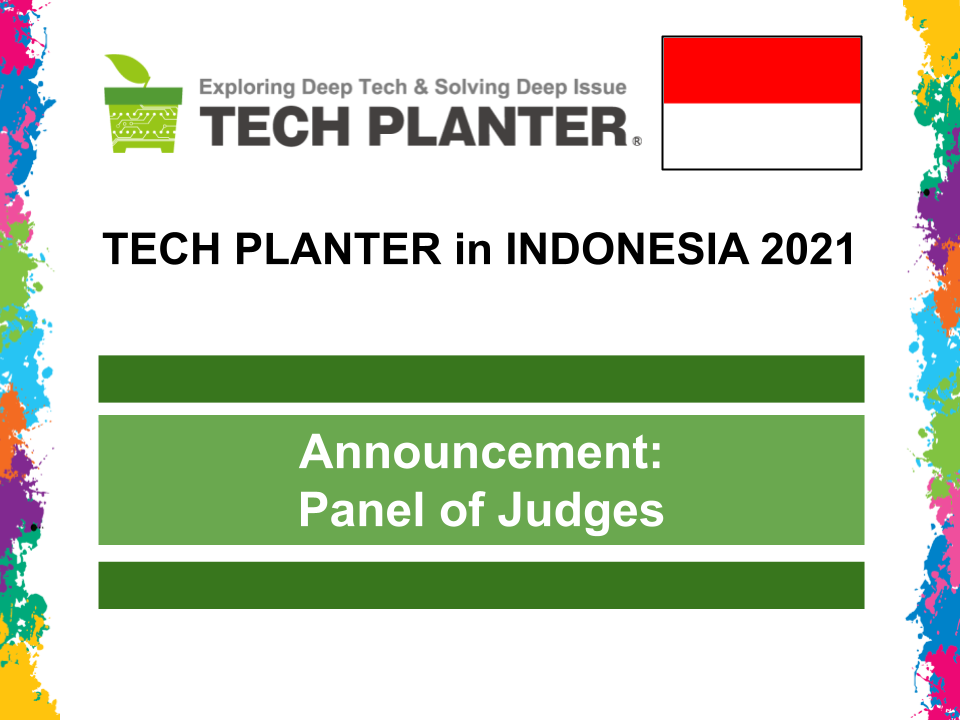 Leave a Nest will be starting the 2021 season of TECH PLANTER ASEAN. TECH PLANTER is a platform that Leave a Nest started in 2014 to support Deep-Tech startups around the world. We are conducting this program in 6 countries in the ASEAN region and our network has grown to over 700 teams since 2014. TECH PLANTER platform allows support to startups from all aspects including prototyping support, IP strategy, investments, and moreover connecting with large corporates, especially from Japan. 
TECH PLANTER in INDONESIA is a seed acceleration program designed for early-stage deep-tech startups & pre-startup researchers who are passionate about commercialization and business creation. The TECH PLANTER program focuses on real technology such as agri-tech, biotech, drone, IoT, medical, deep tech, and others which can solve challenging problems faced by local communities and provide prototyping needs through seed funding or access to Japan super-factories and manufacturers.
9 finalists will pitch their business ideas to judges who are from Japanese corporations, Indonesia local incubators, and accelerators in the final round of TECH PLAN DEMO DAY in INDONESIA 2021.
We are honoured to announce the judges for this year in TECH PLAN DEMO DAY in INDONESIA 2021 as below:
Leave a Nest Co., Ltd.
Dr. Yuko Ueno (Head of Judges)
President of Leave a Nest America Inc., Leave a Nest Group
Real-Tech Holding 
Mr. Daiki Kumamoto
Global Fund Manager
Mitsui Chemicals Singapore R&D Centre Pte. Ltd.
Mr. Masahito Yano
Project Manager of Business Development
Rohto Pharmaceutical Co., Ltd.
Mr. Kazuhiro Tsuji
Global R&D Group, Regulatory Affairs Promotion Division
UMG IDEA LAB
Dr. Kiwi Aliwarga
Chief Executive Officer
Association of Indonesian Business Incubators (AIBI Network), AIBI 
Prof. Dr. Ir. Hadi K. Purwadaria
International Liaison
Indonesian Institute of Sciences (LIPI)
Ms. Hanna Arlina
Manager of Business Incubator
Block 71
Mr. Hussein Sulaiman
Programme Head
S. ASEAN International Advocacy & Consultancy (SAIAC)
Ms. Shanti Shamdasani
Founder & CEO
TECH PLAN DEMO DAY in INDONESIA 2021 details as below:
Date: 29th May 2021 (Saturday)
Local Time: 9:30 – 14:30 (WIB)
Format: Online via LVNS ID Platform
About Leave a Nest: https://global.lne.st/ 
About TECH PLANTER: https://en.techplanter.com/
About TECH PLANTER in Indonesia 2020: https://en.techplanter.com/2020/07/06/tpidn2020_winner/  
For any inquiries about TECH PLAN DEMO DAY in INDONESIA 2021, kindly contact:
[email protected] (attention to Mr. Zaim or Ms. Ummu)