Malaysian Government-Backed MTDC Joins Real Tech Global Fund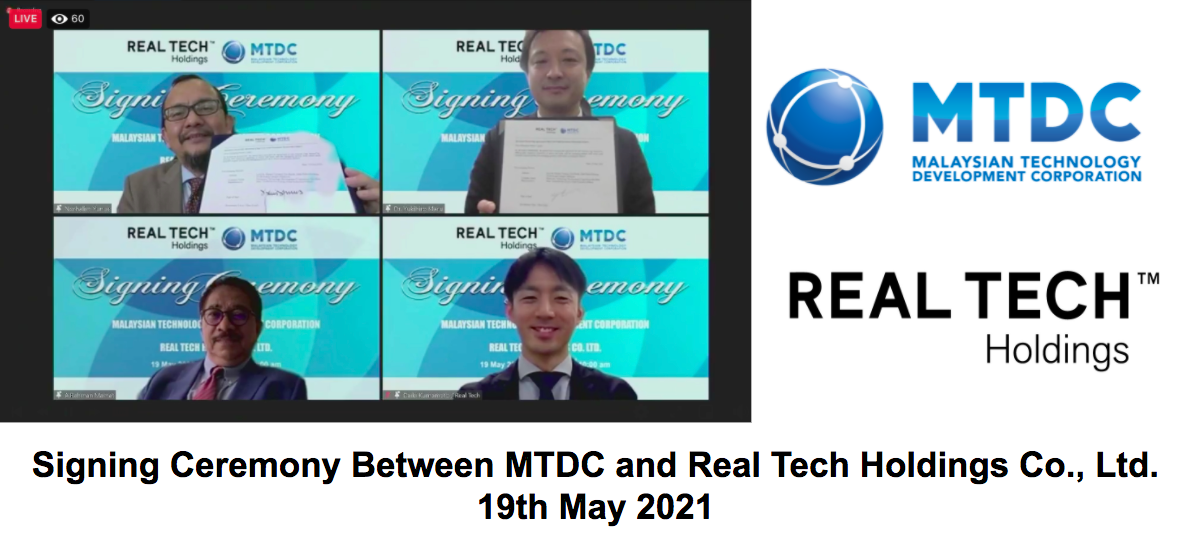 Leave a Nest Malaysia Sdn. Bhd. is pleased to announce Malaysian Technology Development Corporation Sdn. Bhd. (MTDC) as a new limited investment partner of Real Tech Global Fund, a global investment fund run by Real Tech Holdings Co., Ltd. (RTH), one of the Leave a Nest Group companies, to support startups and technology development in Malaysia. 
Since 2015, Leave a Nest Malaysia has provided various platforms through their flagship programs such as TECH PLANTER, Hyper-Interdisciplinary Conference and TECH VENTURE MEETUP to support the commercialisation of deep technologies and research from local universities and develop the deep tech startups ecosystem in Malaysia. Currently, there are more than 760 teams in the TECH PLANTER ecosystem in Southeast Asia and 186 teams are from Malaysia. Our strong collaboration with experienced partner such as MTDC since 2018 has made these programs more visible to the target participants and allows us to further accelerate the deep tech ecosystem in Malaysia.
MTDC was established in 1992 by the Malaysian government as an affiliate of the Ministry of Science, Technology and Innovation (MOSTI). Its mission is to support commercial implementation of technology in Malaysia through funding and investment, incubation and mentorship, entrepreneurship building and relevant advisory services. Up till today, MTDC has actively invested in more than 700 companies, mainly startups through different specialized funds and has been recently focusing on the deep tech sectors by partnering with various strategic partners with experience. 
Real Tech Global Fund aims to invest in deep tech startups in Southeast Asia, particularly in Malaysia and Singapore. They have currently invested in Aerodyne Group, a drone service provider, and are actively accelerating their investments in the country.
Partnership between MTDC and RTH will focus on supporting each of its portfolio to expand the deep tech ecosystem in Malaysia. Leave a Nest Malaysia hopes to have closer working relationship with both organizations and take proactive actions to connect Malaysia and Japan for solving deep issues.
About Malaysian Technology Development Corporation Sdn. Bhd.
Year of Establishment:1992
Address:Ground Floor, Menara Yayasan Tun Razak, Jalan Bukit Bintang, 55100 Kuala Lumpur, Malaysia
Representative:YBhg. Dato' Norhalim bin Yunus
Website:https://www.mtdc.com.my/

About Real Tech Holdings
Real Tech Holdings is a joint venture between euglena Co.,Ltd and Leave a Nest Co., Ltd. It supports change makers who give their heart and soul to solve societal and environmental challenges. Real Tech Holding's manages Real Tech Fund, Japan's leading deep-tech focused venture capital fund.
Website: https://en.realtech.holdings/
Real Tech Holdings Co.,Ltd.
Shinya Narita
https://www.realtech.holdings/contact
<Contact us>
For more details, do contact us at: [email protected]
Abdul Hakim Sahidi,
Managing Director,
Leave a Nest Malaysia Sdn.Bhd.
+60182233230