Thank You For Making GREAT TEACHER SEMINAR 2021 a Great Success!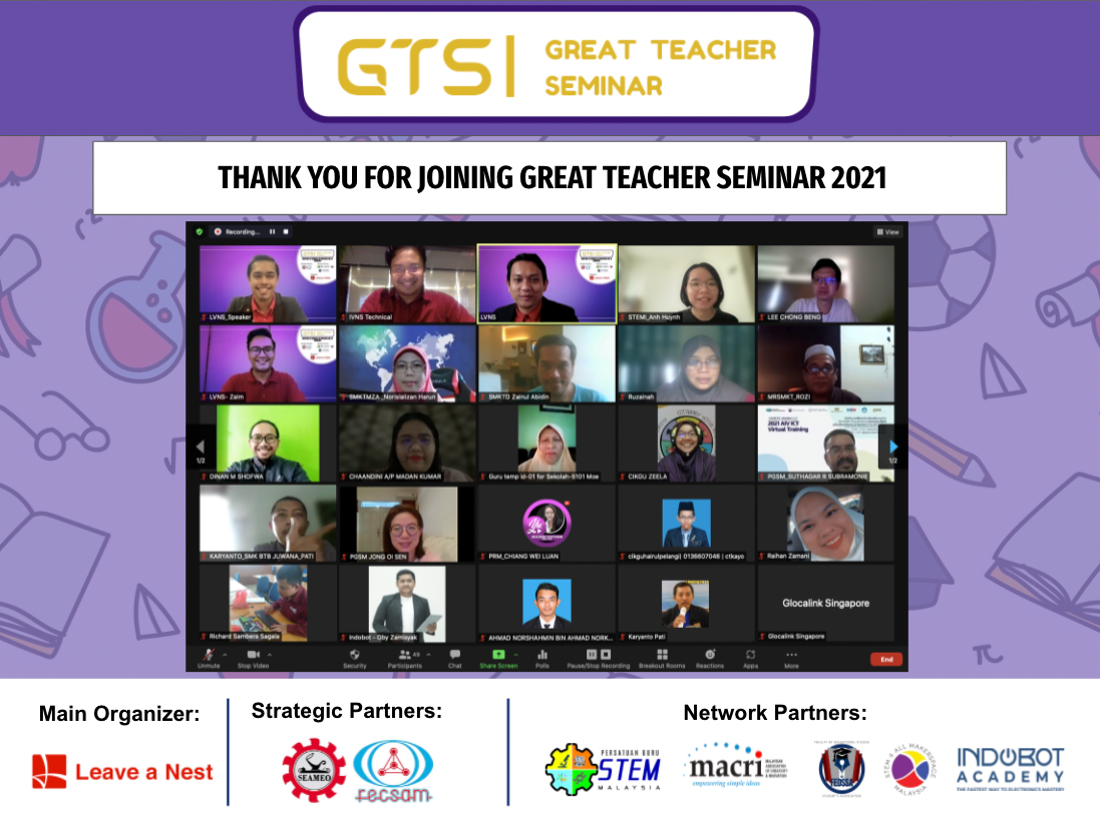 On 20th November 2021, Leave a Nest Malaysia Sdn Bhd hosted GREAT TEACHER SEMINAR 2021. GREAT TEACHER SEMINAR aims to equip teachers, future teachers, and parents with the right mindset and knowledge to enhance their teaching skills in educating the young generation.
This event was conducted fully online using Zoom Webinar with the strong support of The Southeast Asia Ministers of Education Organization – Regional Centre for Education in Science and Mathematics (SEAMEO-RECSAM) as our Strategic Partner, and line up of our  Network Partners namely; Persatuan Guru STEM Malaysia, Malaysian Association of Creativity & Innovation (MACRI), Faculty of Educational Studies Students' Association (FEDSSA) – University Putra Malaysia, STEM4ALL Makerspace, and Indobot Academy.
In this GREAT TEACHER SEMINAR 2021, a total of 74 teachers, future educators, and parents from various schools all over Malaysia and ASEAN countries have joined as participants. Despite the pandemic situation and a busy schedule, we are greatly appreciative of the efforts and enthusiasm showed by all attendees in embracing the mission to improve our education system to a new level of excellence. 
Inspirational keynote address

Keynote address by Madam Hazami Habib.
The GTS 2021 keynote speech was delivered by Madam Hazami Habib, Chief Executive Officer (CEO) of the ​​Academy of Sciences Malaysia (ASM). In her presentation, she highlighted the significant aspiration of ASM in adapting to changes in education due to pandemics. 
Eye-opening sharing in Panel Discussion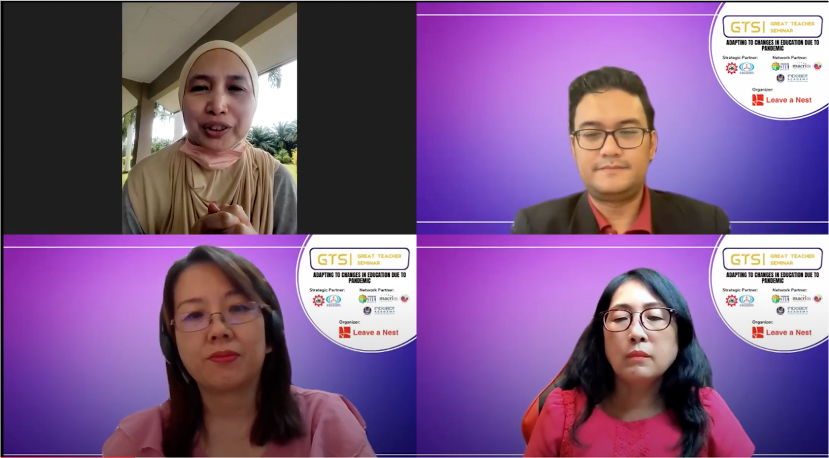 Clockwise: Panelist 1– Datin Paduka Zaliza Alias, Founder & Executive Director of Gains Education Group; Leave a Nest Moderator – Dr. Arief Izzairy Zamani; Panelist 2 – Mrs. Lee Saw Im, Chemistry Teacher, SMK Seri Bintang Utara; and panelist 3 – Dr. Loh Su Ling, Specialist under Training Programme Division SEAMEO-RECSAM.
To discuss The Future of Education Post-Pandemic era, GTS 2021 invited three significant figures in the Malaysian education scene. The uncertainty of the changing world has motivated our speakers to be more resilient in delivering effective solutions especially in rural and remote areas with limited access to technology. 
"Biasakan yang Betul, Betulkan yang Biasa" 
Teacher Lee Saw Im, SMK Seri Bintang Utara
(translation: Familiarize yourself with the right things, correct the usual wrongdoing) was the words of wisdom from Teacher Lee to inspire students and teachers to be resilient in coping with hardships due to current pandemics.
Workshop 1: Tips and Tricks in Crafting your virtual classroom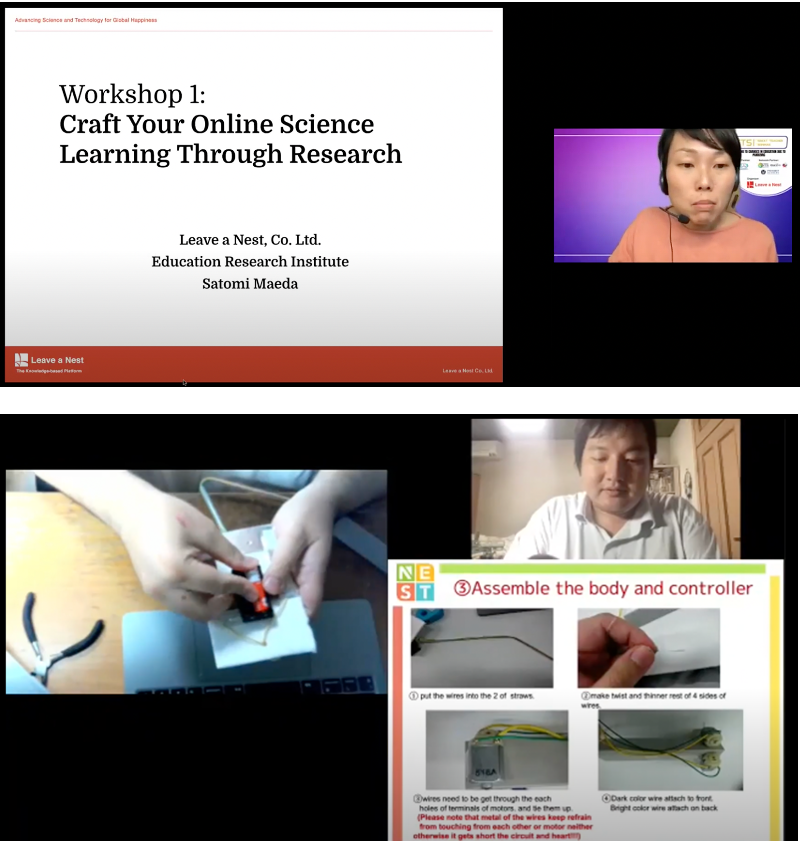 Dr. Satomi Maeda (top panel) and Mr. Masaki Kimura (bottom panel), Speakers for Workshop 1.
GTS 2021 first workshop was facilitated by Dr. Satomi Maeda and Mr. Masaki Kimura from Leave a Nest Education Research Centre. Participants were taught how to make online classes interesting and more interactive. The utilization of different angles of the camera to display teachers and what are they doing is important to keep students interested during class. 
Sharing Session: ASEAN Education Community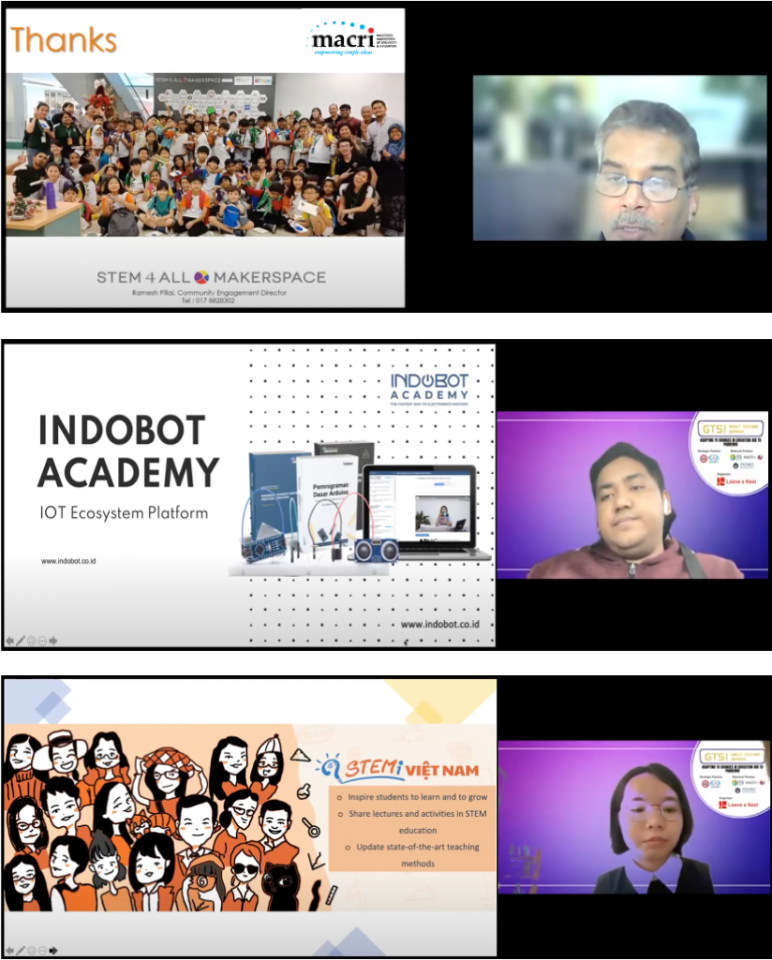 Presentation by Mr. Ramesh Pillai from MACRI (top panel), Mr. Zamisyak Oby from Idobot Academy (middle panel), and Ms. Huynh Tuyet Anh from STEM inspiration (bottom panel).
This session aims to provide information and updates on the education landscape in 3 different countries namely; Malaysia, Indonesia, and Vietnam. by understanding the bigger picture of our education landscape, we hope participants are able to work closely together towards the betterment of our education system in each country, and eventually ASEAN as a whole.
Workshop 2: Creative content for your educational channel & branding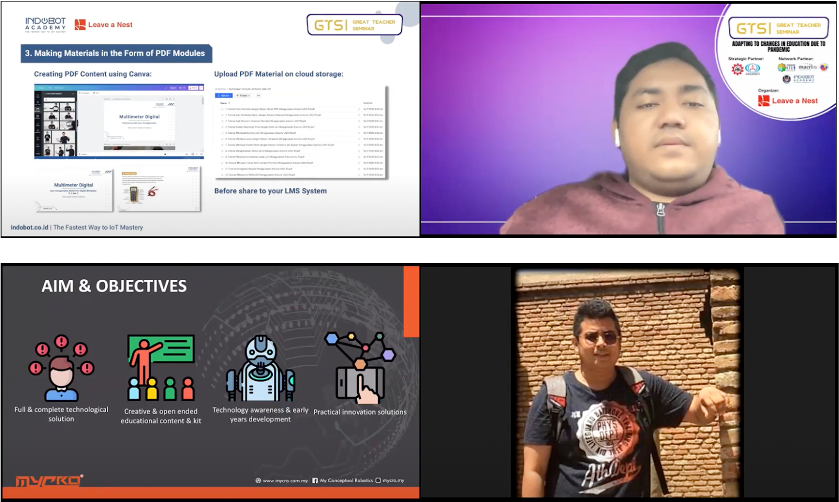 Workshop 2; Mr. Zamisyak Oby from Indobot Academy (top panel) and Mr. Darween Reza from My Conceptual Robotics Sdn. Bhd., (bottom panel).
Mr. Zamisyak Oby talked about video recording and editing to make the online learning experience more exciting. Next, Mr. Darween Reza presented the ideal approach using 3D printing in the online learning sessions. This is most useful to customize teaching materials for specific topics in the education syllabus due to easy access and cheaper option.
We would like to take this opportunity to thank all participants, partners, panelists, and speakers for supporting this event. Without your support, this event would not have been successful.
Here is some feedback from the participants on GREAT TEACHER SEMINAR 2020 :
"It enables us to learn teaching methods from various social experiences. Ways to create and use simple robots are very catchy and useful."
Umageswari A/P M.Mohan, SJK(T) Kampong Baru Batu Matang
"Highly informative and relevant to current issues and norms in education."
Jong Oi Sen, Pejabat Pendidikan Daerah Padawan
We hope teachers, future educators, and parents will be inspired to continue nurturing our next generation leaders and be more resilient in facing future challenges. Leave a Nest Malaysia would like to invite collaboration and participation from all parties including government, private sectors, NGOs, schools, teachers, and parents to enhance STEM education in Malaysia and ASEAN region.
Next, Leave a Nest Malaysia will conduct the 4th Hyper-Interdisciplinary Conference in Malaysia 2022 on 12th February 2022. To know details about this program, please refer to our HIC MY 2021 website at this link: https://hiconf.lne.st/conference/malaysia2022/
Our past Hyper Interdisciplinary Conference in Malaysia: https://global.lne.st/news/my/2020/01/21/hicmy2020-a-success/
For inquiries, please contact [email protected]