Leave a Nest Malaysia Announced New Director and Relocation of Business Office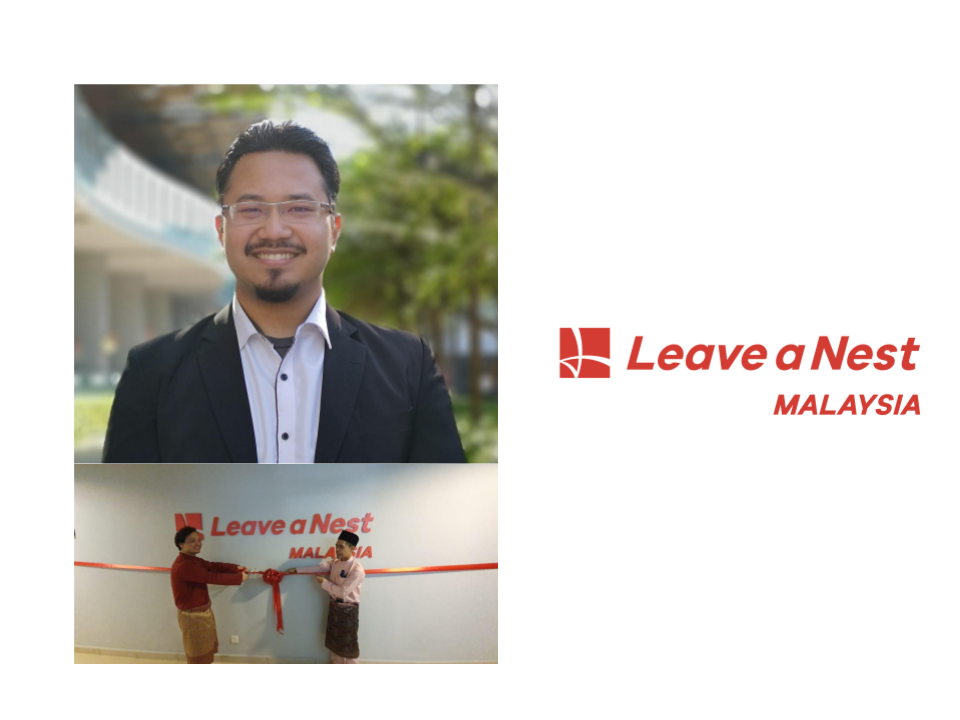 Leave a Nest Malaysia Sdn. Bhd. (Head Office: Kuala Lumpur, Managing Director: Abdul Hakim Sahidi, hereinafter referred to as "LVNSMY") is proud to announce the appointment of Mr. Nur Ahmad Zaim Hussin as a new Director beginning from 1st June 2022 as well as relocation of the business office to Cyberjaya,Malaysia.
The new management team (*) of LVNSMY is as follows;
Abdul Hakim Sahidi, Managing Director

Nur Ahmad Zaim Hussin, Director

Kihoko Tokue, Director

Yuko Ueno, Director

Yukihiro Maru, Director
After joining Leave a Nest Malaysia back in January 2019, Zaim made a significant contribution in the expansion of education platforms in Malaysia with a strong mission to solve the issues of lack of interest among the younger generation to pursue Science and Technology stream. With his leadership in education, Zaim created vast networks of educational players ranging from the government agencies, schools, startups as well as non-profit organisations. Currently, LVNSMY connected to more than 60 public and private schools in Malaysia.
Commenting on his appointment, Zaim said  "I am honoured to be given the opportunity to become the Director of Leave a Nest Malaysia. As a Director of Leave a Nest Malaysia, I hope to create more projects with our partner to solve issues faced by society especially in the Education area. I would like to install curiosity and passion in each and every students in order to nurture them to become change makers in society",
In another announcement, LVNSMY also announced relocation of their business office to Coplace 5, Cyber 8, Cyberjaya, Selangor. The launching ceremony was done on 31st May 2022 by Dr. Yukihiro Maru, the Founder and Group CEO of Leave a Nest Group and were witnessed by partners of LVNSMY attended on that date.
With its presence in Cyberjaya, LVNSMY is expected to work closely with Cyberview and other partners to expand the Deep-Tech Ecosystem in Cyberjaya and beyond the city. 
Commenting on the new office relocation, Abdul Hakim, the Managing Director of LVNSMY explained that " at Cyberjaya, we are not just a tenant but we would like to become the ecosystem partner to bring more potential corporations and startups to use Cyberjaya as landing zone for them to explore market in Malaysia and expand to other Southeast Asia countries."
With these 2 big announcements, LVNSMY will continue to empower local strength to create more meaningful solutions to solve deep issues in Malaysia and beyond. 
<Profile of the New Director of LVNSMY>
Ahmad Zaim Hussin received his Diploma in Electrical (Communication) Engineering from UTM and Bachelor Degree in Electronic System Engineering from Malaysia-Japan International Institute of Technology (MJIIT), UTM. Before joining Leave a Nest Malaysia, he was an RF Optimization Engineer. He is interested in the Internet of Things (IOT), Smart Farming and  agriculture technology. He joined Leave a Nest Malaysia in 2019 with his motivation to become a bridge between Researcher/startups with society to implement the technologies & Innovations.Currently, he focuses on Education area which he would like to continuously encourage students to pursue their interest through curiosity & Passion. He believes that through education, he will be able to help in preparing future leaders that can become changemakers in the society.