Announcement of the winners for Leave a Nest Grant Global Challenge Award in Malaysia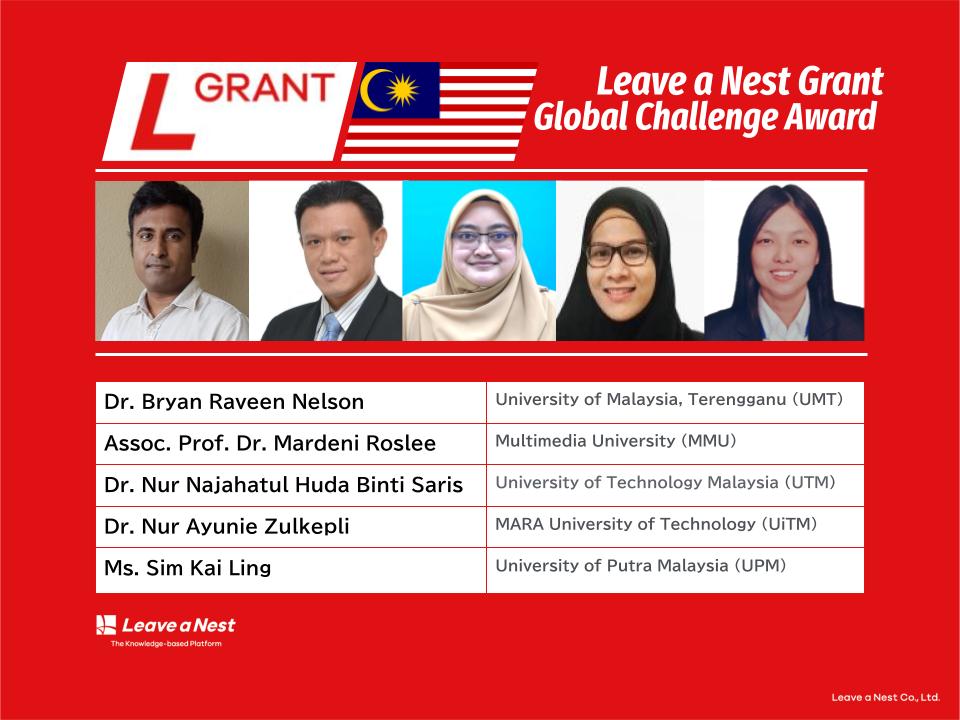 We are happy to announce that we have selected 5 awardees for this year's Leave a Nest Grant Global Challenge Award in Malaysia. They are Dr. Bryan Raveen Nelson, (University of Malaysia, Terengganu), Assoc. Prof. Dr. Mardeni Roslee (Multimedia University), Dr. Nur Najahatul Huda Binti Saris (University of Technology Malaysia), Dr. Nur Ayunie Zulkepli (MARA University of Technology), and Ms. Sim Kai Ling (University of Putra Malaysia).
For this award, we accepted the application from 1st April 2022 to 22nd April 2022 and we are very overwhelmed with the 70 applications received from both private and local universities in Malaysia. Thus, the award screening process was carefully done through application documents and interviews with shortlisted applicants. 
This time we have selected five young and dedicated researchers with comprehensive research topics utilizing deep-tech to improve local resources and to solve emerging environmental issues in Malaysia. 
We strongly believe that by supporting the research of young researchers and by helping them to realize their research ideas, we can solve more social issues globally. Leave a Nest will continue to conduct L-grant in Malaysia and we would also like to collaborate with more industries so we may support more researchers in wide varieties of fields. Again congratulations to all the winners!