Japan AgriTour: Exploring Agricultural Technology in Japan

Under the ongoing series of agriculture ecosystem development programs, Leave a Nest Malaysia Sdn. Bhd. for the first time organized a technology transfer tour from September 14th to 17th 2022. This program is specifically tailored to explore the Japanese agricultural spectrum via Leave a Nest's knowledge exchange platforms. The objective of the four days tour was to provide a platform for delegates to communicate, experience, and learn from the Japanese agritech ecosystems on how to navigate our agriculture industry and improve local agricultural capability. The tour focused on the latest technological disruption, research updates, and innovation trends in agriculture and food-related industries, hence, the name AgriTour.
Nine participants from various professional backgrounds including university researchers, government officials, startups, and corporates attended the tour.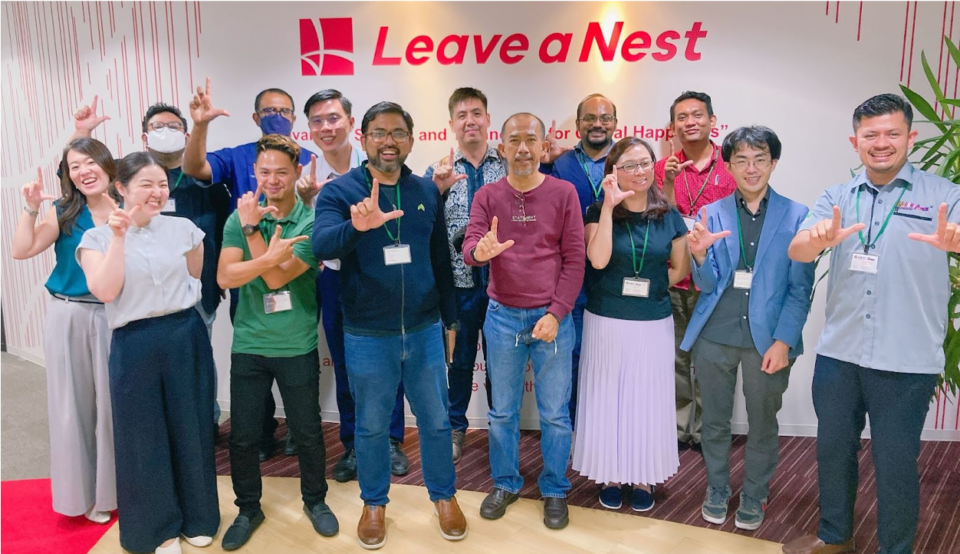 The participants ended the first-day tour at our HQ office in Tokyo.
Mr. Devandran Krishnan

,

Assistant Vice President of NanoMalaysia Berhad

Ts. Noor Azmi bin Mat Said

,

CEO of Human Life Advancement Foundation

Mr. Razwan Bin Zakaria

,

Chief Product Officer of Aerodyne Group

Mr. Chor Chee Hoe

,

Cofounder & CEO of Qarbotech Sdn. Bhd

.

Mr. Tan Peng How

,

CEO of Kimmu Trading Sdn. Bhd

.

Mr. Muhammad Asif Bin Zulkifli

,

Zull Design Autotronic

Dr. Muaz Bin Mohd Zaini Makhtar,

Deputy Director of Centre for Innovation and Consultation (CIC), Universiti Sains Malaysia

Prof. Dr. Sreeramanan Subramaniam

,

School of Biological Science, Universiti Sains Malaysia, and Founder of BioLED Technology Sdn. Bhd.

Dr. Chew Bee Lynn

,

School of Biological Science, Universiti Sains Malaysia
On the first day of the Japan AgriTour, the delegates visited various Japanese manufacturing facilities. They started off at the Center of Garage (COG), which is managed by Glocalink, one of our group companies. At COG, After the opening ceremony by Dr. Yuko Ueno, the participants were able to learn about various kinds of support available at the incubation center set up by Leave a Nest and industry partners to incubate deep-tech startups. A series of company introductions were done by 3DC Inc., Naturanix Co., Ltd., and Real Tech Holdings Co., Ltd. after the facility tour.  The tour then continued at Hamano Manufacturing Co., Ltd to explore the Japanese Monozukuri culture and how the "superfactories" operate and build the manufacturing ecosystem.
Later on, they visited Agrinome Lab . Inc., an agriculture research laboratory under Leave a Nest group that specifically focuses on frontier agriculture and food biotechnology research. The next stop was ExtraBold Inc. where this tech-hunting session aimed to expose participants to 3D digital technology that produce ultra-high-speed and large-sized additive 3D printer using recyclable materials. The first-day tour ended at Leave a Nest Headquarters for a quick tour of the office and biotech labs. We hope all participants managed to grasp the knowledge of how to scale up and accelerate the production of downstream agriculture products and learn the key technologies that became the focal points in manufacturing and prototyping.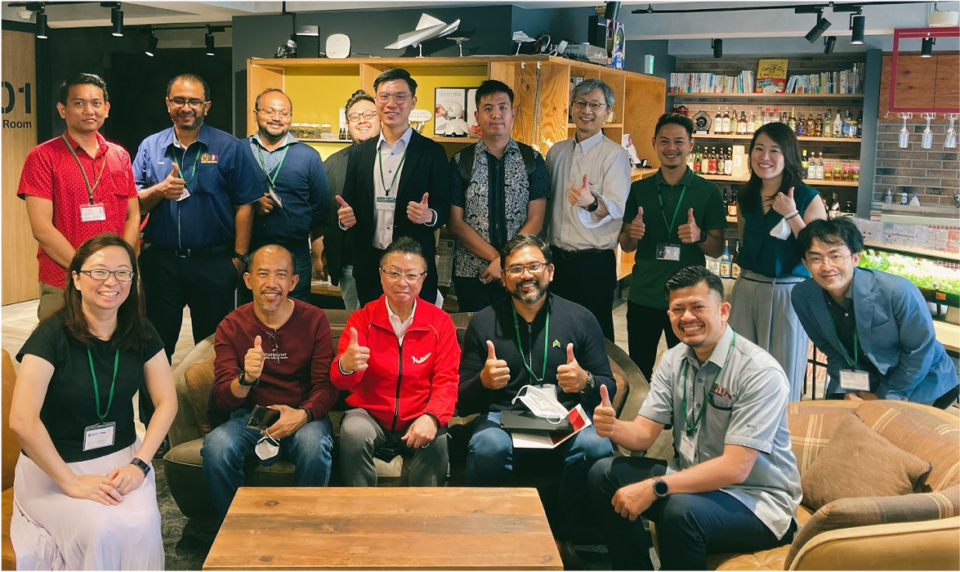 The participants with Mr. Keiichi Hamano at Hamano Manufacturing Co., Ltd 
The theme for the second-day activity was deep tech startup visitation. The mission is to inspire and motivate participants with the "winner traits" of successful Japanese startups. At Haneda Innovation City, we visited and listened to an introductory lecture by Kiraboshi bank, which explained the support and program they have at the future-oriented facility, KicSpace. The participants had a chance to listen to startups' presentations as well, namely i-eat, and ACSL. They also shared how they eventually initiated a business collaboration together and their future plan to grow, which was inspirational, especially for newcomers. We also visited the futuristic "Future Lab " and Pio Park at the same location, afterward. The tech-hunting was continued at PLANTX Corporation, where participants learned how they cultivate 'ideas' from in situ farming into captive-type culture machines. From farming technology, we moved to algae-related technology at Yokohama Bio Industry Center, where Euglena Co., Ltd. and Gardieria Co., Ltd. are located. Both algae companies shared their business model using algal biotechnology and how they improve microalgae yield at the cellular and molecular levels.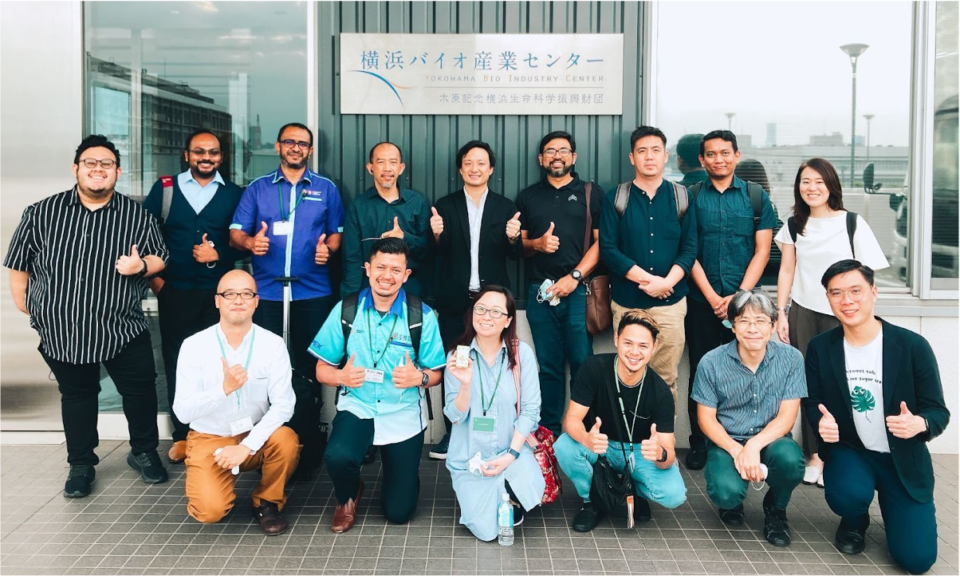 The participants were with Dr. Hideyuki Adachi and Dr. Koji Yamada at Yokohama Bio Industry Center after visiting Euglena Co., Ltd research facilities.
The third day of the tour revolved around the university research environment. The objective was to allow participants to meet the experts among agrologists and to initiate cross-country collaborations to navigate agribusiness from lab to real life. The first destination on that day was the Tokyo University of Agriculture and Technology (TUAT), Koganei Campus. Here they visited Professor Tsuyoshi Tanaka's Laboratory to learn about marine algae biotechnology followed by the Department of Clinical Plant Science at Hosei University located nearby. The group then moved to TUAT's main Campus at Fuchu to visit Greenase Inc., a Japanese startup working on powderize vegetables that retained their nutritional values. Next, the group was taken to Chiba University at Kashiwanoha to visit their Center for Environment, Health, and Field Sciences and learn more about artificial farming, teaching, and research facilities on oriental medicine, environmental health sciences, and environmental horticulture. We foresee an exciting research collaboration between Chiba University's researcher, Professor Michiko Takagaki, and Assistant Professor Na Lu, and USM researchers in fruit cultivation and agriculture management systems. The final destination for the third day was at Tokyo University Kashiwanoha Campus to meet AgroDesign Studios startup who works on the customization of pesticides based on molecular technology approaches. The group headed back to Tokyo Downtown for a networking dinner to celebrate the connection between participants and Leave a Nest Group members. 
On the last day, the participants gathered again at COG in Sumida to join the pitching session by the 12 finalists during the Agri-tech Grand Prix. The AgriTour participants seized the first-hand opportunity to engage with all finalists and dive into the agritechnology entrepreneur ecosystem to exchange knowledge and build the networks with the newcomers as well as pioneers in the fields. The agriculture ecosystem development activities by Leave a Nest will be continuously expanded into various flagship programs such as the upcoming Hyper Interdisciplinary Conference (HIC) in Malaysia 2023, highlighting frontier agriculture as our main focus.
We look forward to expanding the tour program in various niches in the future. For those who are interested, there will be opportunities for you to embark on a similar adventure linking you with our Japanese entrepreneur ecosystem. We are relentless to grow with you via this Japan tour program and offer you the first-hand experience of the Hyper Interdisciplinary Conference in Kagawa 2022 in December. There will also be Hyper Interdisciplinary Conference in Tokyo 2023, in March next year to aim for. As a Science Bridge communicator, Leave a Nest always prioritizes an impactful knowledge exchange platform via an outstanding program that offers the best experiences to our partners. We hope to bring the knowledge and technology transfer process to a new level that creates long-lasting value for local as well as international industry players. Leave a Nest can be reached at [email protected] or [email protected] for further information related to the tour program.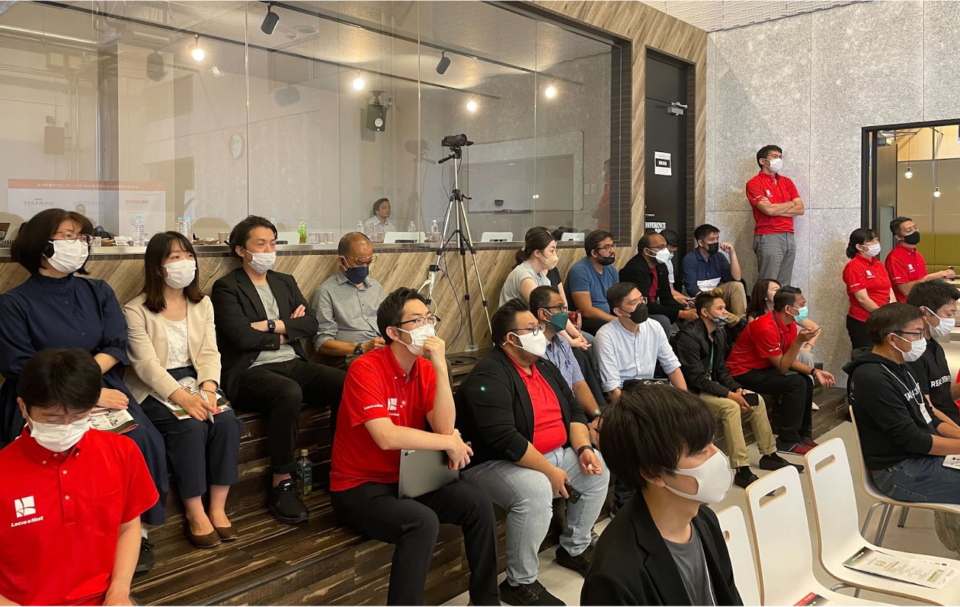 The participant at the opening ceremony of the Agri-tech Grand Prix at the Center of Garage (COG)