Announcement of the First Recipient of Leave a Nest Malaysia's Scholarship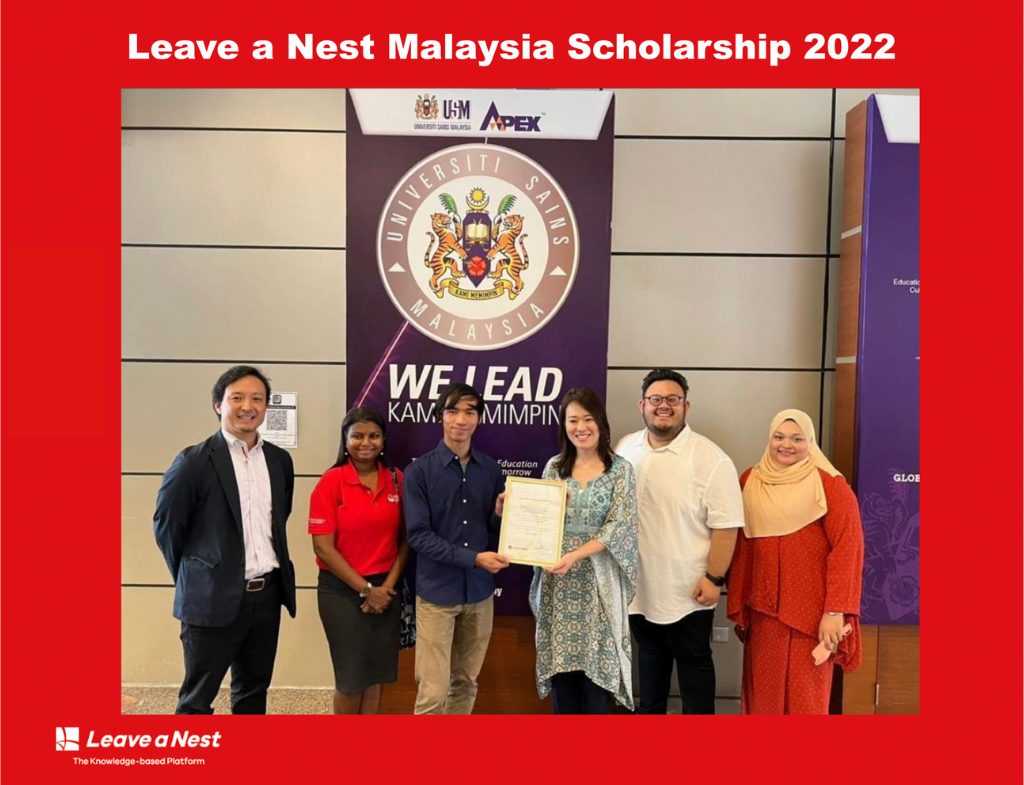 CYBERJAYA, October 21st, 2022 – In conjunction to the 20th anniversary celebration of Leave a Nest Group, Leave a Nest Malaysia offered the first Scholarship program worth of RM10,000 to one Malaysian postgraduate student that pursuing their study in Science and Technology area in  any local university in Malaysia.
This scholarship program received an overwhelming application with about 100 applicants from many postgraduates students in various field of study and university affiliation. After went through a thorough selection, the first Scholarship of Leave a Nest Malaysia was awarded to Mr. Muhammad Izzat Irfan Bin Rozlin Hisham from Centre for Marine and Coastal Studies (CEMACS), Universiti Sains Malaysia. The Ceremony of Scholarship Awarding was conducted on 19th October 2022 at Universiti Sains Malaysia with the Leave a Nest Malaysia Director, Dr. Yuko Ueno presented the certificate to Mr. Izzat and were witnessed by the Leave a Nest Group CEO Dr. Yukihiro Maru and the Deputy Director of CEMACS, Dr. Annette Jaya Ram.
Mr. Muhammad Izzat is currently pursuing his second year study in Master of Science (Marine Sciences). When asked about the reason of why he pursuing this course, he said " Since I was a kid, I have been fascinated by science, captivated by coral reefs' beauty, and engulfed by the mysterious underwater world. Becoming a biologist is my dream, but contributing back to nature and the community is what I have always yearned for. I just wanted to satisfy my curiosity when I started learning about the ocean. But, later I realised the more I understand, the lesser I know. The truth is, there is so much more to discover and with the rise of concerns from many ecological aspects, I feel obliged to find answers to at least some of the questions. I hope, by finding the answers, I can help both nature and humans."
His strong passion and interest in Marine Science was portrayed through his proposal to support the coastal communities by proposing a Sea Cucumber Aquaculture project. Leave a Nest believe he could realise the project together with Leave a Nest members.
Not just a monetary scholarship, Mr. Muhammad Izzat will be given opportunities to participate in future training and internship programs conducted by Leave a Nest for one year period until December 2023.
Through this scholarship program, Leave a Nest hope to support more potential talents to pursue their study and contribute back to the Advancement of Science and Technology for Global Happiness with their knowledge and expertise. Leave a Nest will also continue to provide more support and offering programs that can help to nurturing future talents and leaders.