[20th Anniversary Project-19] "Deep Tech Venture of the Year" Held for the First Time in Asia – Awarding Four Deep Tech Ventures in Southeast Asia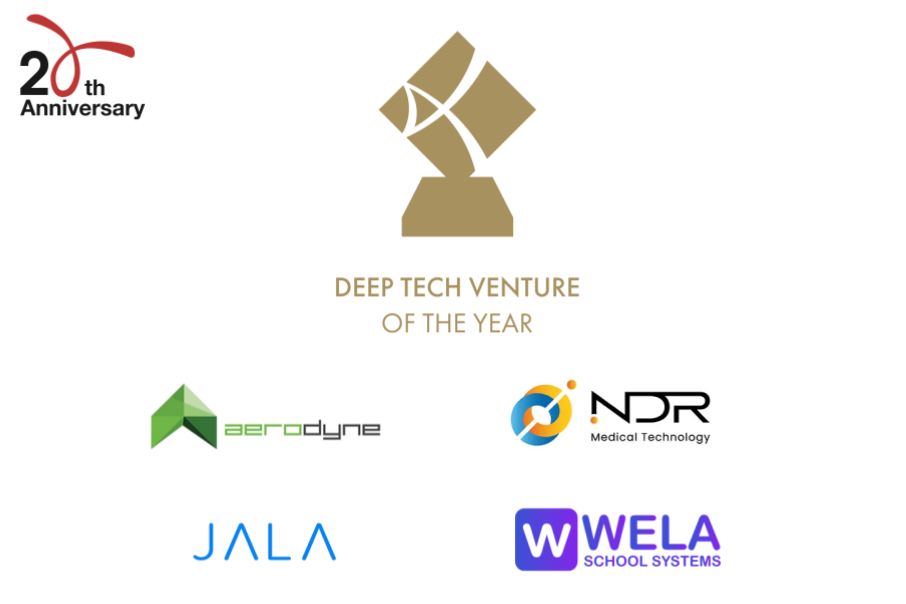 Leave a Nest Co., Ltd. (Headquarters: Shinjuku-ku, Tokyo, Founder & Group CEO Dr. Yukihiro Maru) has established an award called "Deep Tech Venture of the Year" to honor Deep Tech ventures that challenge to solve Deep Issues in the world. The first award ceremony will be held in Kuala Lumpur, Malaysia on Tuesday, January 17th, 2023.
In the ceremony, awardees will be gathered from four Southeast Asian countries, which are Malaysia, Singapore, the Philippines, and Indonesia. They are entrusted to be the role models for the next-generation entrepreneurs in Southeast Asia as well as to foster awareness of creating  Deep Tech ventures throughout the community.
[Why DTVoY in Southeast Asia]
Since 2014, Leave a Nest Group has organized  TECH PLANTER, an ecosystem to nurture Deep Tech ventures in Japan and Southeast Asia. To date, the ecosystem has gathered 1,858 teams in Japan and 1,147 teams in Southeast Asia. From 2018, six countries in Southeast Asia have adopted this programme. Through the journey, we've noticed the necessity of connecting the ecosystems of Southeast Asia, which are growing rapidly and expected to grow more in near future, and the one in Japan with a declining population but also with excellent assets/technologies. Also, in 2019, a book titled "Deep Tech: Sleeping Technologies Opening Up the Future of the World (*)", co-authored by Dr. Yukihiro Maru, our Group CEO, was published. The book advocates a new way of thinking, to use "Deep Tech," a collection of various technologies, including existing ones that lie dormant in Japan, to solve "Deep Issues" rooted in a society in Southeast Asia.
* This is the translated version of the original Japanese title of the book
Such awareness led us to renew the concept of TECH PLANTER in 2020 as "Exploring Deep Tech & Solving Deep Issue". Now the ecosystem is evolving into the one where projects that contribute to solving problems are created and implemented together with Science Bridge Communicators from Leave a Nest and partners with various assets.
During the past two years, when COVID19 pandemic occurred, TECH PLANTER Alumni have been remarkably active, and multiple investments have been occurred from Leave a Nest subsidiaries and affiliates; such as Leave a Nest Singapore, Leave a Nest Capital, GLOCALINK Singapore, and Real Tech Global Fund. This leads to the newly setting up the award for the Deep Tech ventures in Southeast Asia. 
In conjunction with above, "Real Tech Venture of the Year" award, which has been in place in Japan since 2015 for "venture companies with unique, novel, and high-growth businesses in Real Tech domain," will be rebranded to "Deep Tech Venture of the Year" (award ceremony: to be held on, April 8th, 2023 in Tokyo). The Real Tech Venture of the Year has been presented to 66 Japanese ventures over the past eight years in three categories: Startup (companies established within 3 years), Growth (companies established between 3 and 15 years), and Boost (companies already in IPO or M&A). In the DTVoY, we will continue to use these three categories, and aim to expand the award as a global brand.
[Overview of DTVoY]
・Date and time : Saturday, January 17th, 2023 13:00-15:00 (Malaysia local time)
・Venue: Resource Center MRANTI Park, 43300 Kuala Lumpur, Malaysia. 
・Webpage: https:// en.techplanter.com/tech-venture-meetup-malaysia-2023/
*This award ceremony will be held in our Meetup event "Tech Venture Meet Up" held from 9:00 to 15:00 on the same day.
Award-winning company
Representative: Kamarul A. Muhamed
Country: Malaysia
Business: A DT3 (Drone Tech, Data Tech, and Digital Transformation) drone-based enterprise solutions provider.
Representative: Alan Goh
Country name: Singapore
Business: Development of medical robotics that allows surgeons to perform minimally invasive interventional surgeries.
Representative: John Vincent Fiel
Country: Philippines
Business: A cloud-based learning guidance and evaluation system and a school check-in system using RFID tags.
Representative: Liris Maduningtyas
Country: Indonesia
Business: JALA revolutionizes the shrimp industry with tech and data-driven solutions to help farmers achieve precision farming, combined with market and financing access for farmers to scale their productions.
[Inquiries]
For more information and enquiry of the event, please contact Leave a Nest at [email protected] (Attention to Mr. Abdul Hakim Sahidi).